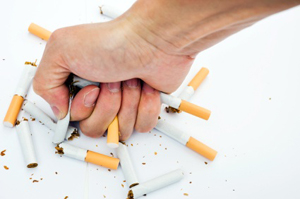 When Premier Christy Clark announced the British Columbian government will be paying for products to help people quit smoking, she suggested it will save taxpayers money.
But that position contradicts the conclusion of a government-funded agency whose job it is to help officials "make informed decisions in health care" based on evidence.
When people smoke, there are impacts not just on them and the people around them, but "there are the impacts on all of us who pay taxes and depend on a health care system to be there when we need it," said Clark in a video announcing the new policy on the government's website.
"By reducing the number of people who smoke, not only will we prevent or delay the onset of diseases like heart attacks and cancer, but also avoid the millions of dollars cost on our health care system," said Health Minister Mike de Jong in the accompanying press release.
And the B.C. Medical Association's president-elect, pediatrician Nasir Jetha, was quoted calling stop-smoking medications "one of health care's most cost-effective measures in reducing death, disease and medical costs."
If they are correct, it would be an easy decision for public health systems to pay for the medicines, but few do. In Canada, provincial governments in just Saskatchewan and Quebec fund the prescription drugs Clark announced B.C.'s PharmaCare system will pay for starting at the end of September.
And France, the Tyee reported this week, decided that due to concerns about adverse reactions, it would stop paying for one of the two drugs that B.C. plans to fund.
Seeking the evidence
In a 548-page report dated September 2010, the Canadian Agency for Drugs and Technology and Health (CADTH) took a close look at the drugs and treatments used to help people quit smoking.
The CADTH is a non-profit agency that the federal, provincial and territorial governments fund to provide decision-makers with "the evidence, analysis, advice, and recommendations they require to make informed decisions in health care."
In the report Pharmacologic-based Strategies for Smoking Cessation, it looked at nicotine replacement therapies (gum and patches), and the antidepressants varenicline (sold as Champix in North America and Chantix in Europe) and buproprion (sold as Zyban and as a generic). These are the same therapies the B.C. government has said it will provide.
The report considered both whether the different products worked and whether it was cost effective for health care systems to provide them.
The report did find that all the treatments worked better than doing nothing. "Varenicline, bupropion, and NRT are all effective in helping the general population quit smoking and remain smoke-free one year later," it found. They doubled, and in the case of varenicline possibly tripled (though they cautioned most of the studies were funded by varenicline maker Pfizer), the odds of a person quitting when compared with not using a drug therapy.
'Relatively small' benefits
But the authors also found that providing them does not save health care providers money.
"The cost of providing smoking cessation pharmacotherapy is greater than the future costs of treating smoking-related illness," they found, according to a summary for decision-makers, though it noted governments might prefer to fund prevention rather than treating disease later.
As for the health benefits, they said, they are "relatively small" at an "average of four to 18 days of perfect health for all smokers who attempt to quit."
In other words, for the few who succeed at quitting, the drugs can make a large difference, but many smokers will not succeed even with the drugs' help. In the summary's words, "When the health benefit gained by the smokers who succeed in quitting is equally divided among all those who attempt it, the average health gain is small."
From a health care provider's point of view, needing to make good use of public money, every "quality-adjusted life-year" gained by providing the treatments costs in the range of between $4,000 and $10,000, it said.
B.C. is planning to spend as much as $25 million a year providing smoking cessation products, depending how many people take advantage of the program.
The Tyee sought explanations from Premier Clark's office, the Health ministry and the B.C. Medical Association on their statements' contradiction with the CADTH findings and why they believed providing the products would save taxpayer dollars.
Cost just one factor: ministry
"The cost to the health care system is only one of the components we're looking at with our decision to cover the medications and other nicotine replacement therapies," said Health ministry spokesperson Ryan Jabs in an email. "There's also a large cost to the B.C. economy (estimated at $2.3 billion annually) as well as -- and more importantly -- a significant emotional and psychological cost experienced by families, friends and people who have to go through treatment for cancer or other diseases related to tobacco use."
Health ministry officials couldn't find the basis for the CADTH conclusion in the report, but have contacted the authors, he said.
The CADTH report also said there is "a need to consider smoking cessation strategies" given "the number of preventable deaths and evidence indicating that more than 30 per cent of Canadian hospital beds are occupied by adults who are there as a consequence of their smoking habits," he pointed out.
BCMA spokesperson Sharon Shore provided a link to a Canadian Medical Association Journal article encouraging governments to pay for smoking cessation therapies. The article argues that "smoking cessation medications appear more cost-effective than many other primary preventive interventions, such as those for hypertension or hypercholesterolemia."
A spokesperson in Clark's office did not respond by posting time.
Clark had promised during her campaign to lead the BC Liberal Party to use public money to pay for "nicotine replacement therapies and cessation products," saying it would lead to a healthier population, lower cancer rates and reduced impact on the health care system.
"Who do you trust, the people who just look at the science, or the people concerned about the politics of it?" asked health researcher and author Alan Cassels.
Decision-makers should be comparing the drugs not against smoking, but against other techniques for quitting, he said. It's not clear that any additional benefit from using Champix compared to nicotine replacement patches or gum outweighs the added risk of adverse reactions associated with the drug, he said.
Without funding the treatments, B.C. has achieved a relatively low smoking rate already, he said. "We're doing something right," he said, suggesting the success has been largely thanks to social regulations that have put an end to smoking in bars, restaurants, offices and public places.