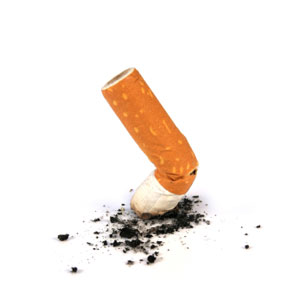 British Columbia Premier Christy Clark recently came through on a leadership campaign promise to have the government pay for prescription drugs and other products to help people quit smoking.
While reducing tobacco use, which causes cancer, is good public policy, some of the drugs the province will now be funding are controversial. One of them, varenicline, is associated with suicides and psychiatric side effects.
France last week said it would stop paying for varenicline because of the questions around it, a fact Health Minister Mike de Jong said he hadn't yet heard when The Tyee asked him about the decision.
"Every year tobacco-related deaths rob us needlessly of friends, family and loved ones," said Premier Christy Clark making the May 9 announcement. "This program will provide smokers with a new level of direct support to quit, to live smoke-free, and to improve their own health as well as the health of their families."
The program, which could cost as much as $25 million depending how many people take advantage of it, will provide people with nicotine gum or patches for 12 weeks starting in September. It will also fund the prescription drugs through PharmaCare.
Safety warnings
Health Minister de Jong said it's unknown how much of the program will go to the nicotine replacement products and how much for prescription drugs.
The drugs available to help people quit smoking are varenicline, which is made by Pfizer and sold as Champix in North America, and bupropion, which GlaxoSmithKline sells as Zyban and which is available in a generic form as well. Both are anti-depressants and both come with serious safety warnings.
Here's what the Institute for Safe Medication Practices, an American non-profit, said about one of those drugs in it's Oct. 23, 2008 quarterly update: "Varenicline (Chantix, Champix), an aid to stopping smoking, accounted for more reported serious injuries than any other prescription drug for a second quarter, a total of 1,001 new cases, including 50 additional deaths."
The U.S. Food and Drug Administration had put out a public health alert about it's psychiatric side effects, the newsletter said.
In the two years since its 2006 approval, it said, the drug had accounted for 3,325 reported serious injuries, including 112 deaths, in the United States. "In the latest quarter, the toll included numerous cases of serious injury linked to traffic accidents or falls," it said. "Other reports described other events such as blackout with a high potential to cause accidents. Following our initial report, the federal government took prompt action to ban varenicline in the most sensitive occupations such as for airline pilots and military missile crews."
Risk of self-harm, suicide
Health Canada put out a warning in 2009 about the drug: "While Champix (the brand name for varenicline tartrate) can be an effective tool for quitting smoking when used as part of a support program, there have been reports in some patients of unusual feelings of agitation, depressed mood, hostility, changes in behaviour, or impulsive or disturbing thoughts such as thoughts of self-harm or harm to others. It is unclear at this time whether Champix is the cause of these psychiatric symptoms."
The warning reminded people thinking of quitting smoking to consider the risks and benefits of whatever method they choose.
GlaxoSmithKline's prescribing information for Zyban warns, "Serious neuropsychiatric events, including but not limited to depression, suicidal ideation, suicide attempt, and completed suicide have been reported in patients taking Zyban for smoking cessation."
It also notes that the side effects should be weighed against the benefits of quitting smoking "Zyban has been demonstrated to increase the likelihood of abstinence from smoking for as long as [six] months compared to treatment with placebo," it said. "The health benefits of quitting smoking are immediate and substantial."
Zyban, which the Lung Association notes has been associated with seizures, has also been the subject of a Health Canada warning.
France quits paying for drug
France is going the opposite direction of B.C. On May 31, Reuters news service reported, the country's health minister, Xavier Bertrand, said, "Questions have been raised about Champix, so I've decided it will no longer be covered by (state) health insurance."
Asked about the French decision, B.C.'s de Jong said he had not heard about it. "I'll check and see what kind of an effect it has had," he said. "I know this, if you go to Europe, there are a whole lot more people smoking there than there are here and that is resulting in some significant costs."
France's decision to stop paying for the drug was a surprise, said Heather Bisset, a spokesperson for Pfizer Canada. "Pfizer France had received no prior notification about the health minister of France's intention to remove reimbursement for Champix," she said in an email. "This announcement came outside of the formal process and Pfizer is currently seeking immediate clarification."
In March, a European Union committee that reviews which drugs may be sold for human use, concluded "that Champix continues to have a favourable risk-benefit profile," she said, adding the conclusion was reached as part of a standard five-year review of the drug.
She noted that some 650,000 Europeans a year die from tobacco use, making it the single largest cause of avoidable death in the European Union. "Given the significant public health risks of smoking, removal of reimbursement for varenicline would limit the options available to the French public," she said.
The smoking statistics in Canada are also stark. Health Canada says half of all smokers will die from smoking before they turn 70 years old, Bisset said. That works out to about 37,000 Canadians a year who will die from smoking, she said. The Canadian Agency for Drugs and Technology in Health, which balances the costs versus benefits of drugs, recently concluded that "reimbursement of smoking cessation therapy is an effective intervention to help smokers quit," she said. That same report, by the way, was however inconclusive on whether governments should pay for the drugs. "Reimbursing smoking cessation therapies may be a cost-effective option for a health authority or a third-party payer compared with not doing so," the summary said. Bisset wrote, "We are looking forward to supporting the B.C. government implement their smoking cessation strategy."
'Safer ways to quit smoking': researcher
Health researcher and author Alan Cassels said varenicline has been under a cloud for a long time and the B.C. government should be extremely cautious about encouraging its use. As the government pays for it, more people will take it and rare but serious side effects will happen more often, he said.
"You can expect to see subsequent increases of adverse reactions, possibly deaths," he said. "There are safer ways to quit smoking."
If the government is going to pay for these drugs, it should keep close track of any adverse reactions, Cassels said. "We have methods in B.C. of tracking the effects of medicines," he said. "The introduction of new coverage of a very controversial drug without proper evaluation or monitoring is irresponsible."
Cassels said the risks of the drugs should not be compared to the risks of smoking, but to the risks of other methods of quitting smoking such as joining a support group, using nicotine-replacement therapies or quitting cold turkey.
The Tyee asked Minister de Jong how the government plans to monitor the outcomes for patients given the drugs.
"We monitor smoking on a regular basis and of course B.C. leads the nation, but we're still at 15 per cent," he said. "If we could drop that to 12 per cent even, the medium and long-term savings are significant."
There's a financial incentive for the government to reduce smoking, and it's good for individuals and families, too, he said. "The ultimate test of success is whether fewer people are smoking and we'll be monitoring that closely."
In other words, while the government plans to continue monitoring smoking rates, there appears to be no plan to watch for any increase in the number of adverse reactions from wider use of the prescription drugs they are funding.
Smoking-related health costs top $600 million
According to the province's announcement, 6,000 British Columbians a year die from tobacco use, costing the health care system some $605 million a year.
The B.C. Medical Association's president-elect Nasir Jetha supported the government's announcement, including the funding for "stop-smoking medications," saying it was "great news for the 70 per cent of B.C. smokers who are wanting to quit."
He did not respond to questions by publication time.
Questions sent to Jetha about adverse reactions, relative risks and doctors' prescribing practices did generate a response from a BCMA spokesperson. "The answers to your questions are probably best answered by a general practitioner," wrote Sharon Shore. "Dr. Jetha is a pediatrician and as such would have (one would hope) little cause to prescribe stop smoking medications to his small patients and therefore would not know the details of the specific medications you are asking about."