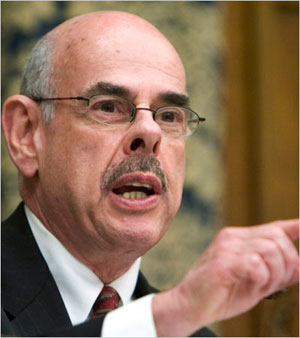 Attempts by some American policymakers to limit fuel from Alberta's high-carbon oil sands will ultimately fail, a leading Canadian economist predicted. And two pro-oil lobby groups fighting U.S. climate legislation appear to agree.
"Being able to receive crucial oil to fuel your economy from a stable, friendly country like Canada has an awful lot of merit to it," BMO senior economist Earl Sweet told The Tyee. "I suspect that will overcome," he claims, "current environmental misconceptions that are being propagated in some quarters of the United States."
Recent weeks have seen high-profile arguments for and against a proposed crude oil pipeline from Alberta's oil sands to Texan refineries. (Learn more about the controversy in this Tyee report).
Congressman vs. Alberta premier
Influential Democrat Congressman Henry Waxman wrote to Secretary of State Hillary Clinton in early July, urging her not to approve the project.
TransCanada's Keystone XL pipeline would lock the U.S. into a carbon-heavy economy, he argued. Producing fuel from the oil sands releases three times as many greenhouse gases as conventional oil, according to some estimates.
Alberta Premier Ed Stelmach wrote to Clinton shortly after Waxman. He reminded her Canada's oil reserves are stable, secure and plentiful -- and that the energy needed to produce one barrel of oil sands crude gets smaller all the time. A $55,800 Washington Post ad the week before -- paid for by Alberta taxpayers -- made similar points.
This confrontation is only the latest in a charged debate over U.S. energy policy. President Barack Obama is pushing Congress to adopt climate legislation that will reduce greenhouse gas emissions across the American economy. A Tyee report last month explained how that drive is being fought by an informal coalition of Canadian politicians and major oil companies, worried about any potential restrictions on Alberta oil.
They needn't fret, suggested BMO economist Sweet. The U.S. imports more crude from Canada than any other country. Oil sands producers are investing big money to clean up their operations, he said. And Sweet argues that shipping fuel from the Middle East has a significant environmental impact.
"I think when people become better informed about that and the debate is based more on facts rather than sentiment, common sense will prevail," Sweet said.
Lobby groups may be winning
Two lobby groups fighting to keep Alberta oil flowing south sounded equally confident in Tyee phone interviews. The American Trucking Associations is a nation-wide advocacy group currently suing to repeal California's low-carbon fuel standard.
That policy sets limits -- a 10 per cent reduction by 2020 -- on the carbon intensity of transportation fuels. It gives gasoline providers a strong reason not to use crude from places like the oil sands. Producing fuel there generally releases more greenhouses gases than sources such as the Middle East. Policymakers hope to more than triple the state's renewable fuels market by 2020.
Groups such as the ATA argue the policy unfairly discriminates against Alberta energy. The lawsuit is still in early stages, ATA vice president Richard Moskowitz said. He wasted no words when asked if his group would win: "Yes."
Moskowitz defended the Keystone XL pipeline at a recent State Department hearing. If the U.S. rejects Alberta's oil, he argued, Canada will merely ship it elsewhere -- most likely to China.
"I'd rather see that oil used in North America than being transported halfway across the world," he told The Tyee. "It's better for the environment and better for North American energy security."
The pro-oil sands lobby has won some big recent victories. Last spring, Wisconsin policymakers abandoned plans to implement their own low-carbon fuel standard. Intense lobbying on behalf of the Alberta government may have played a role.
Influential oil group backs pipeline
Last year, a group representing some of the largest oil companies in the world got low-carbon fuel standard provisions "deleted" from U.S. climate legislation. Members of the Center for North American Energy Security -- which include Exxon Mobil and ConocoPhilips -- have vigorously opposed any potential restrictions on Alberta oil. "So far with the Congress I think we've been successful," centre executive director Tom Corcoran said in a June interview.
The centre helped initiate the lawsuit against California's fuel standard. Corcoran has also testified in favour of Keystone XL at public hearings. There's "no way of knowing" if the project will get approved, he told The Tyee recently.
Several green groups and state senators worry the pipeline could leak into the Ogallala aquifer, a crucial source of drinking water for two million Americans. But the government's own environmental assessment concluded it's safe.
"Unless politics interferes with that, we would expect that the permit [of approval] would be issued," Corcoran told the Tyee.
Some other battles still remain. Alberta's environment minister, Rob Renner, cautioned 11 northeastern states against adopting a low-carbon fuel standard in June. His speech was part of a Boston forum organized by the Consumer Energy Alliance, an advocacy group supported by oil firms such as BP and Chevron.
Obama pushing 'aggressive' green strategy
This week, Alberta premier Stelmach vowed to fight back after a U.S. ad campaign comparing the oil sands to BP's disastrous Gulf spill sent his "blood pressure" skyrocketing.
Nobody thinks it'll be easy to cut America's extreme dependence on fossil fuels, said Elizabeth Shope, a spokesperson for the New York-based Natural Resources Defense Council. But there's strong pressure from President Obama to start the transition.
"While we realize that we're not going to go cold turkey and stop using oil tomorrow, this administration has put in place aggressive attempts to curb oil consumption," Shope said.
The White House confirmed clean car standards this spring that could reduce oil demand by 1.2 million barrels a day. That's roughly the full output of Alberta's oil sands. The Calgary-based Pembina Institute estimates Obama is outspending Canada 18 to one per capita on renewable energy.
"The reality is we don't need tar-sands oil and we don't need another tar-sands pipeline like the Keystone XL," she said.