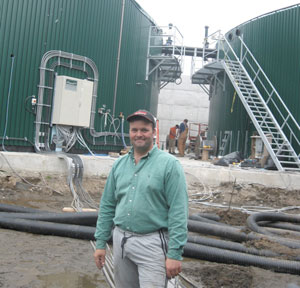 The Bush family farm isn't like the other pastoral properties on this rural road in Abbotsford. For one thing, there are no animals, at least not yet, and the most prominent feature visible upon approach is not a barn but a large, round building with a roof like a giant nipple, pointing up towards the sky.
A dozen men in steel-toed boots are working around the property, which is criss-crossed with trenches. As far as construction sites go, this one is quiet but busy. The job deadline is less than a month away, and there's still a lot of pipe to be laid.
All that pipe will soon deliver biogas, captured from manure, to Terasen customers in the Lower Mainland. That low, round building with the nipple-like roof is the anaerobic digester, the technology that allows this conversion to take place. The project is the first of its kind in British Columbia, and hopefully, the first of more to come.
Anaerobic digestion has been used for decades in Europe to convert poop (both human and animal) into power. It's being touted as not only a source of renewable energy, but for farmers, a source of additional revenue and a better way to deal with waste while reducing one's carbon footprint. It's become increasingly popular as well in the United States, where researchers recently found it would make good sense to use anaerobic digestion to help meet the enormous power needs of Google and Microsoft data centres.
It's a universal truth that shit happens. Why not, ask proponents of this technology, make something good of it?
The man behind this project, Christopher Bush, first got the idea to build an anaerobic digester in the Fraser Valley five years ago, after reading an article about the technology in Scientific American. He left his job in telecommunications and created a company, Catalyst Power, then bought a property in Abbotsford and started, as he puts it, surrounding himself with "really smart guys" in the field.
"I didn't think it would be easy," he says. "But I didn't expect it would take so long. Being first is a big challenge. We're setting the course for everyone."
Catch that 'fugitive' methane
Bush's facility will produce 500 cubic metres of gas per hour, using feedstock that is a mixture of manure, from 130 cattle that will soon live on the property, and waste, mostly fats and oil, from a nearby chicken processing plant.
The whole process produces three products: the fuel itself, bedding material for livestock, and concentrated liquid fertilizer.
Step one is removing the woody mass, bits of hay and straw, from the cow manure. "That stuff that the cow couldn't digest -- I can't digest it either," says Bush. It's turned into a bedding material that can be sold to nearby farms.
Then the manure and chicken waste is combined in the anaerobic digester, where it sits for about 40 days. The digester acts essentially like the belly of a cow, where, under controlled conditions bacteria thrive and multiply, eating the waste and producing biofuel that is a mixture of 40 per cent carbon dioxide and 60 per cent methane.
Finally, the remaining liquid waste is a concentrated fertilizer that is diluted and spread on fields.
Compared to conventional methods of managing agricultural waste, anaerobic digestion is environmentally advantageous, says Anthony Lau, an associate professor of chemical and biological engineering at the University of British Columbia. Typically, manure is spread directly on fields or held in large ponds, where it releases greenhouse gases anyway, and often leaches into nearby aquifers or waterways.
Anaerobic digestion mitigates greenhouse gas emissions by producing a fuel that can displace fossil fuels, and capturing "fugitive" methane that would have escaped as a result of simply spreading manure over a field.
The biofuel that results from anaerobic digestion still produces carbon dioxide, but because the plants that fed the cows that produced the methane to burn, absorbed carbon dioxide in their growing cycle not so long ago, it is considered biogenic, as opposed to anthropogenic.
"For the time being, they are burning methane that is not from fossil fuel, but from recycling waste. Biogenic is better than anthropogenic," says Lau. "But the long-term solution is not burning methane, but hydrogen."
Lau says this is feasible -- to manipulate microbacteria in the anaerobic digestion process so that they their byproduct from waste is not methane by hydrogen -- but we're not there yet.
In the meantime, he calls this method an "interim solution to sustainability."
Creating a substitute for natural gas
Bush is convinced that anaerobic digestion is "necessary" from an environmental point of view. Making a business case for it was more difficult.
Burning the biogas directly to produce heat and electricity is the least expensive route, and the route that many of these facilities in Europe take.
Here in B.C., says Bush, "there was no business case for producing electricity. Instead, he partnered with a firm called Greenlane, which specializes in the scrubbing technology that makes raw biogas into a pipeline-quality fuel that can be delivered and used the same way natural gas is.
Greelane provided the financing so Bush could afford the million-dollar scrubber, and Terasen, the company that supplies most of the natural gas in the province, agreed to buy Bush's biofuel for an undisclosed price.
And, if a recent submission to the B.C. Utilities Commission is successful, Terasen will offer customers the choice of including a 10 per cent biofuel in their gas mix for a premium of about $4 per month.
"As one of the first utility companies in Canada to include alternative energy solutions as part of its regulated energy service offerings, we are committed to making long term energy investments that will help address B.C.'s climate change goals," Doug Stout, vice president of marketing and business development recently announced. "Delivering biomethane through our distribution system makes good sense and is a natural extension of the energy services we've provided customers for more than a century."
A program in Vermont known as Cow Power, has proven successful, and Terasen's bid to launch a similar renewable energy program is the latest move in a larger effort to boost this type of activity in B.C.
Farming energy
Matt Dickson has witnessed this evolution over the past five years, first as an employee of the ministry of agriculture, and now as the program manager of the newly-formed Renewable Agri-Energy Initiative, which is funded by industry, government and the BC Agriculture Council.
"We were looking at ways to help farms diversify their revenue streams, deal with nutrient issues, ways to help them become more sustainable," says Dickson. "This initiative came along as a vehicle to drive that forward."
Dickson says that economics is one of the biggest barriers to making on-farm anaerobic digestion more widespread. He estimates (unofficially, based on what he's heard) that Bush's biofuel would fetch between four and 10 dollars per gigajoule.
If Bush was to forego the scrubbing technology and simply sell electricity to the grid the most he could net from BC Hydro is 8.6 cents per kilowatt hour.
"It's just not enough," says Dickson. In order to make anaerobic digestion economically feasible for farmers, electricity generated from this technology would have to be worth between 14 to 16 cents per kilowatt hour.
"While the province is certainly supportive of renewable energy, it wants to buy the cheapest renewable energy it can," says Dickson. "Valuing all technology the same, that's kind of unfair... we need to start differentiating between technologies. With anaerobic digestion, you get clean energy, but also more sustainable farming and other additional benefits."
Critics hold their noses
Anaerobic digestion is not without its environmental critics, especially in the U.S., where this technology is being subsidized for large factory farms as a way to primarily deal with the odour and leakage from huge waste holding ponds.
It begs the question of whether or not it's a technological fix to the wrong question, when we should be asking if this kind of large-scale meat production should exist at all.
"We're not here to drive agriculture to factory farms," says Bush. "We want to support a centralized model."
He sees his facility as a way to make the maximum use of waste, providing additional revenue streams for farms that might not otherwise be able to survive. There are currently five nearby farms nearby that will contribute feedstock to his facility, allowing them, he says, to be "virtual big businesses." He notes that his facility's footprint is about an acre and a half, and the boiler that runs his digesters and scrubbers is the most efficient model he could find.
"We're running at 93 per cent efficiency," Bush says. "If we can capture this gas, harvest it, clean it upgrade it, we can replace petroleum-based fuels."
And this is just the beginning, says Bush. He intends to build 125 copies of his facility across Canada.
"We're doing the right thing, at the right time, for the right reason," Bush says. "Most great things in life are a little hard. I would say I'm blessed to be first."