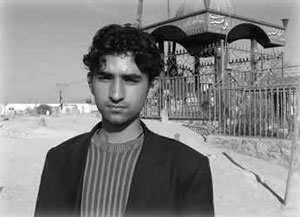 [Editor's note: This is seventh in a series, running Thursdays and Fridays, by Terry Glavin profiling Afghanistan's "unsung heroes," a project supported by the Canada-Afghanistan Solidarity Committee and the Funders Network for Afghan Women.]
The high street in Barakey, one of the poorer sections of Kabul, is now called Ajmal Naqeshbandi Road. Its whirling and chaotic traffic circle is called Ajmal Naqeshbandi Square, and in the nighbourhood's old cemetery, the most prominent shrine is devoted to the same Ajmal Naqeshbandi.
Naqeshbandi was executed by the Taliban in the spring of 2007. He was 26 years old. The inscription above his raised stone coffin reads, in Dari: "He was kind to his people, and was intolerable to the enemies of Afghanistan. Ajmal Naqeshbandi will always be remembered with honour by the people of Afghanistan."
Ajmal was kidnapped along with the Italian journalist with whom he was working -- Daniele Mastrogiacomo of La Repubblica -- and Mastrogiacomo's driver, Sayed Agha, in Helmand province, on March 5, 2007. A few days later, Agha was murdered on charges he was "spying for foreign troops." To ransom Mastrogiacomo, President Hamid Karzai agreed to release five ranking Taliban prisoners. But Karzai refused to ransom Ajmal, who was beheaded on April 8, 2007.
There was an uproar. The Naqeshbandi family says the Afghan government ended up paying a ransom of $30,000 and a Toyota land cruiser for Ajmal's remains, which had been left in the desert for three days. The body was returned to the family, in Kabul, with its head sewn back on.
I visited Ajmal's shrine with Ajmal's cousin, Baktash Muqim.
Life under the Taliban blackout
Baktash can speak Dari, Pashto, Urdu and English. He is 21, and while he hasn't had much work since he graduated from high school, he has taken some English and computer courses. His favourite newspaper is Usade-Azadi, because it is multilingual -- English, Farsi and Pashto.
"I want to be a journalist, like Ajmal. I am a good storyteller. I trust myself that I can do this," Baktash told me.
During the Taliban era, music was banned, photography was outlawed, and the only thing vaguely resembling any kind of news media in Afghanistan was a network of radio stations run by the Taliban for the purpose of religious indoctrination and the broadcast of edicts and rulings.
Within five years of the Taliban's 2001 rout, there were dozens of radio stations operating across Afghanistan, along with 17 television stations and dozens of newspapers and magazines. In Kabul, the award-winning and wildly popular Tolo TV has been at the forefront of building a new, collective conversation among Afghans. But as the Afghan media has expanded, journalists have come to be seen as a threat -- not just to the Taliban, but also to the political and religious factions that control much of the Afghan economy and exert influence on the Afghan government.
Magazines and radio stations connected to former warlords and powerful clerics are edging out independent journalism. Professional journalists are under constant threat.
Casualties in struggle for a free press
In 2005, Tolo TV's Shiama Reziaee was murdered for "un-Islamic" behavior. In 2006, radio station Istiqlal was firebombed. In 2007, the pioneering radio journalist Zakia Zaki was assassinated in Parwan, and television news presenter Shokiba Amaaj was murdered in Kabul.
In a case that drew international condemnation, student journalist Sayed Parvez Kambaksh was arrested in 2008 for allegedly distributing blasphemous material, which merely raised questions about the rights of women in Islam. Kambaksh was sentenced to 20 years in jail.
Baktash says he knows the risks, but he's committed to taking up a career in journalism and following in the footsteps of his cousin, Ajmal Naqeshbandi.
"The most important thing is to trust in yourself," Baktash said, "and so I do trust."