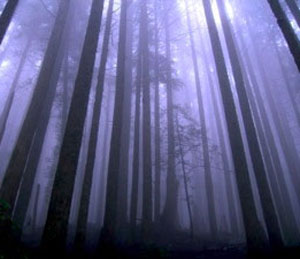 A powerful body in Washington D.C. is about make a decision about green labelling that will have sweeping impacts for Canadian wood producers and for those who have spent years working to define the best practices for environmentally approved forestry.
Much more Canadian timber could be hammered into environmentally friendly buildings throughout North America if the U.S. Green Building Council (USGBC) approves newly drafted rules under which wood products are accepted into its Leadership in Energy and Environmental Design (LEED) green building programs.
But the Forest Stewardship Council and its allies in the environmental community charge that the proposed LEED standards would allow status-quo forestry to be called "green," and warn that looser LEED rules would decimate the sapling marketplace for wood produced under ecologically sensitive conditions.
"There are big stakes here, and the repercussions will spread across the forest products industry for years," said Corey Brinkema, president of the American branch of the multi-national Forest Stewardship Council (FSC).
"If the current draft is passed without modification, it is possible that barely-legal forestry would be green-washed by industry and accepted into the LEED program," Brinkema told The Tyee in an interview. "It would be a major blow to FSC [and] a major black eye for the USGBC."
The rival Sustainable Forestry Initiative and its allies in the timber industry return fire with the charge that the new rules would not loosen LEED enough, and warn that the Forest Stewardship Council's de facto monopoly within LEED requires North American builders to use FSC wood from countries such as Russia or Sweden -- at the expense of U.S. or Canadian-grown timber.
"This position should not be taken lightly," said Kathy Abusow, president and CEO of the Washington D.C.-based Sustainable Forestry Initiative (SFI).
"If the USGBC maintains the status quo and does not recognize the SFI Standard, many LEED builders who chase points will turn away reputable third-party certified SFI wood which is grown in their backyard... and instead turn to FSC wood," Abusow said in a prepared statement. "The vast majority of the FSC's global supply comes from overseas and often from countries without effective social laws."
The pending LEED decision will not only redefine green forestry, but also stands to reshape both Canada's sprawling forest products industry and its booming green building sector. Within British Columbia, the LEED determination stands to influence signature projects as diverse as the North Coast's remote Great Bear Rainforest, which is predicated on the financial viability of FSC-style eco-forestry, and Vancouver's high-profile Olympic Athletes Village, which has a resale value based in part on its LEED certification as the greenest neighbourhood in the world.
The Tyee will endeavour to unravel this acronym-packed conflict over the next five days as part of our occasional series entitled "How Green Is Your Wood?" Today: How the war of the woods came to town.
Environmentalists launch FSC
The seeds of this thicket were planted almost two decades ago, when the war of the woods crept from the forest floor to the Home Depot aisle.
Public concern for the environment rose through the late 1980s and crested at the United Nations' 1992 Earth Summit in Rio de Janeiro. But the UN's failure to secure significant binding agreements among governments caused many of the summit's more than 17,000 non-governmental observers to leave Brazil feeling frustrated. (Much like last year's post-Copenhagen ennui.)
Some returned to protest in their own backyards. The 1993 logging blockades in Clayoqout Sound attracted more than 12,000 protestors and remain the largest act of peaceful civil disobedience in Canadian history.
Others sought to reform the marketplace. So while the Clayoqout protestors were shouting for an international boycott of MacMillan Bloedel and related companies, a new group emerged and whispered "buy this wood instead." The Forest Stewardship Council was founded in Toronto in the fall of 1993.
The first FSC assembly included 130 participants from 26 nations. They created an multinational family of not-for-profit organizations committed to three activities: drafting rules to define how environmentally friendly wood should be grown and cut, hiring auditors to verify that the rules are followed, and creating a consumer label to certify the resulting wood products.
The Forest Stewardship Council grew, and FSC now certifies wood from more than 123 million hectares of forest in 82 countries. Some 35 million of those FSC-certified hectares are in Canada, accounting for about 28 per cent of FSC's global land base. All told, about one out of every four hectares of certified forest in Canada is FSC certified.
USGBC creates LEED building standards
Consumers responded readily to the FSC's forest-friendly label, in much the same way they responded to organic food and other environmentally friendly home products. Major mail-order firms such as LL Bean and Victoria's Secret now print their catalogs on FSC-certified paper, while Home Depot has become the largest seller of FSC-certified wood products.
But consumers don't really buy much wood. Rather, the lion's share of lumber is bought by builders, who tend to choose low price over low impact. As fate would have it, however, there was yet another environmentally minded organization launched during the year of the big Clayoqout logging blockades -- the non-profit U.S. Green Building Council.
The USGBC works to promote environmental sustainability through its LEED standards, which rate how buildings are designed, built and operated. And when the USGBC first drafted its forestry standards in the 1990s, it borrowed heavily from the work of the like-minded Forest Stewardship Council. As a result, FSC-certified wood was -- and still is -- the only wood recognized under the LEED system, causing a de facto monopoly that is credited with expanding the market for FSC-certified wood products.
Green building grew slowly. Years passed before LEED certified its first buildings. But today there are 4,890 LEED-certified buildings and more than 27,359 LEED-registered projects, comprising more than 8.8 billion square feet of construction.
Likewise, while green building represented just two per cent of the construction market in 2005, it is projected to grow to a quarter of all commercial and institutional building starts and 20 per cent of the value of residential starts by 2013.
That adds up to a U.S. green building sector soon be worth more than $80 billion a year.
Forest industry responds with SFI
And that $80-billion-a-year market remains off limits to the more than three-quarters of Canadian forest that is not FSC-certified.
That's a problem for the conventional forest products industry -- both in Canada, which is the world's largest exporter of forest products, and in the U.S., which is both the largest consumer of Canadian forest products and as a major producer in its own right.
The American Forest and Paper Association (AFPA) responded to the creation of FSC in 1994 with the program that came to be called the Sustainable Forestry Initiative. The U.S. trade association spent six years working to persuade the public that its consumer label was just as green as that offered by FSC, but the AFPA-run version of the SFI label was not widely perceived as objective.
In the fall of 2000 -- the same year the LEED standards were introduced -- the AFPA spun off SFI into the hands of a new not-for-profit corporation run by a large board of directors. The new SFI hired an aggressive new leader who strengthened the organization's forestry standards and significantly expanded its land base. And the Sustainable Forestry Initiative now represents more than 75 million hectares certified to its standards in North America -- with more than 40 million of those in Canada -- making SFI the largest forest certifier in the world.
The Washington D.C.-based SFI also boosted its budget from about a half-million U.S. dollars a year mid-decade (a total roughly equal to what FSC spends in the U.S.) to $5.3 million in 2007 and $6.3 million in 2008 according to its tax returns. Those public documents also show that SFI spent more than half its income on advertising in 2008 -- with payments of more than of $3.4 million to Chicago advertising agency Porter Novelli.
Like FSC, the non-profit SFI has met with considerable success among makers of consumer products. For example, the paper used to make 3M's popular Post-It Notes and the board used to make Tropicana juice cartons are now made from SFI-certified wood fibre.
But SFI has not yet been successful in persuading the U.S. Green Building Council to certify SFI wood products for credit in LEED-certified buildings.
Two tribes, two tactics
Since The Tyee last reported on this battle, the combat has spilled into venues unimaginable during 1993's "Summer of Protest." But the tribal nature of the battle lines has not changed. For while warriors on both sides of this struggle readily admit to not fully understanding the complex technical issues on which this conflict is waged, most environmental groups remain predominately aligned with the Forest Stewardship Council while most of the industry side is aligned with the Sustainable Forestry Initiative.
In September of 2009, lawyers representing the environmental group ForestEthics filed complaints with the U.S. Federal Trade Commission and the U.S. Internal Revenue Service in which they accused the SFI of deceptive practices that amount to greenwashing. They also challenged the legitimacy of SFI's tax status as a public charity.
"The Forest Stewardship Council was put in a position -- with the LEED decision and SFI's ramping up -- of having to make a decision," said Seattle attorney Peter Goldman, who represents ForestEthics. "Were they just going to sit back and let SFI claim the green mantle? Were they going to watch SFI position themselves as an equal player in the paper and lumber market? Or was FSC going to do something about it?"
In October of 2009, lawyers for a group called the Coalition for Fair Forest Certification retaliated with their own trade commission complaint, in which the FSC stood accused of allowing sub-standard wood slip into the U.S. from other countries. They also accused both FSC and the USGBC of engaging in anti-competitive practices.
These administrative complaints are warning shots fired across the bow of the U.S. Green Building Council, which is collecting public comment on its proposed new rules for the use of green wood in LEED buildings until March 14. And both complaints are likely precursors to legal action.
"We believe the USGBC and FSC are engaged in anti-competitive behaviour that violates both trade law and the Sherman Act," said Tom Collier, a Washington D.C. attorney representing the SFI-allied coalition.
"North American timber is being forced out of the green marketplace. And timber from foreign countries is being sold here when there is no meaningful difference in how that timber is grown," Collier told The Tyee.
Goldman, the lawyer for the FSC-allied group, set the stakes even higher.
"This is our opportunity to draw a line and say, 'Look, if you're not really green, then you can't say you're green," Goldman told The Tyee.
"If we allow them to do this, there will never be a green building marketplace," Goldman said. "Because everybody's products will qualify. So there will be no such thing as consumers paying more for something green. The concept will just never take hold."
Tomorrow: The trade complaint against FSI.