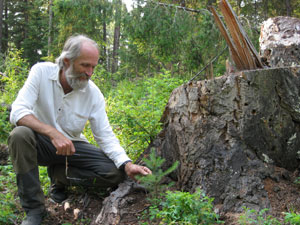 Rod Krimmer moves through the forest undergrowth with long, confident strides that make him seem perfectly at home here. Graceful, even, compared to my awkward gait. Clutching a camera in one hand, a notebook in the other, I clamber over a fallen trunk to catch up.
I'm on a tour of his 638-hectare woodlot, and he wants to show me the calling card of the bark beetle that has plagued his forest; brown, woody dust that indicates the pest has bored its way into the tree's core. It's a bad sign, but if he's vigilant and catches these trees early, the lumber is still salvageable. Forest management decisions these days, he tells me, are usually made "with a chainsaw in hand when you're on the ground."
Figuring his hands-on and holistic approach to forest management was in line with FSC standards anyway, Krimmer decided to become certified in 2000. With the official stamp of approval, he would reap the benefits of a growing market for sustainable wood. Right?
Wrong. "There is certainly not the demand that I'd hoped," says Krimmer. "I don't believe we're getting enough demand to justify administration costs." Next year when his own certificate expires, he might just let it go.
Operators like him are in a difficult position, says Krimmer -- too small to small to fill large orders in the global market and unable to find a local demand for green lumber. Is it just a matter of finding the right niche?
An FSC pioneer
According to the Forest Stewardship Council of Canada, a quarter of the world's FSC certified forests are in Canada. British Columbia boasts 1,869,271 hectares of FSC, and most of it (1,780,216 hectars) is owned by Tembec.
The rest is split between small operations; woodlot and tree farm licensees and community forests. Krimmer is one of just two FSC-certified woodlot owners in the province.
He helped draft the FSC standards for British Columbia before it was introduced in the 1990s, and he believes it is the best measure of sustainable forestry. Although he says the certification process (which cost $2,000 to $5,000 and requires annual audits) is not particularly onerous, he just isn't seeing any payback.
Krimmer mills about 20 per cent of his wood in his own shop, to fill small orders for a beam or a post here and there, and the rest he sells to local mills. Most "don't know or care" that it's FSC certified, says Krimmer.
"It's just going into their lumber yard. There is no tracking at all. There's no difference in demand," he explains, bristling at the thought. "It's just fibre to them."
"And when you find a good solid demand for [FSC lumber], it's for huge volumes," Krimmer continues. "They want a container full, and they want it in England or Japan or the United States." Not only that, but large-volume customers are also frequently looking for high-quality wood.
"What I have to do to meet an order like that is go out and take my very best trees, and basically cream the woodlot license to make one order. The client doesn't realize that that is really counter to FSC forest management," says Krimmer.
A creative approach in Ontario
One group of woodlot owners in Ontario is trying to get around this problem of supply and demand.
The Eastern Ontario Model Forest (EOMF) is a collection of 100 individual woodlot owners and five community forests. Together, they own 100,000 acres, or roughly 40,000 hectares, all of which is FSC certified.
Scott Davis, who co-ordinated the certification process, says there were only 20 woodlots in the program when it launched in 1999. FSC certified wood was "non-existent" in Canada at that time, says Davis, and the group wanted to test the process, and see if certification was a good framework for sustainable forestry.
Though he acknowledges that "it probably costs more energy and effort to implement sustainable forestry than it would not," Davis says that members have seen benefits. They have a better sense of the value of their wood, for one thing, and members have gone from selling firewood to collectively filling lumber orders for tens of thousands of board feet. The EOMF also markets non-timber forest products, like maple syrup, says Davis.
Though it's still relative small-scale, "now that we're accumulating a decent amount of acres, we're able to accommodate some of those larger requests," says Davis.
'Best for the local economy is huge'
Steve Roscoe, president of Woodland Flooring and Millwork in the Comox Valley, says he's looking for green suppliers, but not necessarily FSC-certified ones.
Roscoe says about a quarter of what they sell is FSC certified, but sourcing local, salvaged and beetle-killed wood is more important for him.
"Doing the best for the local economy -- local employment from local wood -- is just so huge and I can't stress that enough," says Roscoe.
Woodland supplies a certificate of origin for all of their products, that tells clients if the wood came from a salvaged Douglas Fir, for example, or a beetle-killed pine. Being able to work more closely with woodlot owners means they can tailor their needs, adds Roscoe.
"Our whole forest industry has been stuck in the [mass] commodity [mindset] for so many years that they just don't know how to do specialty products. But really, we have an abundance of raw material here in B.C. to work with."
Build your own eco-certified cabin
Krimmer is trying to take the best advantage of his raw material by adding a value-added component to his products. He is attempting to raise his profile (and make use of his fir, a mid-grade wood) with ready-to-assemble, 100 per cent FSC-certified dwellings. His kits come with fir panels that fit together to make a hexagon-shaped cabin, similar to a yurt. Krimmer has had some success; one of his cabins is being used for a classroom at a forestry camp.
"It seems demand has to come from fairly established businesses, or I try and market my little cabins and try and build the FSC market myself," says Krimmer. "Which, it's almost more than I have time to do."