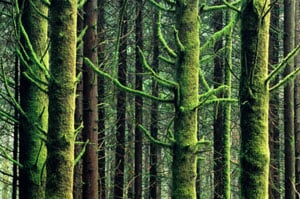 [Editor's note: read the previous story in this series, here.]
"When you consider that only 10 per cent of the world's forests are certified, we have a long way to go," states a recent advertisement for the Sustainable Forestry Initiative (SFI).
"The good news is that there are a number of credible forest certifications programs. And each one, including SFI, encourages responsible forestry," the ad continues. "So look for the SFI label, and source wisely."
It's hard to envision a softer sell, and amusing to imagine: There are a number of tasty soft drinks on the market, and each one, including Pepsi, contains the same ingredients.
Nonetheless, this is precisely the message that has fueled the wildfire of controversy now raging through the North American forest products industry.
Peter Goldman lit the match.
"SFI is trying to sell the idea that its certified wood products are every bit as environmentally friendly as FSC [Forest Stewardship Council] certified wood products," the Seattle-based attorney said. "They want the public in general -- and the U.S. Green Building Council in particular -- to view forest certification as just another consumer choice, like, 'Coke or Pepsi?'"
Goldman insists the two 'green wood' labels are not alike. As managing attorney of the Washington Forest Law Center, he has filed a flurry of complaints to argue his point.
"SFI is status quo forestry with a green seal," Goldman told The Tyee. "When you buy at piece of SFI wood, you are not guaranteed or assured that you are going to get anything more than what ordinary state and federal law requires."
Having explained the context for the controversy yesterday, today, The Tyee explores the complaint against the Sustainable Forestry Initiative. On Thursday, we will consider a counter-complaint that refutes the charges described here as "unsupported and without merit."
Similar aspirations, different requirements
At first glance, the separate standards of the two leading forest certification organizations appear somewhat similar.
The Sustainable Forestry Initiative's recently revised standards are based on 14 core principles, 20 objectives, 39 performance measures and 114 indicators, all of which are applied universally. The SFI core principles include, "Forest productivity and health," "Protection of water resources," and "Protection of biological diversity," as well as "Avoidance of controversial sources including illegal logging in offshore fiber sourcing."
The Forest Stewardship Council's system is based on ten principles and 56 criteria. The procedures by which forests are made to conform to these criteria vary among regions. The FSC principles include, "Reduction of environmental impact of logging activities and maintenance of the ecological functions and integrity of the forest" and "Appropriate monitoring and assessment activities to assess the condition of the forest," as well as "Recognition and respect of indigenous peoples' rights" and "Maintenance or enhancement of long-term social and economic well-being of forest workers."
But Goldman and other critics of SFI allege that while both programs promote better forest practices, only FSC requires it.
Working on behalf of the nonprofit environmental group ForestEthics, Goldman has filed an administrative complaint with the U.S. Federal Trade Commission (FTC) that accuses the Sustainable Forestry Initiative of "unfair and deceptive" practices.
"The requirements to achieve SFI certification in the U.S. are often only marginally different and more protective than state and federal forest practice laws imposed on harvesting operations," states the FTC complaint. "The problem is complicated by the fact that SFI's standards cannot be measured, quantified, or qualitatively compared to non-certified forests or forests certified by other systems."
'Vague' standards, unpredictable outcomes
"SFI broadly claims that its standards include 'measures to protect water quality, biodiversity, wildlife habitat, species at risk and forests with exceptional conservation value.' But most, if not all, of SFI's environmental and social measures in the SFI standard are vaguely worded, suggesting a central purpose to defend and legitimize status quo industrial forestry as environmentally and socially responsible, without requiring SFI participants to do more that they did before," ForestEthics' 27-page FTC complaint alleges.
"The SFI standards contain an abundance of unmeasurable or unverifiable terms, weak or vague verbs, and numerous qualifiers (e.g., 'where practical') that permit a much greater degree of flexibility and discretion in their interpretation and implementation by forest managers, certifiers and auditors," the Sept. 2009 complaint continues.
Goldman threw a spotlight on such "discretion" the following month, when he filed a complaint to the Sustainable Forestry Initiative asking SFI to suspend the Weyerhaeuser Company's SFI certification.
"Weyerhaeuser's forest practices within the Upper Chehalis and Stillman watersheds in southwest Washington are not compliant with the SFI standards," asserts the Oct. 2009 SFI complaint filed on behalf of the Sierra Club. "We demonstrate that Weyerhaeuser's clearcutting and road-building on steep slopes in these watersheds was associated with a high concentration of landslides, which contributed to record flooding and damage of the Chehalis River basin during the Dec. 2007 storm."
Weyerhaeuser refutes the charge. The international forest products company has said its clearcuts were in compliance with state law, and has blamed the intense storm -- not its logging practices -- for causing the landslides. But the Sierra Club's complaint leaves SFI in a tight spot. Weyerhaeuser has been a staunch supporter of SFI, and its president, Daniel Fulton, is also a member of the SFI board.
Sourcing label 'deceptive,' litigation likely
Another charge made in ForestEthics' FTC complaint revolves around SFI's "certified sourcing" label.
SFI has several versions of its consumer label -- as does rival FSC -- each representing different claims. SFI's primary "certified content" label, for example, represents that much of the labeled product's fibre content comes from forestland certified to the SFI's own standard, or to the forest management standard of organizations such as the Canadian Standards Association or the American Tree Farm System.
ForestEthics alleges that a secondary label, called "certified sourcing," is deceptive because it "bears a very close visual resemblance to other SFI labels" while it does not actually represent that the product contains fiber from SFI forests.
"While it appears very similar to SFI's regular label, SFI's 'Certified Fiber Sourcing' label makes the implied claim that the source of the fiber is known, has been tracked, and is being certified by SFI, but that is not true. In fact, the source of the fiber in products bearing SFI's 'Certified Fiber Sourcing' label may be unknown," the FTC complaint alleges.
Goldman said the SFI fibre-sourcing label certifies the system, not the fibre.
"Under SFI's 'Certified Fiber Sourcing' standard, the only thing that actually gets audited is a 'system' for sourcing raw materials that may be sourced globally through complex supply chains -- the supply chains themselves do not have to be audited, which in turn means that the ultimate forest sources for the raw material are unmonitored," the complaint alleges. "There is no guarantee that products marketed as SFI 'Certified Fiber Sourcing' have any connection to SFI forests."
Goldman predicts these and other allegations will likely end in court.
"We'd prefer to see the Federal Trade Commission take SFI to court," he said.
"If that doesn't happen," Goldman told The Tyee, "we are developing a case in which an FSC business will hold SFI accountable for its deception in the green marketplace."
'Wasting energy bickering among ourselves'
SFI president and CEO Kathy Abusow declined The Tyee's repeated requests for an interview. SFI spokesperson Karen Brant did respond to written questions and provided text of comments from Abusow.
Brant did not refute the ForestEthics complaint directly, though in its Oct. 2009 counter-complaint, an SFI-allied group called the Coalition for Fair Forest Certification asserts, "The allegations contained in the ForestEthics Submission are unsupported and without merit."
Brant wrote that all of SFI's "labels and claims conform to government, consumer and audit requirements in the United States and globally." She also provided detailed background on the SFI program.
"We are dedicated to finding ways to work together with all credible forest certification standards toward our common goal of expanding certification," Abusow said in a prepared statement.
"In light of that common goal, ForestEthics' recent statements and activities are an affront to the tremendous efforts by foresters, businesses, governments, consumers, SFI and other standards groups to preserve and protect our forests for future generations," Abusow continued.
"We should all be focusing our resources and efforts on supporting responsible forest management and fighting deforestation and illegal logging, not wasting energy on bickering among ourselves."
Tomorrow: Can an industry-created nonprofit meet test for a public-interest charity?