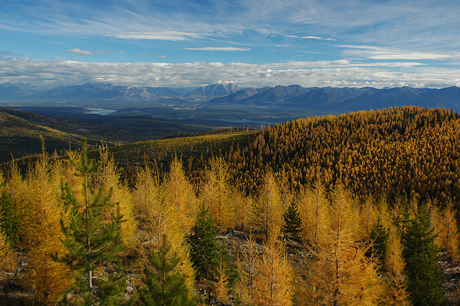 The axe fell on 570 forestry workers at three Interior B.C. sawmills on May 28, the latest victims of an unprecedented market downturn that continues to ravage B.C.'s hinterland.
John Bergenske shares the mill workers dashed hopes, but for different reasons altogether. It wasn't long ago that Canfor's Invermere-area operations, which supplied the now-shuttered sawmill at Radium, B.C., were making progress toward attaining FSC forest management certification.
"I had planned to work with other groups to really try to move Canfor, they were a natural to come on [to FSC]," says Bergenske, executive director of environmental group and FSC member Wildsight. "But when companies are making those kind of cutbacks, there is an upfront investment to certification, and I'm afraid there's really nobody investing in anything other than trying to keep doors open right now."
It took nearly 10 years of intense negotiations to create a unique B.C. standard for FSC forestry management certification, but a brutal downturn in the forest industry, government indifference and the rise of rival industry-led certification schemes have all conspired to keep FSC certification off the ground in most of B.C.
Today just one of B.C.'s major tenure holders has gone through the process to earn FSC certification for their forest management practices -- a process many of the biggest companies complain is too expensive and prescriptive to be practical.
"What you've got in B.C. is a FSC standard that is more stringent than any other standard in the entire world," says Rick Jeffery, president and CEO of the Coast Forest Products Association, an industry group whose members include Timber West and Interfor. "Why do we have to do that when nobody else in the world has to?
A difficult question, granted. But it might find an answer in the Great Bear Rainforest, where timber firms and other residents and stakeholders are hashing out a new more ecologically friendly way to harvest the forest. More about that later, but first some history.
Rise of rival certification standards
By the time the B.C. FSC standard was finalized and fully accredited in 2005, virtually all of B.C.'s big forest companies had pursued other forestry certification, including schemes offered by the Canadian Standards Association (CSA) and the Sustainable Forestry Initiative (SFI). By January 2008, 33.1 million hectares had been certified to CSA, and 17.8 million hectares to SFI, while less than 600,000 ha were certified to FSC.
Environmental groups and their allies around the world have attacked both rival schemes as inferior to FSC in protecting sensitive ecosystems and people from the workings of modern industrial forestry.
Companies like Canfor, which by end of last year had nearly 17 million CSA-certified hectares in B.C., insist the standards offer "comparable" environmental protection and community engagement.
Patrick Armstrong, a current FSC board member who has represented industrial forestry interests there since the late 1990s, remembers that early on in the process, most of B.C.'s big forest companies were at the FSC table. So why didn't any of these companies follow through and get FSC certified?
"They were a bit leery and there was a sense in the industry at that early time that FSC was not a real stable organization," he says. "There was scepticism there."
Tony Marcil, the president of FSC Canada, puts it differently. "The enviros hijacked the process," he says of the acrimonious process that led up to the creation and revisions of the first B.C. FSC standard. "The traditional industrial scale loggers all thought it was a good idea. They wanted to participate. But they got so screwed over by the enviros that they walked away. It was a flawed process, so the original B.C. standard got hugely over-prescriptive, and there was no industrial scale pick-up."
Marcil feels that ardent B.C. environmentalists stacked the governance structures of the fledgling FSC movement in B.C. with people who were more aligned with environmental, social and small woodlot interests, which alienated the major companies, who balked and went on to pursue industry-created certification schemes.
There was only one exception, and that was Tembec Inc., a Quebec-based forestry company run by visionary CEO/president/founder Frank Dottori, who signed an accord with the World Wildlife Fund in 2001 committing the company to pursue FSC certification. Marcil says Dottori took a characteristically hard-line approach: "He basically said, 'Don't give me any shit, just get out there and do it.'
"Tembec has proved [wrong] the loggers in B.C. who all sat back on the sidelines and said it was too unmanageable, too prescriptive, too difficult.... They just quietly went ahead and got certified, even though it took a lot of hard work."
Challenges on the ground
Being the first big company in B.C. to meet the FSC standards forced Tembec to confront challenges that continue to linger today.
"[FSC] is often at odds with the way we manage forests in B.C. and the way the government oversees that management," says Chris Stagg, the chief forester for Tembec Western Canada, who worked on the company's FSC certification of over 1.7 million hectares of forest in East Kootenay and in the boreal forest near Chetwynd, B.C.
B.C.'s Ministry of Forests and Range currently considers FSC certification to be "incompatible" with the roughly 70 per cent of the provincial forest base that is managed as volume-based tenures -- land where government allows companies to harvest prescribed volumes of wood within management units, but does not give a set geographical area in which a company has exclusive operational rights.
"Under FSC certification, forest managers are required to demonstrate long-term management over a specific area," says Ministry of Forests and Range spokesperson Jennifer McLarty. "This is difficult to apply in B.C., which predominantly follows a volume-based tenure model."
Tembec has been able to FSC certify lands on its volume based tenures in the Cranbrook area because they have a "gentleman's agreement" with other licensees in the wider timber supply area specifying which operating areas they will manage. Such agreements often do not occur elsewhere in B.C., particularly in beetle-salvage areas where short term "uplift" tenures can be awarded by tender within a competing company's operating area.
Another issue working against FSC in B.C. is that certification typically requires a company to cut nearly 10 per cent less wood than they are permitted, which means either the Crown takes a hit from loss of stumpage revenue (companies pay the government "stumpage fees" based on how much wood they cut on Crown land), or the company faces the risk that the government will give their uncut volume to another company.
"We're overcutting in this province," says Jessica Clogg, senior council at the West Coast Environmental Law and current member of the FSC B.C. board. "There's no reason why a minor amendment to the Forest Act couldn't occur... that would allow [the harvest] to be brought in line with responsible forest practices, and the true cut that can be sustained from the area that's being FSC certified."
Tembec's FSC certifications have also pushed the company into a land-use-planning no-man's land: as an obligation to certification, they have worked with stakeholders to identify and protect areas of high conservation value forest (HCVF), but without a formal public process.
"So far, government [is] treating us as a test case, they're allowing us to do it, and they are monitoring it, but if other companies decide to go this route, at some point [government] would have to come to terms with whether the whole idea is acceptable to them, or if they would have to change the way we're doing HCVFs."
The Great Bear Rainforest: 'A hole in the dike?'
The multi-stakeholder agreement to protect the Great Bear Rainforest (GBR) has created a new sense of cooperation on matters of sustainability for five of B.C.'s big tenure holders, and with it the possibility of FSC certification in the near future.
Working together throughout the mid-coast timber supply area, big forestry companies are embracing a land management regime called Ecosystem Based Management, a framework that will guide the planning and management of their forestry operations across about 2.5 million hectares of the GBR.
The industry groups -- including West Fraser Timber (which did not respond to repeated Tyee interview requests), and BC Timber Sales (a provincially-owned body that manages 20 per cent of B.C.'s Crown allowable annual cut), have banded together and applied for a group certificate that could see their collective holdings independently audited to FSC standards as early as Labour Day.
New logging regulations for the GBR passed in March 2009 include ensuring that 50 per cent of the natural level of old growth forest in each ecosystem is maintained or restored, water bodies and wetlands must be adequately protected by riparian buffers, and grizzly bear range areas must be maintained.
"The idea is that you focus on what to leave before you focus on what you take," says Candace Batycki of ForestEthics. "It certainly gets a company a long way toward FSC."
Critics have argued that the plan for managing the Great Bear Rainforest allows too much logging and falls short of adequately protecting wildlife habitat.
But FSC's Tony Marcil doesn't see it that way. And he thinks the GBR could be a "hole in the dike" for FSC uptake in B.C.
The B.C. government will only confirm that BC Timber Sales is currently "examining the feasibility of [FSC] certification" in the area. So far, industry, too, is low key.
"The [environmental groups] wanted to use this as an opportunity to push FSC certification," says Rick Jeffery of the situation in the Great Bear. "The companies were fair enough to say, if we can put this on the ground, and get FSC certification on top of our [existing certification there], why wouldn't we try?"
Related Tyee stories:
The War over Eco-Certified Wood
When it comes to buying nature-friendly wood, two stamps of approval vie, with vast forests at stake. Which will win out? Big timber firms back the one critics call greenwashing. A Tyee special report.
A Certified Forest Saviour
A 'Trees and Us' podcast with Antony Marcil.