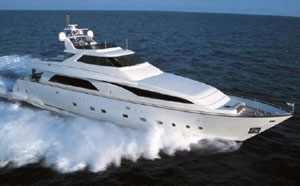 A proposal for a mega-yacht marina in Victoria's inner harbour worked its way through both official channels and political backrooms at the same time, newly released documents show.
Two well-connected provincial Liberals helped bring the marina to cabinet ministers' attention. Neither one registered as a lobbyist with the province.
Integrated Land Management Bureau presentation slides dated Sept. 22 describe how decisions like the one about WAM Development Ltd.'s proposed marina are supposed to be made. Federal, provincial and local government agencies review different pieces of the proposal, one slide says. There is "public advertising and input" and "First Nations consultation."
A diagram with three overlapping circles illustrates how the decision would be made taking economic, environmental and social values into consideration.
The slides note that the ILMB issued an investigative permit in Nov. 2007, and the proponents made an application for development in Dec. 2008. They are seeking a license to occupy a 2.63 hectare marine Crown lot in the harbour.
While the slides depict a textbook public process that would be fair and open, they fail to mention the lobbying going on behind the scenes.
Minister Hagen supported proposal
Eight months before the province gave WAM its investigative permit, the late Tourism, Sports and the Arts minister Stan Hagen signed a letter to WAM's lawyer Bruce Hallsor supporting the marina proposal.
The March 2007 letter, among some 3,000 pages of documents the Environmental Law Centre at the University of Victoria and the Save Victoria Harbour group obtained using freedom of information requests, refers to a Jan. 23, 2007 meeting Hagen had with Hallsor.
"You outlined a proposal for a high-end marina capable of berthing 80-foot to 120-foot yachts, to be located on the water lot in front of the Songhees lands, and possible hotel development adjacent to Belleville Terminal," Hagen said.
"These projects would generate significant tourism activity which is critical to leveraging capital investment and creating new opportunities for economic and social benefits in the Victoria region," he said. "We support WAM Development Ltd.'s plans to initiate tourism activity in the Victoria harbour, and look forward to hearing more about these exciting developments."
Hallsor has registered federally to lobby on behalf of WAM, but his name does not appear in the provincial registry.
Hallsor 'pretty sure' he registered
"I think that I did contact the provincial registry," Hallsor said. "I'm pretty sure I did register."
His name may have been removed from the registry, he said, since he's no longer active.
An official with the registry, however, confirmed names are never removed from the database. Even "terminated" lobbyists' records appear, she said.
Little was needed to be done provincially anyway, Hallsor said. "As it turned out I didn't do very much because their main issue has been with the federal guys."
At first Hallsor said he didn't meet with any provincial cabinet ministers on behalf of WAM, but when asked about the Hagen letter that says he did, Hallsor said, "Yes, I met with Stan Hagen with them."
He said he would check his files to confirm whether or not he registered as a lobbyist provincially and would call back the next day.
"You are right, I did not register provincially," he said, having checked his file. He had consulted another lawyer in his firm, he said, and that lawyer did not believe what Hallsor was doing met the definition of "lobbying" set out in the provincial legislation, though it did appear to meet the differently worded federal definition. "I wasn't engaged in [provincial] lobbying in their view."
Hallsor is on the executive of the Conservatives' electoral district association in Saanich Gulf Islands and is a B.C. Liberal constituency association president in Victoria-Beacon Hill provincially.
But Hallsor wasn't the only Liberal helping push the marina.
Ministry staff wrote a briefing note for then Economic Development minister Colin Hansen, now the finance minister, to prepare the minister for a meeting with Hallsor and marina proponent Bob Evans. Hallsor, by the way, said he does not recall meeting with Hansen about the marina.
Former MLA Bray organized meeting
"This meeting has been organized by Mr. Jeff Bray, Capital Public Affairs Inc., for informational purposes," said the March 19, 2007, briefing note. The meeting was scheduled for March 23, it said.
Bray, a Liberal, was the MLA for Victoria-Beacon Hill from 2001 to 2005, when he was defeated by NDP leader Carole James. Following the election, he worked as the Liberal caucus' executive director before starting his own government relations firm.
As with Hallsor, Bray's name does not appear in the province's lobbyist registry.
The Lobbyists Registration Act says a paid consultant must register if he or she arranges a meeting with a public official for a client.
"No, I didn't arrange it. I don't think so," said Bray, who now works for Shaw Communications, when asked about the meeting. "I did a tiny little bit with Bob. I'm trying to think."
Usually his clients were people who already had meetings arranged and who just needed advice, he said. Bray said he may have suggested people for Evans to call, but believes he would not have set the meeting up himself. "The only reason I know Bob is he's a member of the Union Club, so I see him at the Union Club."
The briefing note for Hansen said the application for an investigative permit, filed with the ILMB in Dec., 2006, was under review. "ILMB is in consultation with the Department of Fisheries and Oceans, Transportation Canada, the Greater Victoria Harbour Authority, the City of Victoria, and the Te'Mexw Treaty Association (Songhees First Nation) regarding this application," it said.
Hansen signed an April 19, 2007 letter to Evans saying "the ministry does not endorse specific projects" but that it does value "the benefit of projects that promote economic diversification and the demand for skilled labour in B.C." He wished Evans success.
Insider influence
While working on the briefing note for Hansen, the ministry staffer who wrote it, Todd Bailey, sent an e-mail to an ILMB official working on the file, Walter Van Bruggen. Among his questions, Bailey asked, "Is it normal for proponents to 'shop around' their project to Ministers during an ILMB process?"
Diane Carr, the chair of the Victoria West Community Association's land use committee, said the question is not answered in the documents, but she'd sure like to hear the response.
"I'm convinced there's been a lot of insider influence," said Carr. "I think if there had not been so much work against it in the last year or so it would have slid through very nicely."
It will be harder for the provincial and federal governments to approve the proposal now that community groups have so much documentation, she said. Not only do the documents point to insider influence, but also to concerns officials have had with the project, she said.
Transport Canada has said publicly there are no safety concerns, Carr said, but e-mails between officials tell another story.
"We are very concerned about the marina proposal," Transport Canada's Cliff Rhodes wrote to provincial officials in Sept., 2006, for example. "From what we can tell it will completely block the access for recreational vessels along the north shore of the Middle Harbour. It could also potential [sic] interfere with our traffic management scheme that has been established in the last several years."
And then there are the seaplanes, he wrote. "The location is also adjacent to a designated aircraft taxiway that is located on federal submerged lands and marked by buoys. This is located immediately south of the provincial submerged lands. We are concerned about potential traffic conflicts from this too."
It's been left up to citizen's groups to dig out those concerns and make them public, said Carr. "The city would have rolled over on this if we didn't raise supreme heck."
The groups fighting the proposal are asking the federal government to appoint an "independent, unbiased" review panel to conduct the environmental assessment.