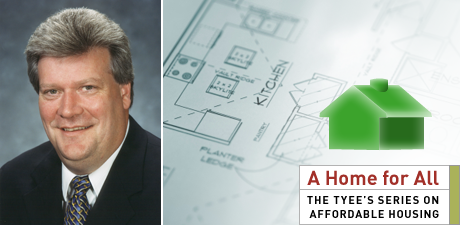 Rich Coleman built his first house from a kit.
"It's still standing," the Housing and Social Development Minister added, wryly.
"When I was putting the house up, there was a huge wind storm," he explained. "The walls were flapping -- we didn't have the trusses tied in -- and at one point the whole north side wall picked up and flew on down into the ditch by the road."
Coleman concluded "we can't fight mother nature," and left for the night. He and his friends returned the following day, retrieved the departed wall, and continued assembling the house. "Everything worked out fine but, you know...the story was that my whole house had been blown down."
Now the minister says he is looking at shared equity, starter homes and simpler permitting, among other means, to help upcoming generations of British Columbians become homebuyers.
Cheaper than linoleum
"I was 20 or 21 years old," Coleman recalled. He'd recently begin a career in the RCMP, and was posted in rural Alberta. "I was able to buy a lot. And I was able to get a packaged home where the walls came pre-built...my sweat equity was taken as my down payment because I acted as my own contractor."
It was a simple three-bedroom house with two-by-four walls, said Coleman, who initially finished two levels totalling about 1,060 square feet; later, he finished a third level, adding another 400 to 500 square feet of finished space.
Coleman said the initial quality of finish was so cheap that he later upgraded to linoleum. "They used to have a thing called 'kitchen carpet,'" he said. "It was a rubber-backed carpet. It melted when anything hot got on it. So later we changed it to linoleum."
But the simple home enabled the young RCMP officer to begin building equity. "I sold it and the equity actually helped me to do two things: It helped me to build another home in Penticton when I left the force, and it helped me buy my business," he said.
"I would like us to get back to where we can do that again today," Coleman said, "...a guy being able to get his own lot and hiring building contractors and such and still be able to build something himself."
Coleman said that while this opportunity still exists across much of British Columbia, high land prices have pushed such a dream out of reach in the Lower Mainland.
Shared equity an urban solution
B.C.'s housing minister joined a cutting-edge non-profit housing developer and Vancouver's renowned condo marketer in pointing to shared equity as the most viable means by which to lower the cost of housing in B.C.'s expensive urban areas.
Coleman's vision for shared equity begins with "somebody who's got land" such as a municipality or the provincial government. That entity would agree to contribute the land for less than full market value, in exchange for a developer agreeing to bring homes to market at an affordable purchase price.
There would be restrictions on resale. "You can't just go into that home for a year, then turn around and sell it and walk away with the profit," Coleman said. "The shared equity idea says that when you sell, a portion of your profit on the sale comes back to the entity that put up the land in the first place."
In the case where that home was built on municipal land, part of the profit resulting from a subsequent sale would go to the homeowner, and part would come back to the municipality. That money might go into a fund that would ultimately pay back the price of the land.
"Over a couple of cycles it might do more than pay back the price of the land. It might start to make a profit for the city, a profit the city could then invest in other housing projects," Coleman said.
Alternately, Coleman said the entity could be a not-for-profit organization created for such a purpose. He even speculated that long-term investors might see merit in retaining a small portion of the equity of such entry-level homes.
"If you had somebody who was looking at their money long term, even they could do it. I mean they could just say, 'Okay, we're going to take less on our profit, we're going to leave it in, but we're going to get paid over time because on each sale we get some back and we could actually defer certain things as a result," Coleman said.
The minister said BC Housing was interested in exploring the idea further, but there is nothing currently in the works. "We have not found an opportunity to do a pilot."
Consumer expectations part of problem?
Coleman acknowledged that high land prices likewise compel commercial developers to load up new homes with every imaginable feature in order to justify the highest possible sales price. At the same time, he blamed consumer tastes for pushing the price of ordinary homes out of reach of ordinary families.
"I think there has to be a bit of a shift in our expectations on the home that initially gets built in a subdivision," he said.
"Back when I built my first house, you did not finish with the high end finishings that are in a house today. You put in some reasonable flooring. And usually you did not finish the basement. That was equity you would put in later," he said.
"So part of the problem is the younger generation itself, saying, 'I want it all finished.' I don't think there is any doubt that the market has adjusted to what the consumer wants," Coleman said.
"But when you say we want to build affordability by building small-lot subdivisions, for instance, and then you fill those smaller lots with two-storey houses with full basements and expensive countertops...well, those houses don't wind up being so affordable, do they? They wind up being big, expensive houses that are just a lot closer to the lot line."
Regulation, tradition also an issue
Coleman also blamed government and industry practices as part of the affordability problem.
He said it is very hard for an individual home builder to even buy a lot. "In the Lower Mainland, we have a controlled subdivision which is part of the planning process in most municipalities," he said. "What happens is the developers sell the lots, usually in bulk, to builders."
Even if a would-be-self-builder could acquire a lot, Coleman said that in many communities, it would take more than a year to get a permit.
"Permitting is a very lengthy process in some cities," he said, adding that the costs of paying for the unused land during that time could wipe out any savings a homeowner might gain by building himself. "There is huge cost that is driven simply by the bureaucracy and the permitting and the development cost charges for getting the house into the ground."
Coleman suggested that municipalities rethink some zoning restrictions, and explore the idea of pre-approving a list of house plans for some zones. He also suggested that modular construction might represent the kit homes of the future, because they may make it easier for individuals to build structures that meet the quality standards mandated by municipalities and the province.
"There are a lot of ideas out there," Coleman said. "We do know we want to start looking at these ideas. We think it's time."
Related Tyee stories: