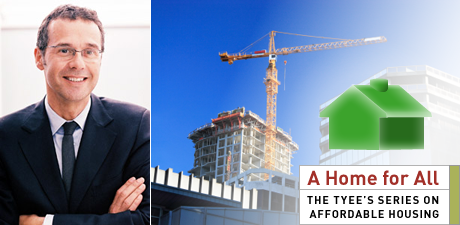 Two years ago, Bob Rennie suggested that Vancouver developers should build affordable housing in order to save the city's teachers, police officers and other vital service workers. Today, the city's real estate guru is warning that his industry needs to build affordable housing in order to save itself.
"It's no longer just about, 'How can we find a place for people earning local incomes to live?' Rennie told The Tyee. "It's because affordability is the market now."
He said the tipping point was about $300,000. By no coincidence, that also happens to be about as much as median Metro Vancouver family can afford.
"There is sensational demand for anything under $300,000," Rennie said. "Everything in that price range sells within 60 days. And if it's at the right address, it's gone in the first week."
Rennie's remedy: Second mortgages to protect the city's grant of "free" density, a hard cap on developer profit, and the construction of "Ikea-level" starter homes. If that sounds like a complex and even mysterious formula, hopefully you'll have a much clearer understanding of Rennie's proposal by the end of this article.
But here's Rennie's bottom line: "Using a model like this, there's no reason we couldn't bring a two-bedroom home to market for less than $300,000," he said.
Free land, with a long-term mortgage
Like everyone else interviewed for this series, Rennie said the problem begins with Vancouver's high land costs. His solution begins with the city permitting the construction of a few extra floors of affordable housing in each new condo tower.
"I found the land for free, because I am just lumping it on top of every other building," he said. "If a building was 22 storeys, for example, I'd change it to 30 storeys."
Those additional storeys would be dedicated to entry-level ownership housing, and would most likely be located toward the building's ground floor -- e.g., storeys three through 10.
And rather than allow a windfall profit on that "free" density, the city would hold the additional value through some sort of a lien or second mortgage.
"Everybody goes 'Oh my God,' if the developer got a windfall profit. Solve that, and it's, 'Oh my God,' the buyer got a windfall profit," Rennie said. "So you put a charge on the title of each unit on those additional floors, and the city has never given away the density."
"It's like a second mortgage in the favour of the city," he continued. "If the homeowner ever wants to sell that suite, the charge stays on and he sells it at a discount to the next buyer. Or, he can pay it off and turn the unit into market housing."
Rennie suggested the "second mortgage" should accumulate interest at a low rate -- something at or below a cost-of-living index -- but should not require monthly payments. Unlike the Options for Homes model, which also involves shared equity, Rennie would fix the second mortgage at a dollar value, rather than as a percentage of the unit.
Such a second mortgage could lower the net price of a 900-square-foot, two-bedroom family suite with a market value of $450,000 to something costing the buyer in the range of $360,000.
Profits: Keep 'em, but cap 'em
The second component of Rennie's proposal is to cap the amount of profit a developer can make on those units.
"Let's say the developer can only make a 5 per cent profit, instead of the usual 15 per cent," Rennie said. "So let's just pick a number out of thin air and call that an additional $45,000 in savings."
That would bring down the price of the hypothetical two-bedroom unit described above to perhaps $315,000.
"You'd have to have some sort of open book so that the developer can be monitored," Rennie said. "I think these are easy things to solve."
Rennie is adamant, however, that unlike the Options condos, Vancouver's affordable housing should be built by for-profit developers.
"A not-for-profit project would get 30 units built. I want to see 3,000 of these done within the next few years," he said. "Thirty units is not going to fix Vancouver's affordability gap."
Rennie is similarly unenthusiastic about site-specific affordability solutions.
"We need a replicable model," he said. "I want something that will work on Richards Street as well as it will work at the corner of Nanaimo and Kingsway. I wanted this to work in West Vancouver, where land is $200 a foot and I want this to work in Surrey, where land is $60 a foot buildable."
Ikea finishings, screened purchasers
By stripping the unit of granite countertops and expensive appliances, Rennie figures a developer could save another $20,000 per unit.
"Let's use Ikea-quality finishings," he said. "Pare in down to cork floors and maybe a tile counter... The idea is, no stainless steel refrigerators, no this, no that. Just get me on the title."
Rennie also suggested that if the city were to defer development fees, that could save another $10,000 per unit. And he offered to cut his own fees on these sorts of units.
Altogether, the savings Rennie suggests hold the potential to lower the financeable cost of a $450,000 apartment to perhaps $275,000 -- a figure that begins to fall within the reach of the region's median two-paycheque family.
In return, Rennie would want to ensure that these units were being sold to median-income families that planned to live in them. He suggested that screening criteria might include factors such as job description, income levels, previous address.
"I think if you don't live in it for six months, maybe you have to pay that second mortgage back," he added. "I don't know the answer but I know its all about intent."
Developer ran quicker than consumer
"What Vancouver has, that everybody has, is no confidence right now," Rennie said. "But what Vancouver has that nobody else has is low inventory. The developer ran quicker from this economy than the consumer."
Some critics -- and you will hear from them in future stories in this series -- worry that Rennie's remedy will actually harm the patient by clearing the way for a forest of tall towers, blotting out scenery and changing the very different shape, and feel, of existing communities.
Rennie suggested that it may be less important that Vancouver find the perfect model for affordability, than that it act on some workable model to put builders back to work -- this time on the housing stock the region really needs.
"The thing is, you write this and everyone can poke holes in parts of it, but philosophically it's bang-on because it can turn air into market housing, starting right away," Rennie said. "And it can work in every neighbourhood."
Related Tyee stories: