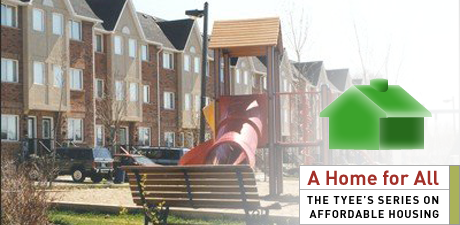 "We don't call what we do 'affordable housing' anymore," said Toronto developer Michael Labbé. "We call it cost-effective housing. Because what we do is build ownership housing that's less expensive than rental."
Labbé is the founder of Option for Homes, a not-for-profit company that produces condominiums for tens of thousands of dollars below market rates, helps its customers scrape together large down payments, and has accumulated a multi-million dollar endowment that could fund its work in perpetuity.
Since 1993, Options has started 10 developments in the Toronto area, and completed more than 1,500 homes.
"If we could get government behind this model -- not with hand-outs, but strictly through policy support -- then Canada's housing problem would be over within a generation," Labbé said.
Options for Homes' success is less the result of any solitary solution than it is the cumulative impact of a quiver of cost-shaving tactics, each of which slices tens of thousands of dollars off the cost of a home.
Though the tactics themselves may require adaptation in the Lower Mainland's overheated land and construction environment, the Options-style aggregation of tactics offers hope for developers seeking to close the $200,000 gap between what ordinary families can afford and what ordinary homes cost in urban British Columbia.
Difficult sites near transit
"It starts entirely with the availability of land," Labbé said. "Without land, there's no sense talking about anything else."
Options buys the cheapest property it can find within walking distance of transit. The group prefers sites where it can build with wood (which costs less than concrete construction) and where expensive underground parking can be avoided.
"We will be further out," Labbé said. "We tend to end up in fringe conditions, or on difficult sites."
The group typically pays for an option to purchase the property at market value after the building is presold.
"We can work with any site where the owner of the land, whether government or private, is willing to tie up the land for a year and a half while we get ready to buy it," Labbé said.
Labbé said Options' land costs have averaged "in the ballpark of $10,000 per unit" in Toronto, a market in which developers "generally pay $30,000 to $50,000 per condo."
He acknowledged that Vancouver land costs would run higher, but claimed that workable properties can still be found away from the downtown core.
"Even in Vancouver, land is such a small percentage of the cost of the end product," Labbé said. "It's what you do from there forward will produce some version of affordability."
Starter homes with no frills
Options' design philosophy is similarly cost conscious.
"We're building starter homes," Labbé said. "We create apartments at the lowest possible price, so that everyone has the best chance to buy one."
Size matters. "We like to build more than 200 units at a time, so we're getting the economies of scale," Labbé said. "We like to have a lot of repetition in the styles of our units."
Finishes are basic; suites include broadloom carpet and economical ceramic tile. Appliances are not included, though they are available at cost through a bulk purchase. Where available, underground parking is not included either; buyers pay $25,000 to $30,000 per space.
Options negotiates with the city to reduce the required amount of amenity space to one square metre per unit. This is typically a simple meeting room. There are no pools, saunas or exercise facilities.
Options has hired the same contractor (Deltera) to build each of its buildings. Labbé said he pays slim margins: two per cent management fee, five per cent profit, two per cent contingency on a guaranteed price contract.
By hewing closely to this starter-home approach, Options has built its condos for a per-unit average of $60,000 less than other Toronto developers.
"We've come in at $60,000 less than everybody else," Labbé said. "You know, in Vancouver, it might be $100,000 less."
Marketing in church basements
"Our marketing strategy is backward to traditional marketing for condos," Labbé said. "With traditional marketing, you pay the advertising costs to reach everybody in the market place, and then you find the people who will pay the most money for your product. Our strategy is to approach as few people as possible to achieve our sales targets."
Options mails flyers to everyone already living within about a kilometre of the site. These one-page brochures invite prospective buyers to attend a meeting.
The meetings are held every other Saturday, usually in a church basement near the site. The meeting consists of a video about Options and a presentation about the building, followed by a question and answer session.
"We explain that Options is acting on behalf of the end purchasers, looking for neighbours who want to move in together," Labbé said.
There is no model unit. There's not even a tabletop model of the building. The only handouts are cheap photocopies of the floor plans.
And no sales are made. Interested buyers can put down a $100 deposit and sign up for a one-on-one meeting at a later date.
"That deposit allows you to reserve the suite that you're considering. You get all the legal documents to study. You get the DVD to look at. Then you come back for a private consultation before you decide if you want to buy," Labbé said.
About 100 people attend each meeting. About a third put down $100. And about a third of those buy a suite. The rest wind up atop waiting lists for future buildings.
In a real estate market where cost of sales typically runs $20,000 per unit, Options spends less than $2,000 per unit.
And the meetings spur cash flow. "We're often collecting $3,000 to $4,000 at a meeting," Labbé said. "We now have $500,000 that's been raised $100 at a time."
Though some attendees arrive suspicious, Labbé said most go away impressed.
"One woman asked an aunt to come with her. She was afraid she'd be pressured into doing something she didn't want to do. So she invited her aunt, a livelong renter who vowed would never own," Labbé said. "The aunt ended up buying a unit."
Every buyer starts with 13 per cent down
Options customers must qualify for a bank mortgage, just like buyers of any other condo. But Options works hard to help its customers qualify.
"We help people with their down payment, no different than if you got help from your relatives," Labbé said.
Options does this by providing an interest-free second mortgage to each of its purchasers.
For example, consider the case of an apartment that cost Options $200,000 to build, and that could fetch $260,000 or more on the market.
"We could have easily sold that unit for $230,000. And we'd have $30,000 in our pocket that we could then use to start more projects," Labbé explained. "But that would mean that people who can not afford the $30,000 would be excluded."
Instead, Options sells the unit for $230,000 and gives the buyer $30,000 loan for which no monthly payments are required.
"All our banks have counted that $30,000 as part of the buyers' down payment," Labbé said. "So everybody who buys from us starts with 13 per cent down."
And in the event the already-discounted condo were to lose value, the second mortgage is written off
"The second mortgage takes the loss," Labbé said, adding that it has yet to happen. This protection has proven particularly attractive to women, who comprise half of Options' customers.
"Single women tend to be very conservative investors," Labbé said. "They don't care how much they make, as long as they don't lose anything."
For some, homes that cost less than rent
Options lends even more to low-income homebuyers.
Where municipalities are willing to defer collection of development fees, Options ploughs that cash savings directly into the creation of ultra-affordable units.
"We don't ask for hand-outs. We ask for deferrals," Labbé said, adding that for one building, Toronto agreed to defer $3 million.
"But instead of using that pool of money to increase the value of every buyer's second mortgage by $10,000," he explained, "we decided that for about 25 per cent of the units, we'd give low-income homebuyers an extra $80,000 in help toward their down payment -- over and above the regular alternative mortgage."
The practice enables Options to sell family homes to people who might otherwise find it difficult to rent apartments of the same size.
"I can take a two-bedroom unit that would sell for $220,000, and put somebody in it who only has to carry a mortgage of $100,000," Labbé said.
"This enables a single parent with an income of $35,000 the own her own home," he said.
"Now, in every building we do, if we can get those minor concessions, we can do 25 per cent income-related ownership and 75 per cent low end of market ownership. And there's no limit to the size of community we can build at that ratio. We could do a 5,000-unit neighbourhood."
Co-ops pay it forward
Each group of buyers is organized into a building co-operative. Options provides staff and guidance to the co-op for a small fee. When about 80 per cent of the units are sold, the co-op buys the land and contracts the builder. When the building is complete, the co-op morphs into a strata council.
"I believe that if you get people involved early on -- and the co-op legislation requires it -- you end up with a much stronger community once your building is finished," Labbé said.
The co-op rules dictate that all the money returned to the co-op must be reinvested in housing. So no matter whether the second mortgage is $15,000 or $115,000; whether it repaid at closing, or carried for decades; every penny goes back to the development of cost-effective housing.
"That's the money we use to start other co-ops," Labbé said. "That money doesn't belong to us. It belongs to people who don't yet have housing."
Labbé acknowledged that as Options units are resold, most will cease to be affordable for entry-level homebuyers.
"This is the policy shift that people have to get their heads around. As suites turn over, the income-related ownership will eventually disappear on that site," he said.
But those losses are replaced as the equity tied up in second mortgages is gradually reinvested into new developments.
"In Toronto, for every unit that's turned over we've built four more units," Labbé said.
"That's why this is potentially a permanent solution to Canada's housing problems," he added. "We have created our own internal resources. We have dedicated those resources to housing in perpetuity. We are unstoppable."
In Vancouver, a $500 million legacy?
"I'm a little disappointed that there isn't an Options development underway right now in Vancouver," Labbé said. "When I was there, I met with the city and they pointed out more than 4,000 units of land that were available."
Options has licensed its systems to a little-known Vancouver non-profit called the Columbia Housing Advisory Association. The Tyee attempted to contact project co-ordinator Jamie Richie, but was informed he would be out of the country for months.
"If Vancouver decided it was going to get behind this model, they could generate about 2,000 units a year at the absorption rate in Vancouver -- which at this point would help your economy out -- and also would probably produce $50 million a year in second mortgages," Labbé said. "Ten years down the road you'd have half a billion dollars of assets targeted to solve the housing problem."
That's right: Half a billion dollars.
Labbé urged other groups to borrow and adapt the Options model. "Really, most things are an assembly of many peoples' ideas," he said. "This more so than most."
And he believes an expansion of the Options model is inevitable.
"Housing is the one area of social need that creates wealth," he explained. "All the housing solutions we have created to date have tended to bury that wealth. This system makes that wealth available to many, because every purchaser helps expand a permanent solution to housing," he said.
"I'm absolutely convinced that, either quickly or slowly, we are going to eliminate housing as a problem in Canada."
Related Tyee stories: