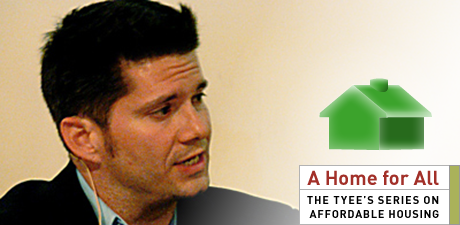 Both heads of Vancouver's political hydra will officially awaken to the city's need for affordable housing today.
"Building Affordable and Rental Housing" is the title of a motion being brought before Vancouver City Council this morning. The motion recognizes that "buying a home in the city of Vancouver requires an annual family income that is at least double what most families earn in this city," and instructs staff to explore "short-term measures by which the City can increase the stock of rental and affordable housing," as well as "new initiatives... to create new rental and affordable housing stock."
"Ready for Rental?" is the title of a forum being sponsored this morning by the Urban Development Institute, a trade association that has become virtually synonymous with condominium development. "With the changing economic climate, developers are looking at other options including converting market buildings or building new rental units," the institute advises, "and what governments can do to assist the development industry."
Caught between these two smiling but teethy beasts of Vancouver political power is Brent Toderian, the city's director of planning. This installment of the Homes for All series presents his views.
"This council has made affordable housing one if its top priorities," Toderian said of his bosses. "They have asked us to look into ways to capitalize on the downturn to see if we can get some affordable or rental housing built."
And of his colleagues at the UDI:
"We need rental. Today," Toderian said. "We won't look a gift horse in the mouth."
Waiting for the 'new demand' to be revealed
"You have to start every discussion with a consideration of supply and demand," Toderian told The Tyee.
"It will be interesting, with this downturn, to see how demand has really been affected," he continued. "Right now we are in an artificial demand freeze. Potential buyers are waiting to see if prices fall further. Once that is done, we'll see what the new demand really is."
The "old demand" shut out new buyers.
"The old demand included the needs of local residents, plus demand that was hyper-inflated by speculation, plus international demand," Toderian said.
"Being a city on the global stage has been seen as a positive thing. It still is. But I also think there's been an increased recognition that there have been some downsides for local people who have basic housing needs," he added.
"When you are looking for your first home, and you are competing with someone buying their sixth investment property... you have a problem," he said.
"If the downturn has scared away the investor and the speculator, what will the new demand -- the local demand, the one driven by residents -- what will that demand turn out to be?"
Once that's visible, he said, the next questions will be: "Do we have the right supply? And is it the right kind of supply?"
Toderian said his job is "more about trying to get developers to think about their product differently... They can make profit on a product that better meets the needs of this city, a product that meets the local demand, rather than the international demand."
Rented condos, a temporary solution
"You then have to consider whether the goal is to produce affordable housing or affordable ownership," continued Toderian, who contributes many of his thoughts to a well-read blog.
"If it's an issue of affordable housing, there are many cities in the world where those earning median incomes can not afford to own their homes. But those cities have an ample rental stock."
Toderian pointed to Manhattan and San Francisco as examples.
"In the last number of years, because of the hyper-inflated market, it was very hard to get any developer to look at rental seriously," he said.
It's easy to see why. It costs roughly the same amount of money to build a rental apartment as it does to build a condo. The rental investor must wait decades to recoup land and construction expense. The condo builder has made money within a few years -- and may have even lowered financing costs by pre-selling some units before construction.
"Developers are now willing to take a look at rental," Toderian said. "Construction costs are down somewhat. Land value is a bit different. And rental vacancy rates are very low."
But developers contemplating rental are at the same time asking governments to provide incentives to help close the gap between a rental investment that takes 50 years to provide a return and a strata that pays out in five.
Toderian applauded the initiative being taken by the UDI, but warned against expecting large developers to solve Vancouver's rental problems. He noted that while a few companies are exploring the development of purpose-built rental housing, others are merely looking for ways to rent unsold condos until the market improves.
"Every bit helps," he said. "But no one should confuse temporary rental for a sustainable solution to Vancouver's rental shortage."
Secondary suites and small lots
Given the simultaneous real estate correction and credit crunch, large developers are unlikely to solve to Vancouver's affordable housing crisis. That leaves the city with little choice but to ask those Vancouverites who own property to help provide housing for those who do not.
Toderian hopes to motivate homeowners and small builders to provide a larger share of new housing in the next few years.
"All those ideas that are about the homeowner and the small builder-developer can have great power," he said.
Such new housing would likely take the form of secondary suites and smaller lots.
"Right now we legally allow one secondary suite. We are contemplating the possibility of allowing more than one in a single-family house," said Toderian, who called unutilized basements the city's "invisible density."
"We've already built that idea into the zoning for the East Fraser Lands project. It's our intent to take that idea citywide," Toderian said. "When applied over a whole city, that kind of pattern can have significant power."
More often, such third units would take the form of laneway housing.
"On laneway, we want to do it in a way that doesn't require a lot of design review," Toderian said. "The team that used to be working on EcoDensity is now working specifically on laneway housing and secondary suites."
Smaller lots could be the next frontier those teams explore.
"In our city, land accounts for a larger share of the final cost than does the construction of housing," Toderian said.
The city is considering new zoning that would allow a more integrated mix of row houses, duplexes and apartments.
The city is specifically investigating the potential of fee-simple row houses, such as those for which London is renowned.
"Row houses are more affordable than single-detached, and fee simple is going to be much more possible with the market. Who wants to take on the strata requirements on a row house?" he asked.
Toderian said there is a "hole" in the legislation related to third-party disputes.
"The fact that right now we can't address the party wall situation is a real hindrance," he said. "We requested the province make an amendment to the Vancouver Charter to allow us to do fee-simple townhouses."
Trimming amenities not the solution
"This council has an appetite to look further" into any idea that would create more affordable housing, he said. "There are a lot of ideas out there."
But there's one idea Toderian does not believe in, and that's the drumbeat most likely to emerge from today's UDI meeting. For several years now, Vancouver developers have argued that they could provide more affordable housing if only they were released from city requirements for social housing, parking and other expensive amenities.
"If you require social housing, if you expect green design, if you negotiate public amenities that make the density livable, do these drive up housing prices?" Toderian asked, rhetorically.
"I don't believe that," he answered.
"What drove prices up was the incredible demand. We were able to leverage that demand so that the public benefitted," Toderian said.
"If you make your expectations clear and predictable, they are factored into the price a smart developer pays for land," he added. "It's simply a false statement to say that the city's expectations have driven up housing prices."
Related Tyee stories: