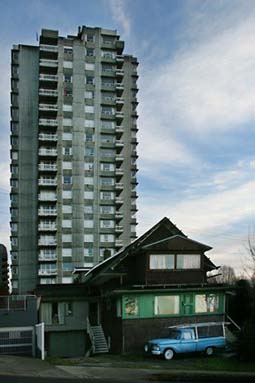 I haven't been able to get a little newspaper story out of my mind since it ran six months ago in the Sun. Vancouver was in the grip of a heat wave, and a reporter had been dispatched to Kits Beach to get some quotes. She approached a small boy who was lolling like a manatee in the shallows--one of a bunch of kids on a class field trip. How's the swimming? she asked. The kid looked at her, dead serious, and said, "The experience of a lifetime." Nice.
And where was this little boy visiting from? Azerbaijan? The high Arctic? Try Burnaby. Not even--where Burnaby meets East Van. His school was deep in what would, if this were Chicago or New York, be called the "Inner City," and those reduced-circumstance kids don't get out much. This boy had never been to the beach in his life. He was eight or nine years old.
The story came back to me this morning as I read the results of a new study showing that Vancouverites are being forced en masse, by economics, out of the West Side and the West End and even much of the East Side. It was pounded home again just how situation-specific is the experience of "living in Vancouver."
If you have the means to live near the pumping heart of what's routinely called one of the world's most livable cities, then you are indeed blessed. But if you are driven into the periphery--to where the air is not like vanilla ice cream, and old-growth trees are not an easy transit hop away--then your experience of Vancouver is so different as not to be part of the same conversation. And the gulf between the beach group and the strip-mall group widens daily as the property and rent values in Vancouver proper rocket out of sight.
We are sliding, more of us, daily, into the camp of that kid (or that kid's parents).
The point is maybe obvious. But the pith of it is, I think, felt so deeply by so many that it bears a bit of psychic investigation.
The rising water line
Increasingly, according to that demographics study, the only people populating places like Kits and Kerrisdale--not to mention Point Grey and West Van--are the rich who have moved in and the old who have been, as it were, grandfathered in.
What does it mean that a whole generation of residents has been reduced to just trying to maintain a handhold, just trying to come up with the scratch not to be kicked out of here? Forget trying to "get ahead" in any traditional sense. You win if you can keep one nostril above water, balancing the finances, working the lines of credit. You lose the moment you have any bit of bad luck--accident, fire, robbery--that sends you irrecoverably into the red.
To accept a lower quality of life in order to continue to live in a place because of its high quality of life, to march willingly into that deal, may be one definition of mental illness.
The obscene property values bear on just about everything we do, every choice we make. Living here, I sometimes think, pretty much precludes working for nonprofit or social-justice groups--the helping professions. If you want to call this home, you've gotta be in something like journalism or law--the hindering professions.
And in the event you do manage somehow to get a toe into the property market, the worth of what you own is misleading. It's a falsely elevated figure, like your paper-worth as an employee of a circa-1999 dot-com in which you're not yet vested. You can't "cash out," because you have to live somewhere, and wherever you move to will be just as expensive and will swallow all your cash back up. Unless you move to another city, which nobody wants to do because, hey, how can you beat Vancouver?
Betting it all on gentrification
And say you get lucky--turns out you once removed a thorn from the foot of Ray Kroc--and a little money lands in your lap. You find a nice house. You sink all you have into it knowing it could at any moment pancake down in the earthquake that's long overdue--and your best hope is that you're inside of that house if it does, so you won't be a dead-weight burden on your friends and family forever after.
Or, maybe, somehow, without the help of an unexpected bequest, you still manage to find something you can sort of afford, and it's a few blocks off Hastings in one of those neighbourhoods that's supposed to be a good investment because it's going to gentrify, but it hasn't quite, yet, and one day you arrive home to find you've been picked clean.
At some point, shouldn't we all to step back and ask, Is Vancouver really worth it? There's a case to be made that it isn't. Like its beloved hockey team, Vancouver is good, but not quite as good as it thinks it is. There are plenty of sawoffs: great mayor, appalling premier. Great airport but no way to get to it. Great sailing and skiing but no time to do these things because you're working so that you can afford to look at the ski hill and the sailboats out your office window. For the same effect at a third the price, you could buy a trickle-fountain and a poster of Mt. Fuji and move to Saskatoon.
There is a field called praxeology--basically, "preference theory"--whose practitioners study human decision-making. They will tell you that the choices we make aren't always logical. Oh, we start out with the levelest of heads: a canary pad and a Big Question ("Should I stay or should I go?") and a sober list of pros and cons. We dispassionately assign a positive value to each pro and a negative value to each con, with a view to adding 'em up and trusting the result. But you know what happens? Just before arriving at a number, we "bolster"--overweight the value--so that it gives us the result we want: Stay. Basically, we fudge the results. It's like the old rule of thumb: How do you know what you really want? Flip a coin, and then pay attention to how, when it's in the air, you're hoping it'll land. Heads or tails: come on…heads.
Happy people, depressed town
A few years ago Jen and I and some friends signed up for something called the "Great Walk". We carpooled over to the West Coast of Vancouver Island and then hoofed it 63 km along the gravel road from Gold River to Tahsis. And when the walkers trudged finally into the terminus, the volunteer fire department was waiting to greet us with the truck lights flashing, and every kid in town was standing or astride a bike on the roadside in gimme-five posture. The fog had lifted, the late-afternoon sun speared through the firs. It was stirring. Only economically was Thasis depressed. The mill was about to close, and houses were going for about the price of membership at the Vancouver Lawn Tennis Club.
We thought--or almost thought; very nearly thought--maybe this is what we have been overlooking. Resource-based towns, places like Thasis, places like Tumbler Ridge, these are the real El Dorados. They're also shrinking and dying because snobs like us don't want to live in them.
It'd be a hell of an adjustment, we realized. We don't know anybody here. It'd be hard to find a good mochaccinolatte.
Then a glorious possibility dawned: Why not create a community, populated by people who draw their living from the borderless world of ideas, each with their own strength and skills and lasagna recipes to contribute?
Get two dozen such people to move here--the old commune idea revisited, but without the pit toilets--thence to escape, forever, those low, low Vancouver days when people are driving like pimps, and somebody has scored a symphony for leaf blowers and car alarms, and wherever you walk you notice no one is interacting, everyone is buried in the cell-phone or the Discman or their jog, or just staring depressively at the pavement (and not in the way that, say, poets might be, boring deep into some internal landscape, but rather in the way of teenagers driven to escape, by whatever means, the here-and-now). Nobody is forcing us to stay in the city in those circumstances. Here we could rise about it all, a little army of the enlightened bunkered in the cloud forest, caves underfoot and stars pinwheeling above, lions and tigers and bears, oh my, all of limitless, here, ours, ah, God.
Nah.
TOMORROW: Struggling to Stay in Tumbler Ridge by big city refugee Trent Ernst

Bruce Grierson writes for magazines ranging from Explore to Popular Science.