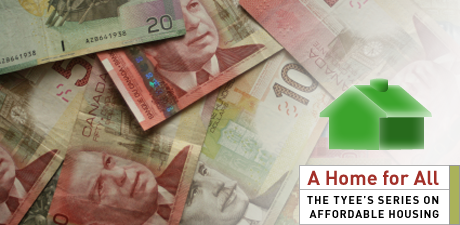 Social housing tends to fall victim to its own success. After waiting for years to get in, residents tend not to move out -- even after their incomes rise or their families shrink -- because they know they won't find a better deal anywhere else. And the longer they stay, the longer the next generation of non-profit tenants must wait on a list.
A Vancouver credit union has tackled this "problem" with a mortgage package designed to help tenants in non-profit housing buy their first homes.
"We loan them 100 per cent of the purchase price," explained Elisabeth Geller, who manages community programs for VanCity Savings Credit Union. "Sometimes, after all the closing costs are figured in, it winds up being 101 or 102 per cent," she added.
"We're enabling people with very moderate incomes to buy their first homes," Geller said. "Which is great. At the same time, we're helping to free up the units they leave behind. Those apartments become homes for single parents, new immigrants and people with health problems."
Stuck in social housing
There are 918 non-profit housing developments in British Columbia, totalling about 30,000 units. The average time a new applicant must wait before getting into one of those subsidized units is estimated at five years.
Instead of paying a fixed monthly rent, residents of most non-profit housing make rent payments equal to one-third of their income. This enables many working poor people to slowly improve their lot in life, rather than remain trapped in a cycle of perpetual poverty.
As incomes rise, so do rent payments. In time, some social housing residents wind up making income-based payments equal to or higher than market rents.
"Their circumstances improve. They have good jobs. And that 30 per cent has jumped to $1,200 or $1,500 a month," Geller said.
"But there's nowhere attractive for them to go. There's no place to rent, because this market is experiencing a severe rental shortage; two- and three-bedroom family homes are particularly hard to find," Geller explained.
"So they're stuck. And through no fault of their own, they're denying housing to others who desperately need it," she said.
"About 10 per cent of social housing tenants are paying a monthly rental that, when converted to a mortgage, would enable them to buy a home," Geller estimated. "What we're saying is, why not loan them the money to do it?"
Two loans at once, with conditions
VanCity's Springboard Homeownership Program is a package of two loans, which are only available to residents of subsidized housing:
-A down payment loan equal to 20 per cent of the purchase price. This loan is interest-free, but borrowers must make monthly payments sufficient to payoff the principal in 10 years.
-A mortgage for 80 per cent of the purchase price. This loan accrues interest at the same rate as other mortgages, but borrowers need only make interest payments for the first 10 years.
More significantly, VanCity allows its Springboard customers to borrow more than others in the same income bracket.
Most bankers cap the amount that a borrower can spend on housing -- which typically includes principal, interest, taxes and strata fees -- at 30 per cent of income. This cap is the limiting factor that prevents median-income families from purchasing median homes in Metro Vancouver.
Springboard borrowers can stretch their payments up to roughly 37.5 per cent of their incomes.
"For Springboard customers, we're offering to take the money they've been paying in rent, add 25 per cent to it, and call that a mortgage payment," Geller explained.
Likewise, Springboard borrowers are subject to a different credit approval process. The program requires, for example, that applicants have not missed or been late with a single rent payment in the preceding two-year period.
"We didn't want to discriminate against someone who had always paid their bills on time, but didn't happen to have a credit history," Geller said. "People who have been paying their rent on time for two years are pretty stable folks."
Not like 'toxic' mortgages that melted down
Geller stressed that Springboard mortgages never balloon, the way high-risk U.S. mortgages often did, squeezing owners out of their homes in the process.
"This is different," Geller said. "The interest rates are fixed, and so are the payments."
Nonetheless, VanCity makes an effort to monitor its Springboard borrowers more closely than most. Springboard borrowers are required to complete a one-day home ownership readiness course. And their payments are scrutinized much more aggressively than are those of conventional borrowers. If a Springboard homeowner misses even a single payment, VanCity will begin foreclosure proceedings.
"We're talking about people who are stretching their incomes," Geller said. "If they were to fall behind, the chances of them catching up are not good. So we do watch them more closely. Absolutely."
VanCity has made 20 mortgages since the Springboard program was launched in 2006, for a total of $2.7 million.
Geller said she's been impressed with the financial readiness of the Springboard borrowers.
"We were a bit surprised," she said. "Most of the people living in non-profit housing have substantial savings. They had down payments. A surprisingly large number of people came to us with $8,000 or $10,000 saved."
Waiting for condo prices to fall
But Geller said the high price of housing -- even entry level condos -- has restricted the program.
"I'd like to loan a lot more," Geller said. "We pre-approved all kinds of people who couldn't find housing in their price range."
Indeed, VanCity pre-approved 57 Springboard borrowers -- almost three times as many as were able to buy a home. The average approval amount was $187,000.
"Most of those people are still looking," Geller said. "There has been very little housing available to purchase at that price."
Condo prices appear to be dropping even more steeply than the Metro Vancouver real estate market as a whole, however, and Geller hopes that many of those preapproved borrowers will be able to buy homes sometime this year.
"We have seen a resurgence of applications," she said. "I expect that when the spring mortgage season hits, we will see some more sales."
'Any bank could do this'
VanCity loses money on the interest-free down payment loan, but makes some of it back on the interest-only mortgage. The credit union, which was founded to make mortgage loans in parts of town where the Eastern banks wouldn't lend, hopes that the long-term business gained will offset the short-term subsidy,
"The down payment loan is a loss for us, a loss that must be subsidized by our other members," Geller said. "But at the end of the day, we make a little bit more off the mortgage -- because people aren't paying anything on the principal -- and that offsets some of the down payment loan."
Geller hopes other financial institutions will copy the VanCity program, or invent alternative programs to help first-time homebuyers.
"Any bank could do this," she said. "Imitation is truly the sincerest form of flattery. If somebody called me up tomorrow from TD and asked how to do this, we'd have a nice long conversation.
"At the end of the day, our goal -- everybody's goal -- is to move people into better and more affordable housing."
Related Tyee stories: