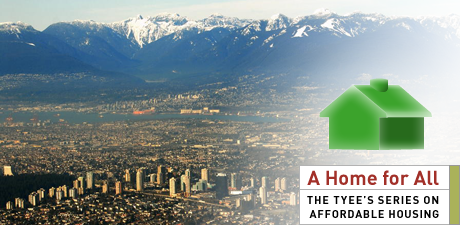 Ordinary families can no longer afford to buy or rent ordinary homes in British Columbia.
Vancouver is the fourth most expensive place in the world in which to buy a house, according to a recent study by the Winnipeg-based Frontier Centre for Public Policy.
Victoria, Kelowna and Abbotsford also rank among the world's 25 least-affordable housing markets, according to the survey of 265 markets in Australia, Canada, the U.K. and the U.S.
As a result, a two-paycheque family earning a median income can no longer hope to qualify for a mortgage large enough to buy even an entry-level home in Metro Vancouver.
And a single-parent family cannot affordably rent a two-bedroom apartment.
This article measures the gap between what ordinary British Columbians can afford, and what ordinary homes cost in this province.
And over the next few weeks, this series will explore ways to close that gap.
Half a home: What first-time buyers can afford
Ordinary families earn $64,332 a year. That's the median income among all "census families" in the Vancouver metropolitan area, according 2005 census data provided by Statistics Canada. Province-wide family income is a wee bit lower at $62,346.
An ordinary bank will loan that household enough money to buy a $258,142 home, with monthly payments of $1,466. This mortgage calculation assumes a typical down payment of $12,907, a 5 per cent interest rate, annual taxes of $1,200, utilities and strata fees of $200 a month, and payments toward other credit of $200 a month. Fiddle with those assumptions, and the amount of money available to a median family with ordinary credit could rise or fall. (With a down payment of $27,449, for example, a median family could afford a $274,487 home.)
An ordinary home costs $484,211 in Metro Vancouver. That's the residential benchmark price of all homes sold in December 2008, as calculated by the MLSLink Housing Price Index. That figure averages condos, attached homes and detached homes throughout the region; apartment properties averaged $333,275 in December, while detached homes averaged $648,418. (Obviously, home prices vary across B.C., with places such as Whistler costing more, and many northern communities costing less.)
So, the gap between what an ordinary family can afford and what an ordinary home costs in Metro Vancouver is about $226,069.
Half a home is all that most Vancouver-area families can afford.
Single parents: Sleeping on the sofa
Single-parent families have it worse.
About 15 per cent of Vancouver-area families are headed by single parents. Four out of five of those are women.
The median after-tax income for a single parent family headed by a woman was $34,350 a year. That translates to take-home pay of $2,862 a month.
Buying a home is out of the question for these families. Most aspire simply to an apartment in which children have their own bedrooms.
Financial advisors suggest that no household should spend more than 30 per cent of its income on housing. (It's called shelter-to-income ratio, or "STIR.")
For a female single parent in the Vancouver region, that 30 per cent works out to $859 a month.
One-bedroom apartments rent for an average of $880 a month in Metro Vancouver, according to October 2008 data from the Canadian Mortgage and Housing Corporation (CMHC).
Two-bedroom apartments fetch $1,124 a month.
As a result, 42.7 per cent of British Columbian renters spend more than the 30 per cent shelter-to-income threshold, according to CMHC figures.
Kelowna is the least affordable rental market in Canada, with 47.9 per cent of renters paying more than the threshold. In Vancouver, 43.8 per cent spend over the limit; in Abbotsford, 43.2 per cent do so.
As a result, many single parents are sleeping on the sofa.
The best solution: Boost family income by 85 per cent
There are two ways to narrow B.C.'s housing gap: Either raise incomes, or lower the cost of housing.
Social policy experts claim raising incomes is the better option. They note that B.C. households bring home lower median incomes than Canadians as a whole. They warn that as the income-to-housing-cost gap expands, hundreds of thousands of British Columbians fall within a few missed paycheques of becoming homeless.
Economists also believe that raising incomes is the better option. They note that renters who spend 42 per cent of their income on housing are a drag on the economy because they have that much less to spend on cars, clothes, furniture and other goods that stimulate the economy.
"We argue that the ultimate solution to the affordable housing problem is to raise market incomes and develop a more effective and equitable income transfer regime to help lower-income households," wrote TD Economics chief economist Don Drummond in a 2003 paper on affordable housing.
How much would family incomes have to rise in order for an ordinary family to purchase an ordinary home?
About 85 per cent.
Median family income would have to almost double in order for an ordinary family to afford an ordinary home in Metro Vancouver.
A family would need an income of $118,930 a year in order to purchase a residence costing $484,211, assuming 5 per cent down and all the same mortgage terms described above (except for higher taxes on the more expensive property).
Unfortunately, as the TD Economics team observed, ordinary incomes are not rising in this country.
"Over the past decade, income disparities have widened, due to both the changing structure of the Canadian economy -- which has favored highly-skilled professional occupations -- and reductions in federal and provincial support under social assistance programs," the TD paper noted.
Other ways to whittle down the gap
The other way to close the gap would be to lower the cost of housing.
While there is no one solution that will close the $200,000 canyon between what British Columbians earn and the homes they seek, there are more than a dozen strategies that could each help close the gap by tens of thousands of dollars. All are already working elsewhere.
The Tyee will explore these in the weeks to come.
On Thursday: Myths about housing affordability.
Related Tyee stories: