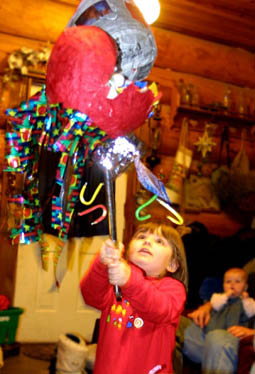 The temperature outside has dropped to a windy minus twenty. But there's a fire in the wood stove, and inside my sister's little log cabin it's warm and cozy. There's no better place to be spending New Year's Eve, so I have braved the cold winter's night to be here (of course, this being Tumbler Ridge, she lives just across the park from me, so I'm not really that brave).
Downstairs, some of the guys are playing Halo on the big screen TV, while upstairs, the rest of the folks intermingle over mocha punch and finger foods, splitting into pairs and trios, talking, laughing, then dispersing to find new partners in this social dance.
New Year's Eve has been a traditional gathering time at my sister's place for nearly a decade. Not many of the faces here tonight were here for that first celebration. Even her husband is new. (They celebrated their fourth anniversary on Christmas Eve.) Rounds of layoffs at the town's two coal mines got rid of many of those first partygoers. The closure of Quintette mine in August of 2000, and Bullmoose mine this April forced many more to leave.
When Quintette closed, many outside observers predicted it was the end of the town. But they hadn't figured on the people who lived here. People like my sister. For her and others, Tumbler Ridge was no longer just another stop on the mining merry-go-round. It was home. It's a great place to raise kids, they said. A place free from the pressures of the outside world. A place set in the middle of one of B.C.'s last unexplored wildernesses. And we're staying, they said.
It was a small but passionate group of townspeople that fought to save the town. And they succeeded. A widely publicized housing sale brought much needed fresh blood into the community. But three years later, while a nice three bedroom home can still be picked up for under $50,000, this community of about 3300 is still without an economic engine. A lot of people are still without jobs.
As the old year passes into the new, many in Tumbler Ridge wonder whether they'll be here to see the turn of another year.
And I'm one of them.
The dinosaur track business
Fred Walkley has been in Tumbler Ridge since before there was a Tumbler Ridge. He moved to the area in 1982, and lived in a camp while the town was being built.
A few years ago, predicting the closure of Quintette, he started taking courses in education at the college in Dawson Creek. He hadn't finished his degree when he got laid off from Quintette, but the high school, desperately looking for a mechanics instructor, hired him.
He teaches at the school, though his position there is tenuous. Because he doesn't have a teaching degree, the BC College of Teachers will not allow the school to hire him on full-time. Each year he works on a letter of permission. Come each June, his job ends. And every September, there is a chance that a mechanics instructor with a teaching degree will come and replace him.
What happens when he gets replaced? Fred just shrugs his shoulders. "If the school doesn't hire me back, we would exhaust all our possibilities, but you have to live where you work."
One possibility is to get involved in the tourism industry just getting started in Tumbler Ridge. Last summer, he says, for no charge "I took over 200 people out to see the dinosaur tracks. This summer, I may do it as a business." And if that doesn't work out? Fred shrugs again. If he, his wife and two daughters have to move, they have to move.
"Some people," he says, "are totally hung up on this place: 'The Shangri-la of BC.' But there are a lot of beautiful places in this province. It's been neat to be among the first to visit a mountain peak, or ski up a creek canyon that maybe nobody else has visited. We've been here a long time, and it is home. But we're not saying we're never leaving."
When Frito-Lay beckons
"We're never leaving." Those are the first words I remember hearing from Bruce Zimmer. He and his wife Joan have been in Tumbler Ridge for two decades. "The roads were still dirt, and the grocery store was four trailers put together," says Bruce. "We moved here with no children. We've had six."
It was three years ago, at Grizzly Valley Days, the town's annual festival, that Bruce said those words to me. He was at a booth selling hot dogs and hamburgers. I thought it odd to see him there, because last I had heard, he and his family were moving to Grande Prairie.
"Aren't you supposed to be gone?" I asked.
He just grinned at me. "We're never leaving."
Bruce today has been unemployed for eight months, having lost his job at the defunct Bullmoose mine. When I remind him of our conversation at Grizzly Valley Days, he says, "Hopefully. We're hopefully never leaving."
Almost moving away made him realize how much he loves Tumbler Ridge. Three years ago, he had accepted a job with Frito-Lay that would have moved his family to Grande Prairie, and then the Hinton and Jasper area. "We were out of here," he recalls. "But when we got to Grande Prairie, the cheapest place I could find to rent that could house a family of six was $1500. We went down to Hinton, but we were going to have to pay $160,000 to get anything decent. Jasper was right out. It wasn't worth it. And we love it here."
Says Joan, "I've watched a fisher hunt down a rabbit."
"I've seen a grizzly chase down a moose," says Bruce. "How many people have ever experienced these things?
"Still," says Bruce. "I may not find a job here. We might have to leave."
"We're not leaving," says Joan.
Overwhelming generosity
Two hours before midnight, my sister Jerrilyn breaks out a New Year's Eve piñata for her youngest daughter Dante. The adults gather round the edge of the room and cheer as the little girl swings at the papier mache heart.
Jerrilyn arrived here in 1987 with her then-husband. Just before, for three months, they had tried life in Victoria. That was the worst time in her life, she says. Tumbler Ridge was "moving to heaven."
When her husband up and left ten years ago, she stayed, an unemployed single mother raising four kids by sheer force of will and, she is quick to point out, the overwhelming generosity of neighbors who provided when she couldn't.
In 1997 she was hired on by the local Family Support Society to work with troubled teens in school. While it lasted, it was perfect. She was helping kids and living in her favourite place in the world with family and friends. She even had a new husband, an Aussie named Jason, and a new daughter. Then the Liberal axe fell, and she lost her job along with thousands of others across the province.
Jason worked as accountant for Bullmoose until it closed in April, when he took a job as controller at the Co-op in Dawson Creek. It means that every Sunday, he must drive an hour northeast into Dawson, returning Thursday -- if work allows. Sometimes, he's gone all week.
This summer, Jerrilyn--who is the local Red Cross representative and Emergency Social Services Association Rep for Northeastern BC--went down to help residents of Barriere after the forest fire devastated the community. "I need to do something," she says, "to make a contribution to society." She has been out of work for three years.
So, for the first time I can remember, my sister is talking about leaving. Moving someplace that's a better fit for Jason's skills and where she can help people. Someplace just like Tumbler Ridge, only with more opportunities.
'The beginning of big'
I love my sister, and that is much of why I moved here. When my wife was laid off from her job in the Fraser Valley three years ago, Jerrilyn convinced us to come north.
Since then, I've pretty well cornered the local market for freelance writing and portrait photography.
But I find myself, as my sister's cozy New Year's Eve celebration recedes in memory, wondering whether I'll be able to pay the mortgage for the next month, let alone for the rest of the year.
The town's Economic Development Officer says that the next year will be "the beginning of big for Tumbler Ridge." But before he got that job, he was a struggling ecotourism operator, who talked about having to leave if things didn't improve. He lucked out. He got a job with the District. But not everyone can work for the town. And while it's easy to say that there is a lot of potential up here, the truth is - that and $1.50 will buy you a cup of coffee.
The biggest oil and gas sale in B.C. history happened just northwest of town, but the people who work in the patch are almost all from Alberta.
Logging? With very few exceptions, the workers are from Chetwynd or Dawson Creek.
There's talk of a new coal mine, but that project keeps getting pushed back.
Tourism? Formative at best.
So, why am I still here? I love the wilderness, yes. In the summer I look after Monkman Provincial Park. And sure, it's nice to be able to own a house (in the Lower Mainland, we would have been doomed to rent forever).
But people--friends and family-- are, more than anything, what makes Tumbler Ridge the place for me. And if these people were to leave, I don't know if I would stay.
Will I be here in a year? Will my sister? Will my friends? Ask me again in a year.
Will I be here tomorrow? Yes, I will, and that's a start.
Yesterday: Struggling to Stay in Vancouver, by Tumbler Ridge dreamer Bruce Grierson.

Trent Ernst is a writer, photographer, designer and sometime campground manager in Tumbler Ridge. He is lead researcher and writer for the Backroad Mapbook series, and has written for the Vancouver Sun, Georgia Straight, Western Investor and Ski Press.