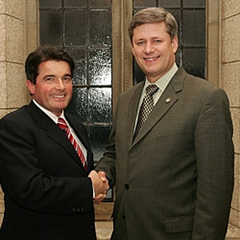 *Note: story modified Mar. 30, 2009 at 5:45 p.m.
The co-manager of Conservative cabinet minister Gary Lunn's re-election campaign, Byng Giruaud, helped a third-party advertiser get signs to support his candidate.
It's just one of the details revealed in financial reporting released in recent weeks for candidates and third party advertisers involved in the Oct. 14, 2008 election.
Five months after voting day, questions remain about the role third-party advertising played in Saanich-Gulf Islands, where five previously unheard of groups bought ads to support Lunn. Lunn was natural resources minister at the time, but after the election was demoted to a minister of state position.
Four of the groups shared a financial agent, Van Isle Marina owner Mark Dickinson, and were registered out of the legal office of Lunn associate and Victoria lawyer Bruce Hallsor. Hallsor was vice-president of the Conservative's electoral district association for Saanich-Gulf Islands at the time, and remains on the EDA executive in an "election readiness" position.
Citizens Against Higher Taxes list just one expense in the information posted on Election Canada's website: "Byng Giraud Richmond Plastics (has signs) purchase."
The group's financial agent, Dickinson, refused to answer questions. "I'm not going to talk to you," he said. "You have a real good day, OK."
Official agent Lynda Farmer, whose contact information is given as Hallsor's office, could not be reached for comment.
Giraud, however, was matter of fact about what he had done. "I picked up some signs for them," he said. "They just asked me to pick them up, and I said 'sure.'"
So, you were co-managing Lunn's campaign and you were in touch with and helping a third party advertising in the election? "I was co-campaign manager, yes," he said. "I guess that's in touch."
Giraud, by the way, is a registered lobbyist whose work in 2006 included approaching the Natural Resources Ministry when Lunn was the minister in charge.
Evidence of 'collusion': Democracy Watch
The Canada Elections Act defines a third party as "a person or a group, other than a candidate, registered party or electoral district association of a registered party."
"You shouldn't be allowed to be involved with a third party and be involved with a campaign at the same time," said Duff Conacher, the co-ordinator of the Ottawa advocacy group Democracy Watch.
That a third party would be buying signs from Giraud, as their submission states, raises questions, he said. "It seems to be some evidence there was co-operation and collusion between the third party and the minister's campaign workers."
The act also says, "A third party shall not circumvent, or attempt to circumvent, a limit set out in section 350 in any manner, including by splitting itself into two or more third parties for the purpose of circumventing the limit or acting in collusion with another third party so that their combined election advertising expenses exceed the limit."
Section 350 limits a third party to spending $3,666 on advertising during an election.
"It is worthy of an investigation by Elections Canada to determine if what they did would be collusion," said Conacher. "I feel very comfortable saying I think there is evidence pointing to them doing that."*
Sharing a financial agent would make it very, very easy for the groups to collude, he said. "I would say, yes, the fact they shared a financial agent shows they acted in collusion."
Elections Canada spokesperson Maureen Keenan said the agency's policy is to neither confirm nor deny whether an investigation is underway.
There's nothing in the law to prohibit four groups from sharing a financial agent, she said. As for collusion, she said, it is a matter of whether spending limits were broken.
Spending limits
Altogether the five groups that advertised to support Lunn spent $15,671. That's more than four times what any one of them could have legally spent on its own.
Lunn's own campaign, according to recently released campaign financing reports, spent $89, 575 on election expenses, putting him within a couple thousand dollars of the spending limit in the riding.
Lunn was in a hard fought contest in October with Liberal challenger Briony Penn. Penn, for comparison, spent $82,691 that was subject to spending limits.
Penn, by the way, received support from the group One Step at a Time that collected $4,200 from 60 individuals, according to its submission to Elections Canada, and spent $3,463 on a Times Colonist ad, as well as from Avaaz's national campaign, whose many donors included musicians Sarah Harmer, Leslie Feist and Dave Clarke.
When the votes were tallied, Lunn came out ahead of Penn by 2,625 votes.
It is unclear how much the five third party advertisers helped Lunn to victory, but the message in their print ads was clear: "Vote for Gary Lunn."
The Economic Advisory Council of Saanich, one of the Hallsor-Dickinson groups, bought five copies of the same ad, spread throughout the Oct. 11 Victoria Times Colonist: "A Steady Hand for the Future. In challenging economic times, life is full of uncertainty. That's when we need leadership the most. Say no to tax hikes; say yes to leadership and certainty. Vote for Gary Lunn in Saanich Gulf Islands."
A photo of a hand placing a fifth flat stone on top of a stack accompanied the text.
Documents filed with Elections Canada show the ads cost a total of $3,365.82. The group's sole donor was Patricia Trottier, who paid $3,666.
Individuals giving directly to candidates or parties are limited to $1,100.
Trottier is married to Gwyn Morgan, who Le Devoir reported himself gave $20,000 to the National Citizens' Coalition, a group that Prime Minister Stephen Harper formerly headed.
'Gary Lunn delivers'
The Dean Park Advocacy Association, another Dickinson-Hallsor group, spent $3,392.59 on five ads in the Times Colonist on Oct. 11 and 12.
"Gary Lunn delivers," the ad said in capital letters. "With Gary Lunn, Vancouver Island has a strong and persuasive voice at the federal cabinet level."
It listed off three things Lunn "brought us": $10 million to expand Gulf Islands National Park; funding for two recreation centres and $5 million for local transit. "Keep our Cabinet Minister. Vote for Gary Lunn."
The Dean Park "group" had just one source of funds: $3,500 from Ralph and Linda Bodine. Ralph Bodine made his fortune as the chair of Sunkist Growers Inc. and President and CEO of the Bodine Produce Company.
A third Dickinson-Hallsor group, the Saanich Peninsula Citizens Council, spent $3,155 on ads in the Times Colonist and on three local radio stations. "Stop the Dion carbon tax," implored the paper ad. "If you don't want to pay more for your groceries, your utilities, and everything else you purchase, get out and vote against tax hikes. Vote for Gary Lunn in Saanich Gulf Islands."
The group had $1,500 from Van Isle Marina, the Dickinson family business, and Mark's daughter Dana, official agent for the group, gave another $100.
Craig Mearns gave $1,500 and Richard Holmes $250. Mearns also donated $250 to Jack McClintock, the Conservative candidate in Victoria. Both Mearns and Holmes sit on the fundraising campaign cabinet for the New Marine Centre at Sidney, a planned aquarium for which Lunn last year announced a $2 million grant.
Other members of that cabinet include Mark Dickinson and it is co-chaired by Murray and Lynda Farmer.
Signs from campaign manager
Which brings us to the fourth Dickinson-Hallsor group, Citizens Against Higher Taxes, which received $1,500 from Lynda Farmer. Farmer and her husband have wide business interests previously reported in The Tyee.
Another $1,000 for Citizens Against Higher Taxes came from Darlene White, the wife of retired entrepreneur and philanthropist Charlie White. The Whites appear with Holmes in a picture on the Mary Winspear Centre's website's donor recognition page.
The group spent $2,240 on signs: "Byng Giraud Richmond Plastics (has signs) purchase."
Giraud, as mentioned earlier, managed Lunn's campaign. Lunn's campaign expense form includes $4,200 paid to Giraud.
Lawyer Hallsor also shows up on Lunn's expense list, by the way, with $310 marked as "other advertising."
The fifth group supporting Lunn, Common Sense Advocacy of Victoria, had its own financial agent, Donna Evans, and its own address.
The group paid $3,517.50 to Redbird Communications for an ad placed in the Times Colonist. The ad attacks Briony Penn, suggesting she has no "personal credibility," and highlights Lunn's work on the Gulf Islands National Park, recreation centres and local transit.
"In good conscience, we must send the Hon. Gary Lunn back to Ottawa," the ad said. "Keep our strongest voice in Ottawa. Vote for Gary Lunn."
Funding for the ad came from Hyacu Air Ltd. ($500), Louis Webster ($500) and Brian Barrett ($2,117.50).
Webster is the lawyer who worked on freedom of information requests for the defence in the Basi-Virk B.C. Rail case. He also acted for Esquimalt-Juan de Fuca Conservative candidate Troy de Souza, according to a Times Colonist report, on the recount after the October vote.
The Tyee sought comment from MP Lunn, but was unsuccessful.
Related Tyee stories: