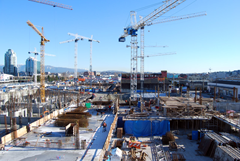 Neither the City of Vancouver, which reportedly loaned up to $100 million, nor Millennium Development, which allegedly accepted the money, would directly confirm the existence of a secret deal revealed Thursday.
But that did not stop either lender or borrower from commenting on the deal. Both insist the Olympic Village at Southeast False Creek will be completed on time and with no additional risk to Vancouver taxpayers.
Deputy City Manager Jodi Andrews said taxpayers' interests trump the public's right to know about any such loan.
"There's a difference between the public and the taxpayer," Andrews told a scrum of reporters outside the construction site. "It's not in the taxpayers' best interest to talk about the day-to-day dealings... it really is inappropriate and is harmful to the taxpayer."
And Millennium Development Corporation director Shahram Malek told The Tyee Vancouver's taxpayers are not at risk.
"Any money that may have been loaned is fully secured by the real estate and by other assets as well," Malek said in a brief telephone interview. "There is absolutely no exposure for the taxpayer. None."
Malek emphasized that the project is on schedule.
"I won't say there haven't been challenges. There have been a lot of challenges. But we've overcome them all," Malek said. "I have complete confidence the Olympic Village will be handed over to VANOC on or before Oct. 31, 2009."
Ladner out of media range
Globe and Mail columnist Gary Mason broke news of the loan on Thursday morning, with two dramatic but unattributed allegations: first, that the City of Vancouver has authorized lending up to $100 million to "rescue the financially troubled Olympic athletes village" project; and second, that Director of Finance Estelle Lo had resigned "after months of apparently expressing concerns the city might be assuming too much financial risk in an effort to meet its obligation to get the Olympic housing built on time."
Questions about that report were put to Vancouver Coun. Peter Ladner, who chairs the city's finance committee, at a Thursday morning debate. Ladner, who as the Non-Partisan Association mayoral candidate has been anything but camera shy, walked away from reporters seeking comment on the alleged loan -- and made no further public appearances on Thursday.
Vision Vancouver opponent Gregor Robertson joined the fray shortly before noon, and called on Ladner to disclose the deal.
"Voters need to know the full details of this story. I am calling for an emergency public council meeting next week to table the financial information," Robertson said.
NPA campaign spokesman Michael Meneer said Ladner was waiting on a City of Vancouver announcement that would clarify the situation.
"The ball is really in the city's court today," Meneer told The Tyee. "They'll be releasing something shortly."
City hall mum on loan, resignation
But the cryptic news release issued by the city shortly after 2 p.m. provided no answers.
"The financial and schedule risks assumed by the city with respect to the Olympic Village remain unchanged," the release stated.
"Staff has kept all council members informed," the release continued. "The city will continue to make information publicly available when appropriate..."
Deputy City Manager Andrews, who manages the Olympic Village project, spoke to a soggy scrum of reporters outside the construction site about an hour later. He refused to comment on either the loan or the resignation.
"If something like that has happened, I will not be able to comment on it," Andrews said.
He confirmed that the billion-dollar Olympic Village project is about $65 million over budget, but added that an overage of less than 7 per cent was exceptionally low for the Vancouver construction market. (One obvious comparison is the Vancouver Trade and Convention Centre, which is on track to cost up to double what was initially budgeted.)
Andrews also said the city has hired SNC Lavalin to oversee the project.
"They will provide us with a preliminary review. We'll have a look at that and decide where to go from there," he said.
Andrews stated several times that the city was acting in taxpayers' best interests by not revealing anything about the reported loan.
"If you were negotiating a contract with somebody, would you every morning go and tell everybody you know and the competitors what your positions were?" he asked.
'No favours involved': Millennium chief
Millennium's Malek also declined to discuss the $100 million loan, but spoke generally about the project.
"There are no favours involved. There are no risks to the taxpayer. These things I can tell you categorically," Malek said.
"We are meeting all of our obligations. We are paying the full price for the land. We have not gone to the city and asked for concessions. We have stuck to our agreement," he added.
Millennium Development is a part of the Armeco Group. The company's Metro Vancouver developments include Lumiere, L'Hermitage, SFU's One University Crescent, UBC's Bristol at Hampton Place, and Edgewater in West Vancouver.
Malek would not comment on why the city was so steadfastly obtuse about the Olympic Village deal, but said he was frustrated by the assumptions about his company that were being made in the press.
"It's been a bit disheartening," Malek said. "I believe this project will be a real benefit to the whole city. We haven't cut any costs. This is something that is going to be a model for other Olympic cities."
Other Millennium projects slowed
Malek also sought to correct recent press reports stating Millennium had "halted construction" at its eight-hectare Evelyn Drive project in West Vancouver.
"We never started construction. So there was no construction to halt," he said.
"Bob [Rennie] advised us to wait until the spring, or maybe even summer, before bringing those homes to market," Malek said. "We recently completed demolition and clearing, so we were at a logical point to take a break for the winter."
Likewise, Malek said Millennium is in an "enviable position" at Southeast False Creek.
"We can take our time," he said. "We have the loans in place for the full project. Those loans are not contingent on presales.... We have two to three years to sell the units. And those are our finest units, closest to the waterfront," he said.
"We happen to believe in the future of Vancouver," Malek added. "We're just moving a little more slowly than we were. Everyone has to be prudent."
Related Tyee stories: