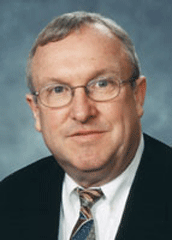 The minister of state responsible for encouraging British Columbians to eat healthy food is also the part owner of a pair of pizzerias.
In August 2006, Premier Gordon Campbell appointed his former roommate and Surrey-White Rock MLA Gordon Hogg as the minister of state for Act Now B.C., the program that promotes healthy eating and exercise. Columnist and former NDP cabinet minister and strategist David Schreck labelled Hogg the Broccoli Minister and questioned whether an obese person was really the best fit for the job.
Now it appears while Hogg's public job may be to trim British Columbian waist lines, he will benefit from other Canadians expanding theirs. Hogg has a five per cent interest in the Stavenger Drive Pizza Company and the Kelsey Drive Pizza Company, both of which own Boston Pizza Restaurant and Sports Bar franchises in St. John's, Newfoundland. Hogg's wife LaVerne has a five per cent share of another company that owns a Boston Pizza in Dartmouth, Nova Scotia.
The details are included in Hogg's most recent public disclosure statement under the Members' Conflict of Interest Act. Hogg filed the disclosure on Nov. 23, 2007 and it was released along with those from other MLAs in December.
Hogg is on holiday in the United States until Jan. 14 and unavailable for an interview. An official in his office, who has also invested in the restaurants, says Boston Pizza does include healthy choices on its menus.
1,790 calorie sandwich plate
The first of the two St. John's pizzerias opened on Jan. 13, 2006, according to a Boston Pizza announcement, and was the chain's first restaurant to open in Newfoundland and Labrador. Jason Dickie moved from Hogg's White Rock riding to operate the franchise. The second franchise was expected to open in August that year, around the same time Hogg moved into his new healthy eating post. The Dartmouth franchise opened on July 20, 2007.
While there may be healthy choices on the menu, many Boston Pizza entrees are high in calories, according to the diet facts website. The Boston cheesesteak sandwich with french fries and au jus dipping sauce, for instance, has 1,790 calories. That one meal packs as many calories as a 150-pound adult male would need for a day. It also has 134 per cent of the amount of fat a person is recommended to eat each day.
Hogg is aware of the connection between pizza and obesity. A March 2007 article in the Prince George Citizen paraphrases him saying "one in three children in B.C. is either overweight or obese, and since 1978 consumption of soda pop has increased by 137 per cent and pizza by 425 per cent." While that rise in pizza consumption is disturbing for health officials worried about rising obesity levels, it's great news for the owners of pizza restaurants.
Agriculture minister owns burger shops
Despite Premier Gordon Campbell's February 2005 throne speech promise to "make B.C. a model for healthy living and physical fitness," other MLAs besides Hogg remain in the fast food business.
According to his public disclosure statements, Agriculture and Lands Minister Patrick Bell and his wife own a controlling interest in Family Fast Foods Ltd., which owns two Wendy's franchises in Prince George. The business is also noted on his MLA biography page. The couple also own 40 per cent of a numbered company that leases the land and buildings to the restaurants.
And Liberal backbencher John Nuraney, the MLA for Burnaby-Willingdon, owns 40 per cent of Speed Food Services Ltd., which owns A&W franchises. His spouse owns another 40 per cent of the company, which is a tenant at four Langley locations. According to Nuraney's government web page, he owns five A&W burger joints and has built seven restaurants in the last 30 years.
The education ministry has made a big deal about banning junk food in schools this year. "Every move is a good move, and we have to move now to turn back the tide of obesity in B.C.," said Hogg in a government press release announcing the policy last September. "We are now seeing more and more children, even the very young, with type 2 Diabetes and heart disease and those numbers are growing."
Related Tyee stories: