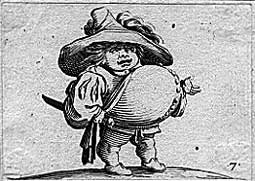 We're at war and the enemy is obesity - or so warn the doctors in Canada. In the U.S., where rates are higher, U.S. Surgeon General Richard Carmona has declared obesity "the terror within because it is every bit as devastating as terrorism." It allegedly affects nine million children and two out of three adults, and claims the lives of 400,000 Americans every year.
It takes a brave man to speak out in favor of flab today - and that man is Paul Campos.
The Obesity Wars are nothing but a big lie about fat, says the author of a provocative new book titled The Obesity Myth: Why America's Obsession with Health Is Hazardous to Your Health. Campos argues that Americans are in fact only a mere 15 pounds heavier than we were 20 years ago. What have become more stringent in that duration are public health standards for ideal weight, which now define the vast majority of us as "overweight" or "obese" - and that includes Hollywood icons like Brad Pitt and George Clooney.
What's more, according to Campos, there is no documented relationship between weight loss and health. He claims that medical studies that link obesity to wide range of diseases, including heart disease and cancer, are misleading and often self-serving. The result is a cultural hysteria that uses a dangerous and pervasive myth to demonize all - especially poor people of color - who do not fit the shrinking standards of the ideal body weight.
Campos talked to AlterNet from his office at the University of Colorado, Boulder.
Your central claim is that major epidemiological studies show little or no link between weight and health, be it risk for cancer or heart disease. That sounds kind of kooky to a lay person.
For the vast majority of people in the United States, their weight does not give you any meaningful information about their likely overall health. You can look at the roughly 75 percent of the population that has a Body Mass Index (a measure of your weight relative to your height) between 18.5 and 32 or so. That entire range, which represents about 80 pounds for an average height woman (5 ft. 4 in.), you will not see any significant variation in terms of risk (of contracting a disease).
So you're saying that there is no difference in terms of overall health between someone who would be considered "obese" with a BMI of 32 and someone who has the "normal" BMI of 20.
There are two points here. One is that for the vast majority of people, weight simply isn't going to tell you anything relevant about their health in and of itself. And second that among those groups that do show some meaningful correlations with health, we need to unpack the extent to which the weight is causal or merely a marker for other things, such as poor nutrition, socio-economic status, weight cycling brought on by dieting etc.
If a person with a BMI of 32 has a significantly increased health risk but is far less likely to have health insurance than someone with a BMI of 25, what is really relevant here? The BMI or health insurance?
So you do make a distinction between weight and a healthy lifestyle. Eating well and exercising is important to good health but it is not necessarily connected to weight loss.
Absolutely. The war on fat is based on the assumption that if people have a healthy lifestyle they'll be thin. Now we know that's not true. Now we don't know the extent to which it's not true - i.e. what percent of the population would be "overweight" or "obese" if they had a healthy lifestyle - but we know it's a very significant percent.
One of the things I've found exasperating about this issue is that many of the people who are making these claims are themselves "overweight" or "obese." So their own bodies literally embody a contradiction of their own claims.
Have we always made this connection between being thin and being healthy?
There is a long and complicated cultural history here, but here's the short version. In the first two decades of the twentieth century there was a strong aesthetic swing toward an ideal of thinness. The notion was first pushed forward by Christian Dior, the French fashion designer. It caught on and in the United States you saw the flapper phenomenon of the 1920s.
What happened essentially is that this cosmetic preference became transformed into a medical judgment through a complex process, where doctors began giving credence to this new cultural preference for thin-ness. The guy who played the biggest role is Louis Dublin, the head of actuarial statistics for Metropolitan Life Insurance in the 30s and 40s. He became absolutely convinced that people who were thin would have the best health, even though he had no data to back this up at all. But he constructed these height/weight tables and gave countless speeches to medical groups advocating that idea. The medical establishment then picked up on this notion and ran with it.
What happens in these kind of cultural processes is that cosmetic preferences get medicalized and then moralized. So it's not only that we like thinness because it is fashionable but it becomes that thinness is actually good for health. And what's more, if we're not thin, it's our fault and we're bad people. It becomes a moral good.
That process has been going on in the United States for about 75 years and it's produced the current moral hysteria.
And these standards for what constitutes thinness have become progressively more demanding as well. Even a decade ago, by cultural aesthetic standards, being 5 ft. 5 inches and 125 pounds was considered thin. Today, you'd have to be 110 pounds to qualify.
The goalpost is constantly being moved. What was considered thin 75 years ago would be considered fat today. Marilyn Monroe, for example, would have to play fat roles in Hollywood today.
The whole diet culture is a form of eating-disordered thinking - a form of anorexic ideation, to use the technical term. To be 5'5" and think that you'd be better off if you were 110 is a form of anorexic thinking. So when you get all this nonsense from these public health officials bombarding us with messages about how we're eating ourselves to death, what we're getting is the message of an anorexic culture being advertised to the nation as a whole.
Everybody is now supposed to have the obsessions that are typical of upper-class white people with strong control needs and perfectionist tendencies - and who project those tendencies on to their bodies.
What is an example of anorexic ideation? What are the signs?
There are four classic symptoms of anorexia. But the one I find most interesting, I'm quoting the (psychiatric guidelines) DSM IV here, says, "Anorexic individuals often engage in compulsive rituals, strange eating habits, and the division of foods into good/safe and bad/dangerous categories." Now that's just called dieting. It's interesting how we'll recognize something as dangerously pathological if it puts you in the hospital but is considered healthy-choice living if you haven't taken that behavior to that level.
So the diet culture is simply the culture of anorexia at a socially functional level. That's why we have all this hysteria about obesity. People who are operating within an anorexic mind frame are naturally freaked out by the notion of "fat people" - a category that not coincidentally is getting bigger all the time.
And that's because the definitions of who is overweight is being pushed ever downward? Like the latest recommendation from researchers at Harvard University that you talk about.
Their recommendation is that everyone try and have a BMI between 18.5 and 21.9.
What weight would that be for that average height, 5'4" woman?
107 to 127 pounds.
That's an incredibly low range.
I'm not saying this to be hyperbolic. I'm saying this in a completely descriptive sense: That is insane. Absolutely as insane as saying that everybody needs to be more than 6'4" tall, and if they are not then they have a disease.
More importantly, it's not that people would actually be healthier if they achieved that kind of BMI. And by the way, 90 percent of the adult population in the United States are outside that range.
The stakes of the diet and pharmaceutical industry in feeding this obsession with weight is easy to understand. But what stake do others, like public officials, have in promoting these ideas?
Medicine, especially public health, is a highly politicized discourse. To take the word of the Center of Disease Control or the National Institute of Health on weight without skepticism or any further investigation is equivalent of taking the word of the [Office of National Drug Control Policy] on whether marijuana is bad for you.
You repeatedly draw the analogy between the obesity wars and the drug war. You make similar connections to race in that many of these health initiatives target communities of color, the goal being to make them more weight-conscious in a "culturally sensitive" way.
Are you arguing that this is a form of racism - the desire to force Latinos and blacks to conform to a white body image?
It's a kind of crypto-racism. There is a marked difference in the BMI of upper and middle class white people and especially African-American and Latino groups. I have a chapter in the book where I quote a article from Harper's Magazine by Greg Critser that is full of racial and ethnic insults, but they just happen to be aimed at fat people. And so he doesn't even bother to disguise it.
Right, in that chapter you point out that obesity is a socially acceptable excuse to express revulsion towards certain people. In that Harper's article, the author is describing - in the kind of language usually reserved for sexual perversion - "stout Mayan donas" eating at the local McDonald's and Krispy Kreme. It was okay to do it because in the end he is expressing concern about their health.
That's why the editors at Harper's, who are of course good liberals and would never consciously publish racist material, did so without blinking an eye. Racist ideology doesn't just disappear. It goes underground, and not just in the sense that people knowingly hide their view but also psychologically - a lot of this stuff gets displaced onto weight.
Class bias gets displaced in this way as well. You've got these really skinny upper-class white people with their anorexic tendencies who are projecting all this bias onto people who can safely be made a target because they are fat. Fat people are a punching bag. And if you can drop race and class animosity on top of that then you've got a triple play. So if you see a fat Mexican-American woman walking into Wal-Mart, kaboom, there it is.
We're all eating ourselves to death. But it's not really "we" who are eating ourselves to death; it's that "they" are eating themselves to death.

But there is a valid liberal critique of fast food corporations like McDonald's that target poor communities of color. Quite apart from the weight issue, poor people don't have access to healthy, nutritious food in this country.
There is definitely a problem with poverty and nutrition and the fast food culture feeds into that. But the focus ends up being on weight instead of nutrition. There are many thin people who eat at MacDonalds. People who have bad nutritional habits are going to have poorer health than those who have a healthy diet without regard to their weight.
I think the food industry is actually more culpable of making money off this weight hysteria. There is a kind of naive belief among some who want to sue the food industry that it is opposed to the messages that Americans are getting too fat. Far from it. The industry makes an enormous amount of money off diet food. They turn on a dime to do so - as they've done in the past year with the low-carb craze. And they end up making enormous profit margins on these foods that are really bad for you. I'd rather eat a Big Mac than these low-fat, low-carb foods that are nutritionally empty and are very expensive. People are willing to pay a premium for these foods that are actually cheaper to manufacture because of an ideological distortion that this food is actually going to make them more healthy.
But a lot of this low-fat, low-carb diet is about self-indulgence - it sells the idea that you can eat as much as you want without paying the consequences. And yet you talk about weight control as the expression of the Protestant will to conquer desire.
We moralize the issue of weight and so the really virtuous person is the one who struggles to maintain a lower weight through sacrifice. But ultimately, all of this turns on our anxiety about over-consumption - which we do have a lot of in this society. But unfortunately the focus is on forms of over-consumption that are relatively trivial - the food we put in our body - than those that have bigger consequences such as driving gigantic SUVs, commuting 40 miles one way to work, living in a 5000 square feet home with one other person, and so on.
The problem is that the upper classes in this society over-consume more than anybody else. And then the upper classes obsess about the one form of consumption that is inversely related to income, i.e. calories. So the one form of over-consumption we're getting hysterical about is the one that does not apply to the very upper class that is getting hysterical about it.
We see it all the time - people who live off these fabulous incomes who see themselves as virtuous because they ate celery for lunch. That celery basically absolves them of all their sins.
The whole obsession with weight is possible only because there is a broader obsession with health in general. But if you suggested that perhaps we're too concerned with health, most people would think you're insane.
It would be positively un-American. It's all part and parcel of a larger unhealthy obsession with health. I think our definition of health is far too narrow. Health ought to be a more holistic concept. It ought to be spiritual, emotional, political health as well as pure physiological health. And an obsessive pursuit of physiological health, narrowly defined, can interfere with our emotional and spiritual health. We don't take into account the fact that there may be a point to life beyond living as long as possible.
Now that's just heresy.
No doubt about it. You can get burned at the stake for suggesting that.
You can order 'The Obesity Myth' or read excerpts from the book at Paul Campos' Web site.