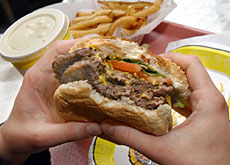 Long before TV chef Jamie Oliver started a crusade against nutritionally empty school food, the Vancouver School Board had a policy that called for healthy food in the city's school cafeterias.
More than 20 years before California Gov. Arnold Schwarzenegger backed a ban on junk food in school vending machines, the VSB had a plan to get rid of soft drinks in the schools.
And long before the provincial government promised to get our kids eating healthy, the VSB had a policy.
The fact that candidates in the current school board election are still talking about how to get junk food out of the schools suggests that banning fatty snacks is easier said than done.
"It's an issue the public can't believe isn't getting action," said Green party trustee Andrea Reimer. When it comes to getting junk food out of schools, "writing a policy is the easy part."
Healthy Brit food
The issue has been a hot topic all over lately. In Britain earlier this year, Naked Chef Jamie Oliver launched a televised campaign to reform schools' crappy, but inexpensive, menus.
In September, Britain's Labour government acted, announcing a plan to rid schools of junk food within a year. Hamburgers and hot dogs will be banned from cafeterias along with vending machines selling pop, potato chips and chocolate.
Regulations will limit school meals' sugar, salt and fat content.
A few weeks earlier, California banned junk food in public schools, a measure that is to be implemented over the next four years.
The ban is the first of its kind in the U.S.
Connecticut, Arizona, Kentucky, New Mexico and Oregon all attempted to ban junk food throughout their public school systems, but ended up weakening the restrictions or applying them to elementary schools only.
The California ban has been praised by American nutritionists and attacked by the soft drink industry, which argues that the move is well-intentioned but will prove ineffective.
A stale policy
During last spring's provincial election, the Liberals promised to ban junk food from B.C. schools within four years. However, Vancouver school trustees say they're still waiting to see the plan.
Which brings us to the Vancouver School Board's junk food policy, which was supposed to have taken effect the same year that Spandau Ballet first hit the charts.
Under that policy, which is still on the books:
"Schools will remove sweetened carbonated beverages from existing vending machines, as of 1982 September, and replace these with suitable alternatives such as unsweetened fruit juices."
The policy states that "secondary school stores that sell food will promote and market nutritionally acceptable foods such as white milk, assorted nuts and seeds, fresh fruit, and unsweetened fruit juices.
"Food sold in schools or door-to-door by students for the purpose of fund-raising will be nutritionally acceptable as defined by the [provincial health ministry] Guidelines for Accessory Foods Serviced in Schools.…
"In all school cafeterias, there will be:
increased use of salads and salad bars,
provision of homemade-style soups,
decreased use of deep-fried foods.…"
Reimer, the board's sole Green trustee, said the policy "was just never implemented. It's a lot more challenging to wean schools off of junk food."
Taste of money
Part of the problem, Reimer said, is that junk food makes money for schools.
"The P.E. departments are dependent on junk food to buy bloody soccer balls," she said. "Every club, every grade, every class, every school is usually selling something to make money and that something is usually high margin, high calorie, high fat junk food."
Added Reimer: "I could take you into almost any school in Vancouver and you would be surprised to find out we have a policy against junk food because it's just that ubiquitous.… It's not just vending machines. It's cafeterias, it's school stores, it's grade four students selling crap to raise money to go on a field trip.… It's everywhere in the school system."
Research from the U.S., however, shows that schools can actually make more money selling healthy food, Reimer said. Although revenues drop at first, they increase as more parents give their kids money to eat in the cafeteria and more teachers and staff buy meals at the school. As well, the schools tend to discover they have fewer behaviour problems from kids hopped up on sugar and empty calories.
When you add in the savings in future health care costs as kids develop healthly eating habits, getting rid of junk food makes financial sense, Reimer said.
A recent story in the Christian Science Monitor bears out her argument. The Los Angeles Unified School District (LAUSD) banned pop in 2003 and banned other forms of junk food last year.
"Loss of income jeopardized both after-school activities and equipment, from volleyball nets to band uniforms," the paper reported. However, "officials now say they are glad they made the switch.
"In June, the LAUSD and Pepsico, the makers of Pepsi, signed a new contract for company water products, juices and sports drinks.
"As a direct result, the company is donating $2 million back to schools as a signing bonus."
The paper quotes LAUSD official Amy Dresser-Held as saying that "now we have the soda industry coming back to us and saying, 'We do have a healthy line of products, so let's promote that.' They realize that schools are a huge market and if they want to continue to play ball, this is our demand now."
COPE's menu
COPE trustee Kevin Millsip says the board has improved food choices over the past three years, during which it has been dominated by COPE.
The board has "contracted in" three school cafeterias that were contracted out by past boards, Millsip said. "We're putting healthier food options in the cafeterias we do control."
COPE's goal is to bring all school cafeterias under board control eventually, he said.
The board is part of the city's food policy task force and is developing policies aimed at buying more food locally, Millsip said. The board is also trying to make healthy food affordable.
Nutritious food often costs more than junk, "and that can be an issue because a lot of our families, and a lot of our kids, are struggling very much to survive," Millsip said. "It doesn't mean the parents don't want the better options for their kids. But literally some weeks - we know this happens - for some families it's a choice between bus fare or meals."
COPE also wants to expand programs such as the herb garden at Vancouver Technical Secondary, which is operated by students in the life skills program, he said.
Millsip would also like to see junk food out of the schools. However, he said, parents and schools have told the board that the schools can't afford to lose junk food revenues.
"If we get reelected with a majority, we want to sit down with these schools and start to get healthier food in the vending machines and make sure it's affordable. So maybe, eventually, we move toward a phase-out of junk food altogether."
Millsip said that, as a trustee, he couldn't unilaterally ban junk food, but "it is something that I would support."
He added that if schools are going to sell healthier food, it has to be food such as wraps, perhaps, or somosas, that kids will want to eat.
The NPA diet
As for the provincial government plan to get rid of junk food, "They've said they want to do it, they've said they're going to do it, but no one knows what they're going to do, no one knows how they're going to do it and no one knows if there's any funding connected to it.…
"Quite frankly, I doubt that they know."
Still, Millsip said, the COPE trustees definitely want to be part of the provincial plan whenever it comes out.
NPA candidate Ken Denike, who chaired the VSB from 1986-88 and 1995-96, said his party's policy is to "encourage and educate but try not to be too directive."
Healthy food "has to be attractive, he said. "You can't be too directive or kids just walk away from it."
Vending machines dispensing junk food got into schools as a result of arrangements between individual schools and the companies that operate the machines, Denike said.
"It has not been board policy to put those vending machines into schools."
While the NPA believes there should be a healthy mix of food in vending machines, it has never favoured banning vending machines completely because such a move would be ineffectual, he said.
"Kids would likely walk across the street to the local small grocer or 7-Eleven and get real junk food," Denike said. "There's just so far you can go. Education and encouragement, I think that's the way to go."
Denike, who introduced a school lunch program into Vancouver schools during the 1980s, said healthy eating programs in the schools are little use if parents don't feed their kids well at home.
"The schools that have shown some success at it have gotten parents behind it," he said. "Those kids are at home more than they're at school."
Tom Barrett is a contributing editor to The Tyee.