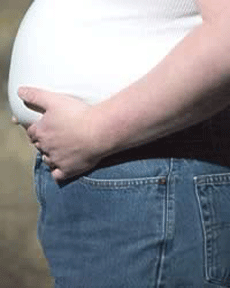 Fast fading are the days when curing obesity meant merely getting young people exercising and eating well. Medical labs are working overtime producing fat-fighting drugs. And a prime target is youth.
On Monday, British scientists announced a potential new treatment for overweight and obese people. It involves a simple injection of the appetite suppressing hormone oxyntomodulin, which fools your brain into thinking you're full.
It's one more announcement in a recent wave of pharmaceutical treatments for obesity. Many of these treatments are already popular in adults, and some now being tried on children and teens too. For example, the weight loss drugs Orlistat and Sibutramine are already approved for teens in the United States.
Teens in BC may not have to wait long for the same access. Recently, a clinical trial spearheaded out of B.C. Children's Hospital brought more support to the effects of Orlistat in youth, as well as, a closer look at its safety. The initial verdict: Orlistat can work in some instances.
And don't think oxyntomodulin, Orlistat, and Sibutramine are alone. Add to them examples like Topiramate (an anti-epilepsy drug), surgery to staple the stomach, and even early research to develop a weight-loss vaccine.
The medical push has its critics, among them gym teachers and dieticians. Some argue that drugs can only ever hope to treat the symptoms and not the source. They point out that today's kids lead sedentary lives, their pop culture world saturated with pitches for carbo-laden fast food. But given those cultural trends aren't about to reverse any time soon, is drugging obesity such a bad thing? Even for teens and younger?
Quest for a fat zapper
The search for a fat pill has been on for years.
Munitions workers found the first. At the turn of the century some noticed that being exposed to the synthetic drug dinitrophenol, used in manufacturing explosives, could cause you to lose weight. "Unfortunately, during the 1930s, when it came into clinical use, there were a number of deaths from multi-system side-effects and the drug was rapidly withdrawn," writes Nick Finer, a U.K. consultant in obesity medicine, in a 2002 issue of the journal Best Practice and Research Clinical Endocrinology and Metabolism. Dinitrophenol was a bust.
Ephedrine was the second. This stimulant led to the development of amphetamines and suppresses appetite. Ephedrine sparked the development of a number of related drugs, including Mazindol, which is approved in Canada for kids 12 and older, according to Health Canada. But these drugs, although causing weight loss, are stimulants and thereby can be addictive and interfere with sleep patterns. As a result, "at the moment, there are relatively few treatments for child obesity available in B.C.," says Dr. Jean-Pierre Chanoine, an expert on childhood obesity at B.C. Children's Hospital. That is, until Orlistat came along.
Hoffmann-La Roche's Orlistat (marketed under the name Xenical) is part of a new generation of weight loss drugs. It blocks the absorption of fat in the intestine. It can do this for upwards of 30 percent of ingested fat, which thereby passes through a person on the drug. (All the above drugs instead affect the brain or central nervous system.)
Although approved for teens in the U.S. -- you have to be over 18 to take it in Canada -- the safety of Orlistat is still being studied. Chanoine is part of this effort, having just completed a new clinical trial on obese teens.
It would be a mistake to view Orlistat, and drugs like it, as magic pills, that melt away fat with a few doses, says Chanoine.
In their study, Chanoine and colleagues found that over one quarter of adolescents who took Orlistat lost 5 percent or more in their body mass index or BMI (a BMI equals a person's weight in kilograms divided by their height in meters squared). These results appear in the June 15th issue of the Journal of American Medical Association and were funded by the drug's manufacturer (Hoffmann-La Roche).
A catch to the positive results is that everyone in the study ate a calorie-restricted diet and received counseling on how to modify their diet and level of exercise. Chanoine's study therefore shows that the drug works in combination with behavioral changes.
Flatulent side effects
Orlistat also comes with some side effects, including flatulence and fecal urgency. "It should be emphasized that not everyone may enjoy its use given the frequency of GI events, frequent trips to the bathroom and flatulence that go along with its benefits," says Brian Hutton, epidemiologist at Ottawa Health Research Institute who reviews clinical trials.
As one happy user told a reporter: "I don't have any side effects, as long as I don't eat cheese."
Hutton also cautions that more research is still needed to see if Orlistat is safe for teens in the long run. Nevertheless, "in cases of extreme adolescent obesity, greater assistance will likely be a necessity, and the array of agents [like Orlistat] that have been shown to have success in this track is encouraging," he says.
The other agents Hutton speaks of are drugs like Sibutramine and Topiramate, some of which allow people to lose up to 5 kg after one year on them.
Sibutramine (marketed as Meridia) is the only other weight loss pill approved from long term use in Canada, although only for people over 18. It affects the brain, suppressing appetite in the process. Once again, it only works with diet and exercise, but teens as young as 16 can take it in the U.S.
A fat vaccine?
Cytos Biotechnology in Zurich, Switzerland, is looking into a vaccine that causes the body to counteract a hormone trigger for hunger. In mice, the vaccine causes them to eat 15 percent less.
And let's not forget stomach stapling. Meant for use in extreme cases of obesity, including teen obesity, stapling involves making the stomach into a small pouch and connecting this pouch further along the small intestine than normal.
Elizabeth Saewyc, an assistant professor at UBC's School of Nursing and an expert on health trends in B.C. adolescents, stressed that teens may take a lot of non-prescription drugs to combat weight gain. "Some teens use diet or appetite suppressant drugs, if they're available over-the-counter here," says Saewyc, an example being Dexatrim. Teens also use laxatives and herbal supplements like ephedra, she says.
But Saewyc questions the use of medication. "All medications have potential side-effects, and there are no 'quick fixes' to this issue," she says. "But many people want change without effort, which is why the quack diets and internet supplements ads that promise you can eat all you want and never exercise and still lose pounds are so popular."
"Medication should be reserved for when exercise and changing eating habits isn't working, or for health-threatening levels of obesity," adds Saewyc, "I worry that parents, or the teens themselves, may pressure their clinicians for medications to treat slight overweight, rather than true obesity." On this front, Chanoine agrees. Orlistat is for obese teens that can't lose weight any other way, it's not a pill to be popped willy-nilly, he says. "This is a very new area so long term caution is urged," says Chanoine.
Nevertheless, add all the new drugs together and it's clear that the trend towards obesity in teens is being mirrored by a trend towards its pharmaceutical treatment. In fact, Chanoine predicts that "in the future, we are going to see more and more drugs coming."
Youth: A still life portrait
But how did we get here in the first place?
Well, the spark for developing drugs to curb obesity has come with two trends -- one is the changing view of obesity and the other is more overweight teens.
Firstly, people didn't always consider being obese or overweight a disease. Instead, behavior was the problem. But, over the years, as "fat genes" and genetic propensities have trickled out of obesity research, packing on too many pounds began to move from the gym to the hospital.
"My own thinking has been changing over the years, but I really think obesity really must be considered a disease," says Chanoine. "And like other diseases people are predisposed to it." So, if obesity is a disease, how do you treat it? One way is weight loss drugs.
Accompanying this shift in viewpoint is a raising wave of overweight teens. However, go back 25 years and Canada's youth were a lot lighter.
In 1979, 15 percent of people aged 2 to 17 were overweight or obese. Flash forward and this rate has almost doubled, with 18 percent of people aged 2 to 17 overweight and 8 percent obese, according to a report released by Statistics Canada on July 6th, 2005. In B.C., the numbers are much the same, with 20% of youth being overweight and 7 percent obese.
"For the 8 percent obese, this is 500,000 kids from age two to 17," says Margot Shields, a senior analyst at Statistics Canada who tallied the most recent numbers. Add in overweight youth and approximately 1.6 million adolescents are heavier than often recommended.
A simple measure of weight and height will give you such estimates. In the Statistics Canada report, 8,661 kids agreed to a scientific measuring tape, their size forming a BMI. Get above a certain cut off, from about a BMI of 17 to 30 depending on sex and age, and you're overweight or obese. This line in the sand isn't simply arbitrary. BMI cut offs correlate with health risks, says Shields. "Being overweight or obese is linked to high blood pressure, type-2 diabetes, heart disease, and certain cancers," she says, making today's youth obesity rate a "cause for concern."
"We [B.C kids] are generally much healthier than say our neighbor to the south," says Saewyc, "but the rate of increase in obesity is getting faster."
Blame evolution, 'screen time'
How did Canada end up with 1.6 million kids overweight and at risk?
In some respects, evolution is to blame. Millions of years of scrounging around and staving off starvation has left an imprint, one in which the human brain seeks out as much food as possible and does it in the laziest possible way.
"Our biology is set up to eat a lot of food," says James Hill, an expert on human nutrition from the University of Colorado Health Sciences Center. "So, eating is something we do really well."
As a counter balance to idle gorging, most of human history has been full of physical activity. But, environments change. Today, while food is often abundant, physical activity is pushing a minimum. "We don't have biological drives to oppose this," says Hill, as a result, many people are overweight.
In this respect, Canada is not alone in what the World Health Organization labels an "epidemic" , with 1 billion adults being overweight. (It is a sad dichotomy that malnutrition is another major epidemic of our time.)
For Canada's youth, Shields labels part of this lifestyle problem "screen time", which involves activities like using computers, playing video games and watching TV. For kids aged 12-17, a shift from 10 hours a week of "screen time" to 30 hours raises the obesity rate from 14 percent to 24 percent.
"What's really going on is that kids are just more sedentary than they use to be," says Saewyc. Today, the older you get, the less likely you are to be exercising.
Everything seems to point to the need for lifestyle changes in today's youth. But, puberty is a trying time, and changing your lifestyle during this period is a difficult request. So, for some, drug treatments have an appeal.
Therefore the trend towards more overweight teens is pushing an industry devoted to drugging obesity.
Other approaches
By its nature, obesity is a chronic condition. Drugs like Orlistat may therefore have to be taken for life, the health risks of which are not yet known. Hutton, Chanoine, and Saewyc, therefore all agree that the 'medicalization' of obesity must be offset by prevention. Drugs are by no means enough.
"Once you see an adolescent that is obese, it is extremely difficult to treat them," says Chanoine, "so prevention must start early." Prevention often simply refers to more exercise and better eating habits for children and teens.
It's these prevention ideas that are partly sparking the moves to remove unhealthy food from schools and increase the physical education programs.
The 'Action Schools! BC' program is an example. It hopes to bring healthy lifestyles to B.C.'s elementary schools by doing things like promoting "150 minutes of scheduled physical education per week." In a 2004 evaluation, the program seems well received but it's too early to see its impacts on youth weight levels.
In an earlier Tyee article, Barbara McLintock outlined some other alternatives, including a "walking school bus" program, giving money to schools for healthier food, and ensuring "the necessary services remain in place to help children who are suffering from behaviour and emotional problems."
Community effort needed
Although ideas abound, Statistics Canada's numbers indicate that current social programs have yet to significantly dent the trend towards adolescent obesity, making it unlikely that weight loss drugs will become obsolete. However, drugs like Orlistat don't work well without lifestyle changes.
Chanoine says that adolescent obesity can therefore only ever be tackled by a comprehensive program, involving exercise, diet changes, and drugs when required. This province is not yet there. "But this is something we are currently fighting for in BC," he says.
In the end, for adolescent obesity, "things are changing, and they're changing perhaps quicker than anyone would like…but I have wondered if the obsession with adolescent obesity is a little hyper-responsive." Alarmist reactions like unhealthy dieting are not going to help, says Saewyc. Instead, communities need to start pitching in.
"I haven't yet seen a commitment in communities to [change things]," says Saewyc, "that may be coming, but its not here yet."
In Hill's mind, it's easy to be pessimistic about teen obesity. "There's no indication that culturally or environmentally it's going to be easy for people to become active, in fact, it's just the opposite."
Nonetheless, Hill offers a touch of optimism. He notes that in 1950, people would have laughed if you told them you were going to reduce tobacco smoking. "But we took it on and won," he says.
David Secko is on staff of The Tyee.