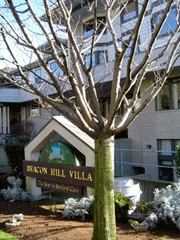 Everyone involved agrees that something went terribly wrong at the Beacon Hill Villa, a Victoria care home for fragile seniors. But key players in the province's political scene are drawing different conclusions about what should happen next.
The health minister says that the reported patient abuse and deaths represent an isolated problem that is being adequately dealt with, while the NDP opposition is calling for a sweeping investigation of the entire corporate chain of homes run by the Villa's owner, Vancouver's Retirement Concepts.
Meanwhile, on Oct. 12 assistant deputy chief coroner Jeff Dolan announced that his office was re-opening the file on the death of a 91-year-old woman at the Victoria facility in 2004.
Health Minister George Abbott insisted that he had no intention of launching an inquiry into the Retirement Concepts chain. "We have no concerns with the great majority of Retirement Concepts outlets," Abbott told The Tyee. "It's not appropriate to come in with an investigation just because they are privately owned. The NDP seems to have some sort of vendetta against Retirement Concepts."
The Tyee has learned of complaints of poor care at other Retirement Concepts facilities in B.C., including one 2006 instance in Summerland in which the health authority froze admissions for six weeks and appointed a government clinical manager until problems were resolved.
Retirement Concepts is reportedly the single highest billing contractor providing long term care and assisted living services to B.C. health authorities. A spokeswoman in Health Minister Abbott's office told The Tyee that Retirement Concepts had billed the province for $45 million in fiscal year 2006-2007. Retirement Concepts bills the health authority $3.5 million a year for its services at Beacon Hill Villa. The firm currently owns 15 facilities in B.C.
Provincial records show that Retirement Concepts has been a regular contributor to the BC Liberals, including donations of $2,000.00 in 2002 and 2004 and $2,500.00 in 2005.
'Unacceptable practices' at Beacon Hill
Publicly available reports reflect complaints about the Retirement Concepts home in Victoria that go back to 2002, but seemed to seriously escalate in 2004 and 2005, as reported by Russ Francis in The Tyee at the time.
In April 2005, government officials wrote that the "sheer volume of continued unacceptable practices at Beacon Hill Villa points to the inability, or unwillingness of the Licensee to ensure that staff are providing appropriate care, and consequently, their inability to ensure health and safety of vulnerable dependent persons in care," explaining their decision then to freeze admissions to the facility. Three months later Vancouver Island Health Authority (VIHA) waived its own order to stop admitting new patients after receiving a letter from Retirement Concepts.
"It's unacceptable that VIHA waived its own protective order. It's no wonder the allegations of abuse continue to this day. VIHA's decision to put the company's interests ahead of patients must be part of an independent investigation," said NDP leader Carole James in an Oct. 3 press release.
Health authority inspection reports released in response to NDP Freedom of Information requests paint a dark picture of conditions at Beacon Hill Villa over the past five years.
One patient was found dead, slumped out of her wheelchair with the seatbelt around her neck. Another died after falling and not receiving proper post accident care. Reporting by the Villa staff on this lethal incident, the inspection report says, was not adequate.
Other elderly patients at the Victoria care home just down the street from the province's legislature building went up to 11 days without a bath, were left sitting alone in darkened rooms long after they should have been helped into bed, experienced emotional abuse from staff who screamed at them and poured water on them, were left with face and body bruises after being accidentally dumped from a wheelchair, or experienced violence and emotional abuse in the course of being medicated.
Inspection reports described the facility as foul with the pervasive stench of feces and urine.
After years of complaints and negative inspection reports at Beacon Hill, and at least one four-month period in 2005 when the home was prohibited from taking in any new residents, the Vancouver Island Health Authority finally took decisive action early on Oct. 5, once more freezing admissions and this time appointing a public administrator, VIHA manager and registered nurse Gail Holmes.
"Not only do baths get missed, but we're seeing situations where medications were reported as being given and weren't," chief medical health officer Dr. Richard Stanwick told the Times Colonist on Oct. 5. "So that's the time when red flags go up and we take action."
"This person can go in there and do what it takes to bring this back up to speed," Stanwick said. "So by putting an administrator in place, you're sending a very strong message."
'We don't make excuses': company VP
Stanwick told the Times Colonist that he was recommending the most stringent action possible short of pulling the home's license altogether.
In a press release issued just after the announcement of the government takeover of administration at Beacon Hill Villa, Retirement Concepts vice president Tony Baena acknowledged that the facility had experienced "above average" levels of complaints.
"We don't want to make excuses," said Mr. Baena. "We have been aware of the situation at Beacon Hill Villa for some time and have been taking aggressive steps to resolve it. Action to address many of the 13 recommendations made by VIHA is already well underway at Beacon Hill Villa."
Dr. Azim Jamal, chief executive officer of Retirement Concepts, stated that in addition to Beacon Hill Villa, the company operates 14 other seniors' housing communities throughout B.C., all of which provide excellent care to residents.
"In all 14 facilities we have management teams and staff that are dedicated to providing the highest possible level of service. It is their effort and hard work that directly improves the quality of care our residents receive, and we appreciate it very much," said Dr. Jamal.
Retirement Concepts 'entrepreneur of year'
On Oct. 9, Dr. Jamal and several other Retirement Concepts administrators were awarded an Ernst and Young regional Entrepreneur of the Year award at a gala Vancouver event attended by more than 1000 celebrants. The health care administrators won out over Brian Scudamore of 1-800-GOT-JUNK and Rick Baxter of West Coast Air Ltd. to win in the "business-to-consumer products and services category."
Retirement Concepts' Tony Baena told the Times Colonist that the problems at Beacon Hill were "an anomaly" that did not reflect the experience at the company's other 14 facilities in B.C. He attributed recently reported complaints at the company's Williams Lake facility to start up difficulties and indicated there had been no further serious complaints there since the 2004 and 2005 complaints revealed this month by the NDP.
In May of 2006, however, the Summerland Review reported that the local Retirement Concepts facility, the Summerland Seniors' Village, had generated so many complaints from physicians and family members of residents that the Interior Health Authority had stopped all further admissions.
Chris Freimond, a public relations consultant who speaks for Retirement Concepts, confirmed by e-mail on Oct. 11 that the freeze on admissions, which he attributed to staffing shortages, lasted approximately six weeks. Donna Lommer, the Interior Health Authority executive director of residential and palliative services for the Okanagan told The Tyee by phone that complaints from family members and physicians were serious enough that the authority froze admissions for six weeks in 2006.
"They weren't quite as ready to open as they thought they were," she said.
In addition to establishing the admission freeze, Lommer appointed an external "clinical manager" to oversee remediation and report to the authority on whether resolution of the complaints was proceeding in satisfactory manner. This was a serious move, she said, but not as sweeping as the appointment in Victoria this week of a government administrator to run the Retirement Concepts facility there.
Complaints about Nanaimo Seniors Village
There are other concerns on Vancouver Island. At Retirement Concepts Nanaimo Seniors Village (NSV), a family member made allegations last year about inadequate wound care provided to her father. The investigator's report determined that the Village had contravened the Community Care and Assisted Living Act, which requires that the facility be operated in a manner "that will promote the health, safety and dignity of persons in care", and also the Adult Care Regulation, which requires the licensee must ensure that no person in care is subjected to neglect, emotional abuse, financial abuse, physical abuse or sexual abuse."
The report goes on to say that "there is insufficient documentation to determine to what extent Retirement Concept's 'Wound Care Team' policy and procedure was implemented and carried out."
At least one family member of a Nanaimo Seniors Village resident says that serious problems continue at the facility. In a letter to the editor published Oct. 10 in the Nanaimo Daily News, Kim Slater, chairman of the Family Council at NSV, says that he and other family members have taken many concerns about quality of care at the facility to Retirement Concepts, the Vancouver Island Health Authority, to licensing, to their Liberal MLA and even to Nanaimo city council.
"Some family members have complained of significant and frequent staff shortages, of some residents being expected to self-medicate, of long periods of time between baths, of apparent food shortages, of some residents experiencing significant weight loss, of some staff being unfamiliar with equipment they are expected to be able to use and so on.
"However, the unhappy reality is that we have felt largely unable to effect long-term change. The simple truth is that most of these problems have occurred because of a lack of continuity in the care of residents. And in Nanaimo, continuity has been lost because staff have been fired and new staff have been rehired three times in the past few years in this publicly funded, for-profit facility," he wrote.
The Nanaimo Seniors Village has been the focus of considerable media attention this year, amidst charges that Retirement Concepts has weakened quality of care in a series of subcontractor changes that have seen care aid staff fired repeatedly and re-hired at lower wages.
Some critics say the Beacon Hill Villa scandal illustrates the problems inherent in for-profit delivery of health care in B.C., including the ability of care home managers to "flip" subcontractors in order to keep wages low and workers non-union. "Beacon Hill Villa is not an isolated case," Hospital Employees Union researcher Marcy Cohen told The Tyee. "It reflects systemic and structural problems, problems created by Bill 29, which gives carte blanche to privatization and contracting out."
The Supreme Court struck down key provisions of Bill 29 this spring, giving B.C. a year to correct the ways the current legislation infringes on Charter rights.
Related Tyee stories: