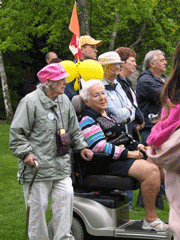 Elderly residents of a Nanaimo care home and their families are upset to learn their caregivers are being fired en masse to save money.
Critics say the upheaval at Nanaimo Seniors Village is part of a larger picture of layoffs and wage cutting at health facilities around the province, practices allowed under legislation passed by the BC Liberal government to aid privatization.
More than 160 Nanaimo health care workers have learned they will be out of a job in September, forced to re-apply for likely lower wages for the same work at the Island city's Nanaimo Seniors Village.
This is the third time in four years the management structure at the facility has been shuffled, with workers fired and their wages cut.
'Riled up'
Ken Gregory, a retired longshoreman left in a wheelchair by a serious auto accident, told The Tyee the news is creating a lot of anxieties among his fellow residents at the Village.
"These ladies and men on the staff treat everybody in here like family," Gregory said. "They joke with us and take real good care of us. I think the quality of care will go down in September. I'm concerned that people in here are going to see a lot of strangers come in.
"The girls who work here now are probably out looking for other jobs, and they'll find them," Gregory continued. "I just don't like the feeling. I hope people in here will be able to bounce back, but I'm not sure."
"What's got me riled up is that they just signed a contract the union bargained in good faith, and then they turn around and serve notice," Gregory said. "It's union busting, I'll tell you right off."
Owner and subcontractor
The Nanaimo Seniors Village Partnership is owned by a Vancouver firm, Retirement Concepts Senior Services, which owns 25 for-profit retirement communities, assisted living facilities and skilled nursing care facilities in B.C. and Quebec.
Last month Retirement Concepts announced that on September 15 it would end its contract with Care Source Solutions Incorporated, which currently delivers care services at the Island facility. The company said the subcontractor was too expensive, and its recently signed agreement with the Hospital Employees Union was "not economically viable for this facility."
Retirement Concepts billed B.C. health authorities for over $24 million in 2006, documents obtained by The Tyee show.
Bonds broken
Most members of the Village staff are women whose wages support their families, union sources say. Having been fired a third time in the past five years, and facing cut wages and benefits, they must now decide whether to reapply or look elsewhere for work.
Kim Slater, a Nanaimo teacher whose mother has lived at Nanaimo Seniors Village for over two years, is worried about bonds broken.
Caring relationships are important to the frail elderly, he pointed out. "You want workers who feel like they have a stake in their careers. The Village already operates far too often short of the necessary staff. How are they going to keep adequate staffing when they keep treating their workers like this?"
NDP call to repeal law
On May 31, two NDP MLAs weighed in on the layoffs at the Nanaimo Seniors Village and 450 more care aides turfed by Simpe Q Care Inc. at three long-term care facilities in the Lower Mainland.
The Campbell government is treating caregivers to seniors as a "disposable piece of our health care system," charged Seniors Critic Katrine Conroy. "Such treatment will do nothing to encourage people to enter this important field of work," added Adrian Dix, the MLA for Vancouver-Kingsway and the NDP's Health Critic.
"We know that the province has a looming shortage of health care professionals," said Dix, who cited a Vancouver Coastal Health Authority projection that the region will have 75 per cent fewer bedside care aides than it needs by 2015.
Dix called on the government to repeal Bill 29, the 2002 Health and Social Services Delivery Improvement Act, which permitted health sector employers to contract out work previously done by unionized employees.
Dix said the law has led to "abuse of workers rights" and "outrageous treatment" of health workers in B.C.
Union claims 'intimidation'
Chris Martin, a care aid who chairs the HEU local at Nanaimo Seniors Village, has filed a grievance against what she saw as escalating harassment of union workers there.
"Management now has us under 24-hour-a-day guard, with security staff following staff from room to room and standing in the middle of any resident activity we organize. We are forbidden to talk with family members of residents about the changes taking place," Martin said.
This week the company is demanding staff members fill out "criminal profiles" despite the fact that employees had to complete a criminal record report when they were hired, Martin says, calling this a tactic of "intimidation."
"They are trying to wear down the staff and that hurts the residents," Martin said.
Long legal battle
Retirement Concepts' labour relations practices have been at the centre of what Madam Justice Garson of the B.C. Supreme Court, in ruling on a case involving the facility, called "a torrent of litigation" over the past four years.
As Justice Garson tells the story, it all began when the B.C. government passed Bill 29.
Soon after the bill's passage, the Nanaimo Seniors Village Partnership tried to negotiate $10-an-hour reductions in wages with the union then representing its registered care and activity aids, the B.C. Government and Service Employees Union (BCGEU). When this effort failed, the workers (pressured, union sources say, by management threats) applied to de-certify BCGEU as their representative.
The de-certification came into effect in November of 2003.
Retirement Concepts then tried to contract out the services provided by these workers to a wholly-owned subsidiary, Well-Being Senior Services. To take advantage of the contracting out provisions of Bill 29, says Justice Garson, Retirement Concepts, through the Nanaimo Seniors Village Partnership, terminated all unionized care and recreation aids in hopes they could contract out all the work to Well-Being, its subsidiary.
However, it was determined that contracting out to a wholly-owned subsidiary was not sufficiently arms length to constitute genuine contracting out, so the Well-Being agreement was terminated and a new arrangement was made with Care Source Solutions.
All but nine of the fired workers were re-hired on September 9, 2004.
In October of that year, the HEU was granted certification to represent the Care Source employees.
In August of 2005, the provincial Labour Relations Board ruled that the Nanaimo Seniors Village Partnership was the true employer of the Village workers and that its conduct in terminating the employees and contracting out their work to avoid being certified was an unfair labour practice.
Another ruling, from the Ministry of Labour's Employment Standards Branch in August of 2006, also found the employer at the Seniors Village guilty of unfair labour practices.
The Hospital Employees Union then conducted a long negotiation with Care Source Solutions, finally reaching a contract agreement in March of this year.
'Non-union company'
This month the parent company, Retirement Concepts, dumped Care Source reportedly in favor of Abbey Therapeutic Services, a Chilliwack company expected to take over in September, when the pink slips distributed to unionized staff this month take effect.
Experienced care aids, who under the HEU contract now make $17.90 an hour plus benefits, predict the new subcontractor to lower their pay by more than two dollars an hour and slash benefits.
And Village workers expect any labour organizing in response to be near impossible if Abbey Therapeutic Services is the new subcontractor. An application form allegedly used in Abbey Therapeutic Services hiring includes this passage:
"ATS is a non-union company therefore union activity is prohibited. Any union activity is grounds for immediate dismissal."
The form, dated May 14, was submitted as authentic to the Labour Relations Board by the Hospital Employees Union. The union is asking the Board to rule that Abbey Therapeutic Services is in breach of the B.C. Labour Code and to direct it to cease using the offending form in its hiring practices.
No comments from management
The Tyee made repeated efforts to speak with Ellen Silvernagle, CEO of Abbey Therapeutic Systems, seeking her comments on the charges being made at the LRB, and whether ATS will be the new subcontractor in September.
Our calls were not returned by the time this story was filed.
Repeated calls over three days to Seniors Village general manager Leanne Biggs went unanswered until just before this story went to press.
In a voicemail left for a Tyee reporter, Biggs declined to answer any questions about labour practices and resident well-being at her facility, and suggested we contact Retirement Concepts Operations Vice President Tony Baena in Vancouver.
Baena refused to make any comment.
'Buck doesn't stop anywhere'
Kim Slater says he and other family members of residents at Nanaimo Seniors Village have tried to "get some answers and to provide some stability of care for our family members."
"My mother and the others at the Village are feeling lots of uncertainty about the future. The current care aids are wonderful people. If they disappear, it will have a big and negative impact on all the residents."
"I am upset about this situation both as a family member and as a tax payer," Slater said, noting the Village collects up to $5,000 a month per resident, most of it public money.
"Under Bill 29, the buck doesn't stop anywhere," Slater has concluded. "When we talk to Retirement Concepts, they tell us to talk to Care Source. When we talk to Care Source, the tell us to talk to Retirement Concepts, and then Retirement Concepts blames the province. No one seems to have to take responsibility."
"Our parents aren't widgets," Slater said, "and they shouldn't be treated like items in a balance sheet."
Related Tyee stories: