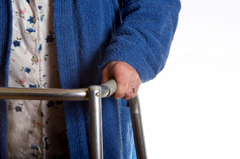 The Supreme Court decision against tearing up health worker contracts under Bill 29 hasn't put the brakes to layoffs, say angry union officials.
Thirty health workers in Abbotsford were told this week they will be fired before summer is out, according to some in their ranks.
Their union is demanding the BC Liberal government block any further layoffs in the health sector while figuring out how to comply with the Supreme Court ruling. The union has fresh polling data it says proves the B.C. public supports its stand (see sidebar).
B.C. Premier Gordon Campbell has said his government will likely take the full year allowed to match its policies to the decision.
In the meantime, health workers in B.C. face business -- and firings -- as usual, according to the Hospital Employees Union (HEU), which launched the legal challenge to Bill 29 that resulted in the Supreme Court affirming collective bargaining as a Charter right.
The claimed layoff this week of 30 care aids and licensed practical nurses at MSA Manor in Abbotsford would bring the number of Bill 29-related layoffs in the past six weeks to nearly 700 in six senior homes, according to HEU figures.
Management denies layoff
Workers at MSA Manor told the Tyee they were told on June 18 their jobs would be terminated as of August 13. The workers joined the Hospital Employees Union only weeks before they were laid off, according to union sources.
Harry Schmidt, board chairman for MSA Manor, denied that any layoffs have been issued, although he did confirm that the Manor's service contract with Abby Therapeutic Services expires June 30.
"We are still operating as usual," he told the Tyee. "No one has been laid off at all. I can't predict what we might do in August, but as of today, no one is laid off. Lots of people have been calling in sick, though."
Punished for unionizing?
Naomi Bishop is a care aid who has worked at the MSA Manor for a decade. She thinks the layoffs may have been a response to her co-workers' decision to join the union.
"There's really no other way to see it, I think. Our wages are well below union wages here, and we lost a lot when we were privatized under Bill 29. With privatization, there's no equality. They pay everyone at different rates and try to keep us divided," Bishop said, adding that the churn in workers at her facility will harm residents as well staff.
"It's the disruption for them and for us that gets to me," she told the Tyee.
Mike Old, communications officer for the HEU, said union members were told at the June 18 meeting that a new subcontractor would be running care services at the Manor.
Whoever was employed at that time would have to begin again from zero, Old said, in their efforts to be represented by the union.
8,000 laid off
HEU assistant secretary-business manager Zorica Bosancic said the premier's refusal to establish a moratorium on Bill 29-related layoffs is sending the wrong message to health employers who continue to flip contracts, fire staff and disrupt care, despite the ruling by the nation's highest court.
B.C.'s Health Minister, George Abbott, denied the layoffs are related to Bill 29, telling the Tyee in an e-mail interview on June 20:
"The current layoffs taking place due to facility operators changing their contracted service providers are not occurring under the Health and Social Services Delivery Improvement Act. These matters are between two private companies. If either party has concerns, it can bring the matter to the Labour Relations Board or the Employment Standards Branch."
The Hospital Employees Union says Bill 29, the Health and Social Services Delivery Improvement Act, passed by the Campbell Liberals early in their first term in office, allowed health care employers to unilaterally change contracts negotiated with unionized workers and opened the door to extensive privatization and contracting out of hospital support services.
Union spokespeople and other critics of Bill 29 say the law, soon after passage, led to layoffs of 8,000 health care workers, most of them women.
The critics say contractors and subcontractors continue to be shuffled in and out of facilities, disrupting service to patients and driving down wages and benefits for workers.
"The whole tangled mess is a result of Bill 29," said the HEU's Old. "In 2003/2004 Bill 29 was used to set up three different subcontractors at the MSA Manor. That means three different for-profit companies trying to squeeze money out of the per diems for residents there."
Revolving subcontractors
A new, as yet unidentified, subcontractor will take over care services from Abby Therapeutics on August 13, sources told the Tyee.
Abby Therapeutics, meanwhile, is reported to be in line to take over the contract for care services at Nanaimo Seniors Village in September. The 168 care staff at the facility recently received layoff notices from the current subcontractor. It's the third time the workers have been terminated since 2004, as recently reported in The Tyee.
Health employers plan another 500 terminations in the coming year, claims the HEU, though they have not announced where or when they will take place.
Joe Arvay, one of the lawyers who won the Supreme Court challenge to Bill 29 earlier this month, told the Globe and Mail on June 19 that "For the government to pretend, as it seems to be, that the Supreme Court of Canada hasn't rendered its judgment and to almost vindictively continue to fire workers is an act of bad faith."
Related Tyee stories: