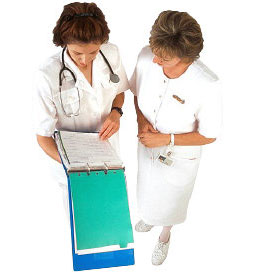 When B.C.'s government passed Bill 29 on January 27, 2002, handing health facilities the right tear up valid collective agreements, the howl of protest from labour was answered by a dollars and sense logic from the Liberals. The Health and Social Services Delivery Improvement Act was necessary, labour minister Graham Bruce said in the legislature, to curtail the rapidly rising cost of health care.
As of last month, the Hospital Employees' Union reports that 6,000 health workers have lost their jobs as a result of Bill 29. During the recent HEU dispute the government again claimed that privatization of many health support services was needed to trim costs in the system, savings that would be invested in patient care.But two sets of documents obtained by The Tyee throw those claims into doubt.
Leaked documents from one private company that contracts workers to B.C. health facilities indicates that while wages are much lower for privately contracted workers, the province may end up paying nearly as much or even more for their services.
And inspection reports detailing problems at a Vancouver Island seniors home portray patient care suffering after contract workers replaced more experienced unionized staff.
Pitch from Health Staffing International
How much money are the health authorities saving from the contracting out?Despite intense efforts by the HEU through Freedom-of-Information requests, contracts signed between health authorities and companies supplying support staff have so far remained secret. An HEU official told The Tyee that they are in the thick of a number of requests for review of health authorities' refusal to provide copies of the contracts.
However, a recently-leaked document suggests that the cost savings may not be as great as Health Minister Colin Hansen and his Liberal colleagues have been suggesting.
A letter from a New Westminster-based company that hopes to win some of the contracts has for the first time revealed charge-out rates, and they match or exceed the cost of unionized staff paid under the HEU's province-wide master agreement.
In an April 20 letter to Richmond Hospital, Health Staffing International manager Greg Boorman offers to provide the services of qualified registered nurses, licensed practical nurses, certified care aides and other staff. A copy of the letter was obtained by The Tyee."
We are well placed to provide the full range of services to facilities and would like an opportunity to bid on any contracts that materialize," Boorman writes in the letter.But according to an HSI rate sheet included with the letter, the potential savings may be small.
HSI receives $36 an hour for each licensed practical nurse, according to the rate sheet. But LPNs working under the HEU master agreement are presently paid less: $26.47 an hour, including benefits. (This rate takes into account the 11-per cent wages rollback agreed to earlier this month.)
HSI laundry and housekeeping aides are charged out at $19 an hour, compared with $20.67 for unionized staff.Similarly, rates for cooks, maintenance and security staff are either less under the HEU contract or only slightly higher.
'Loss of accountability'
HEU secretary-business manager Chris Allnutt says that apart from financial considerations, there are distinct disadvantages to contracting out the work. "The difference is it's a loss of accountability because it's an arms-length company that provides the care," Allnutt says.
As well, he says the difference between what the unionized staff and the contract workers are paid goes into the company's profit, rather than into workers' pockets.
Boorman told The Tyee this week that a number of B.C. health care facilities use HSI to supply staff on a casual basis. He has had no luck with Richmond Hospital, he says.
Though he agrees that his charge-out rates are comparable to HEU rates, Boorman says facilities can still save on overtime costs by hiring temporary staff through his company once regular staff work their full quota of shifts."
At this point, we're not providing any contract work in facilities," says Boorman. His company concentrates on supplying registered nurses, from its roster of 150 nurses. However, it has also had some success with providing support staff, he says.
Parts of HSI's fee structure are reminiscent of a union contract.On top of the usual rates, HSI gets 70 cents an hour extra for each worker on the evening shift, $1 an hour for one on the night shift and 50 cents for one on the weekend shift.
Statutory holidays and Boxing Day cost the institution twice the normal hourly rates.The institution is also charged unspecified overtime rates.
'Supervisory structure well established'
HSI is a division of 546137 BC Ltd., of which the president, company secretary and sole director is Boorman, a resident of Surrey.
Boorman says that until 20 years ago, he worked for the provincial government as a long-term care administrator in three different regions.
In the letter, Boorman says that HSI's "supervisory structure is well established (not simply thrown together to meet the purposes of Bill 29)."
Boorman's letter acknowledges the disruption that occurs when workers are forced to train their replacements: "When facilities contract out a segment of their operation, the period leading up to the contract and the initial stages of the contract are very stressful for all involved."
Inspectors give Sunset Lodge poor rating
At the provincially-funded seniors home Sunset Lodge in Esquimalt, the shift to contract workers earning far less than their HEU predecessors was followed by charges of poor care from government inspectors and angry relatives of residents.
Last summer, with the help of Bill 29, the Salvation Army contracted out housekeeping, dietary, maintenance and laundry jobs at Sunset Lodge. Morrison Healthcare and Crothall Services Group, both subsidiaries of the giant U.K.-based conglomerate Compass Group Plc, won the contracts.
According to its interim 2003 financial report, Compass's revenue increased to about C$13.5 billion last year, up from about C$12.3 billion the year before.
Morrison and Crothall are paying their staff approximately half the wages that the former HEU members who worked at Sunset Lodge earned. In addition, benefits are sharply reduced.Following several complaints from relatives of the residents-many of whom have severe dementia--inspectors from the licensed facilities division of the Vancouver Island Health Authority showed up at Sunset Lodge unannounced last Nov. 4.
While they were unable to confirm all of the complaints, they discovered sufficient defects in the quality of care that they handed Sunset Lodge a "high" health and safety rating.
Thanksgiving dinner 'abysmal'
According to health authority inspection reports, among the confirmed problems was a Thanksgiving dinner which one family member described as "abysmal."
"The complainant identified the Thanksgiving dinner as very poor quality. This was confirmed by residents spoken to," wrote the inspectors.
Copies of the reports were obtained by the family of a resident under a Freedom-of-Information request and provided to The Tyee.
Another complaint was that elderly female patients were being cared for by young male staff, as no female workers were available."
Also, please provide a facility policy/statement which outlines a resident's (and/or resident's family) right to request and/or refuse personal care from a male/female caregiver," the inspectors wrote in a report.
According to a one-page report of a December 2 follow-up inspection, the authority maintained the lodge's "high" health and safety hazard rating.
Lodge manager: 'glitches' fixed
In a voice-mail message last January, lodge manager Blake Mooney called the problems "glitches" that had since been fixed.
"What is in the [December 2] letter is based on a complaint," Mooney said. "It is not a finding of fact."
"Since then we have had substantial interactions with VIHA, and their licensing office, and at this point they have no ongoing problems with us," he added. "We do have many glitches."
A health authority official later confirmed that the lodge's "high" health and safety hazard rating had been removed. But the reports do raise more general questions about how smoothly the transition from well-paid, unionized staff to private contracts has been handled.
Russ Francis [[email protected]]is an eight-year veteran of the legislative press gallery and an acknowledged expert in B.C.'s Freedom-of-Information legislation. He welcomes brown-paper envelopes.