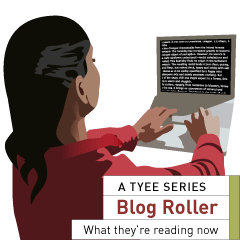 [Editor's note: Darren Barefoot's blog, is a staple in the B.C. blogosophere. His blog, which he started four and a half years ago, gets over 10,000 unique readers a day, and is about "software, marketing, pop culture, politics, ear plugs, fake testicles for dogs and sleep paralysis."]
I subscribe to the RSS feeds for about 175 blogs. I skim most of those, and ignore a few completely. However, I read every post from the following five blogs -- they've earned my complete attention. While writing this piece, I observed a trend: in one way or another, I want to be all of these people. Is envy a good metre-stick for favourite blogs?
It's a fantasy of mine to run a little movie theatre some day. The owner of The Moxie, an independent cinema in Springfield, Missouri, makes that dream seem more possible with his Moxie Cinema blog. Dan Chilton has written about every aspect of his brave endeavour, from renovating the theatre to projector woes to the box office phenomenon that is Pan's Labyrinth. He's an entertaining writer, and is refreshingly honest about all aspects of his business. Plus, he's built a great-looking blog. New bloggers could do much, much worse than to emulate the Moxie blog's aesthetic.
I have a low tolerance for inward-looking, meditative online diaries. Reading them is too often like hearing about somebody else's dream -- the stories are only interesting to the dreamer. Meg Fowler's blog is the rare, delightful exception to this rule. She updates frequently, randomly and often hilariously. No blogger that I read gives more of herself to her readers, and yet she manages to avoid those common online clichés: sex, politics and religion.
Technology reporter and uber-geek Tod Maffin runs Inside the CBC. It's kind of an industry blog, in that it covers the world of Canadian public broadcasting -- it's more of a monopoly blog, really. Tod once gave me a tour of the CBC's Vancouver headquarters. In the property storage area, I looked with awe and nostalgia at the "Good Rockin' Tonight" sign hanging high on one wall. The Inside the CBC blog invites all Canadians on that tour, and enables them to have healthy, intense debate about the broadcaster's past, present and future.
Clive Thompson writes about science, technology and culture for publications like Slate, Wired and New York magazine. He also runs an engaging, original blog called Collision Detection. Recent topics include vampire/human population dynamics, racism in World of Warcraft and how your date of birth affects your odds of mental illness. His blog posts are typically well-researched, in-depth mini essays. And because he's an accomplished journalist, they're always very readable.
I'm in web marketing, so I read a number of blogs related to the PR and marketing industry. My favourite, by a long shot, is by marketing guru Seth Godin. I'm a big fan of his books, and his blog features similar creativity and disruptive thinking. Nearly every post has an insight that I can apply to my day job.
Recent Tyee stories: