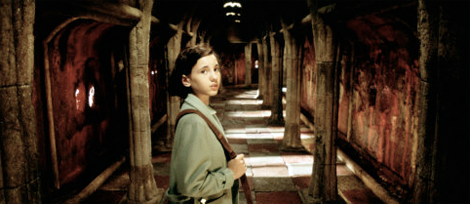 When I was a little girl, my mother would sing us Joan Baez songs to put us to sleep at night. Whether they were about selkies stealing children, calves bound for slaughter, or doomed maidens, invariably, the songs did not end well. So, tragedy is like mother's milk to me, and watching director Guillermo del Toro's film Pan's Labyrinth felt like coming home.
The story begins in a once-upon-a-time fashion with a beautiful princess who longs for the warmth and the soft breezes of the mortal world. In the blinding rays of the sun her memory is wiped away, and she forgets her true identity. Her father, the king of the underworld, vows to wait until her return. Cue the entrance of a young girl named Ofelia and her heavily pregnant mother, who are on their way to a remote army outpost in Franco's Spain. The year is 1944, and the fighting continues between government forces and the few remaining ragtag rebels hiding in the mountains. Ofelia's new stepfather is Captain Vidal, a sadist in creaking leather and slicked back black hair. Ofelia knows him immediately for what he is, a "panzer-man," a killer of innocents. Even as her fragile mother admonishes her to call him Daddy, the child sees the darker truth underlying the adult world.
"Every woman adores a fascist," wrote Sylvia Plath, but thankfully every girl does not. Children are in some ways, the ideal anti-fascists; tell them to do one thing and they will by their very nature (and I use that word advisedly) do precisely the opposite. Ofelia, a name that conjures images of a mad slip of a girl floating down the river with blossoms entwined in drowned hair, is more tough-minded than her namesake. Like the many fairy tale heroines before her, she is alternately brave and contrary. So too, are her fellow freedom fighters, who are busy battling the fascists through subterfuge and deceit. Principle among them is Mercedes, the housekeeper, who sneaks food and medicine to the rebels with the help of the local doctor. Both characters are wonderfully drawn, and give the film a depth of humanity that only adds to the phantasmagorical elements.
Real and imaginary monsters
Initially, adult and child worlds coexist, and while the grownups go on about their nonsensical actions (ration cards and politics) Ofelia is busy on her own quest. The first thing that greets her in the forest is a fairy, an insectoid sprite that literally leads her down the garden path and into the labyrinth of the title. In the centre of the winding circle is a hole in the ground in which dwells a faun. "He was tall, and old, and he smelt like earth," she tells Mercedes. The faun gives her three tasks to complete before the moon is full. If she succeeds, she will be proven pure of spirit, and her kingdom will be restored to her along with eternal life.
Sex is part of the subtext here, as it is in most fairy tales, with all those symbols of vaginas and penises clothed in the guise of talking frogs or magic bags. Trembling on the edge of adolescence, Ofelia is herself, a twilight creature, somewhere between girl and woman. "Why did you have to get married?" she asks her beautiful but passive mother. "You'll understand when you're older," her mother tells her.
But as the world of fantasy and reality begin to draw closer together, the brute force of maturation comes to bear. In this fashion, the Captain too becomes a creature of fairy tale, a blue beard, a monster just barely in human form, worse even than the blind baby-eating wraith that Ofelia battles in the underworld. As the film's twin tales begin to spiral into tragedy, it is difficult to look away.
But that is what makes tragedy so tragic, the inevitability of it all. This type of narrative requires bloodshed and sacrifice, and the film offers up a heaping plateful of bloody violence, torture and death.
Not pretty, but beautiful
No one does the dark splendor of love and loss quite like the Spanish: think Picasso's "Guernica" or Goya's Black Paintings, specifically "Saturn Devouring His Son." That image is appears in one specific scene in Pan's Labyrinth, which I won't spoil for you here. Beauty and horror are so closely intertwined it is sometimes hard to pick them apart. That is perhaps, partly the nature of Spain as nation. The idea of the two Spains (an allusion to the lines Antonio Machado "Here lies half of Spain. It died of the other half"), is addressed by the Captain himself, who says he wants his son to be born in a new clean Spain. The dark tangle of the place must first be wiped away by the precision and order of Franco's fascists. Unlike the rebels who live in a cave in the mountain, or the creatures of the underworld, this new Spain is a place of unquestioning obedience.
However, nature (human or otherwise) is not nearly so acquiescent, and the unbridled forces of rebellion are unleashed to stage guerilla attacks in the form of fairies and little girls. The sheer wealth of literary and film references can turn you in circles, not unlike a labyrinth itself: a winding, discursive journey, that goes round and round. The comparisons to Victor Erice's Spirit of the Beehive's central character, Ana, a little girl who goes on a quest for the Frankenstein monster, are apt. References to Hayao Miyazaki's films such as My Neighbour Totoro, and Spirited Away -- from the mute stone sentry in the forest, to children's ability to see things their parents cannot -- are also evident. But whereas, these earlier films were primarily concerned with the mystery and magic of childhood, Pan's Labyrinth is much more an adult story about the death of innocence, for both children and grownups.
Tragedy, the dark sister of comedy, is something we don't see too often in mainstream film, so it can come as almost as a shock to the system. The film is one of those rare beasts, with a sense of genuine permanency. It beds down in your mind, like it is preparing to live there for a while. It is not pretty, but it is, sometimes, very beautiful. Much like the wordless lullaby that Mercedes croons over a dead little girl.
Related Tyee Stories