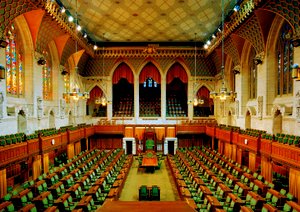 A Facebook group called Canadians Against Proroguing Parliament has sprawled to more than 148,000 members, spawning plans for "Get Back to Work" rallies in more than 30 cities.
The social media group has become a national town square where Canadians are venting their frustration over Prime Minister Stephen Harper's decision to shut down Parliament until after the close of the Olympic Winter Games.
In its first week, the virtual protest went from being mocked by the nation's newspapers to being cited by them as part of the reason Harper is sinking in the polls. And as the group enters its second week, its creator -- a 25-year-old graduate student -- is calling on Canadians to take to the streets.
"Facebook is just a tool that we're using to connect with each other," Christopher White told The Tyee. "Unless we actually get people on the ground, doing work in their communities, the Facebook group will mean nothing."
'Indicative of a much larger issue'
White, an anthropology student at the University of Alberta, is neither an activist nor a political partisan.
"I am not a card-carrying member of any political party... I have never volunteered for a candidate or party," White said in an e-mail. "The last rally I went to was five years ago during my undergraduate degree to protest tuition increases."
He was, however, profoundly frustrated when he learned that Harper had prorogued Parliament for the second time in two years.
"To me, prorogation was indicative of a much larger issue in Canada -- of how disconnected many of us are from politics, and how our elected leaders use that to their advantage," he explained.
"We elect our politicians to represent us, and when they negate on their responsibility it is a betrayal of democracy," White said.
He started Canadians Against Proroguing Parliament on Dec. 30. The group grew quickly. And dozens of local chapters were soon organized across the country.
The group's discussion boards brewed a curious gumbo of thoughtful debate and partisan harangue. Members posted both the letters they wrote to their MPs and the (often boilerplace) replies they received. Discussion topics include: "We need our MPs to stop towing party lines and stand up for the people," "Jean Chretien... King of Proroguers," and "Maybe our governments can't do the right thing?"
White attributes the group's success to its simple message: "Get Back To Work."
"This has far exceeded what I had envisioned," he said. "It started out with me sitting angrily in my desk, and very soon it will be Canadians marching in the street."
'Facebook protests are not protests'
Canada's mainstream news media initially dismissed and disdained what may be the first social media movement of the new decade.
Early news reports tended to scoff at the group's membership count -- then in the tens of thousands -- citing it as too small to matter. Several bloggers and pundits snickered that the group's members (then) represented less than one percent of the 13.8 million Canadians who voted in the 2008 federal election.
"So. Parliament has been prorogued," Macleans columnist Andrew Coyne blogged on Jan. 5. "Certainly there's no evidence the public is up in arms about it... the 38,000 plus who have subscribed to that Facebook page are indicative of very little -- most, I would bet, are opposition partisans."
The National Post published an editorial on Jan. 6th that scoffed at "a new-fangled website called Facebook" and chided the Toronto Star's decision to publish a news article about the group.
"For the sake of context," the National Post suggested, "let's look at some other causes that also got a six-digit response. Almost 300,000 people have joined a group encouraging rocker John Mellencamp to quit smoking. Another hundred thousand people have joined a group encouraging random people to move to Finland. And then there's our personal favourite: A group called 'If 100,000 people join this group, Laura will name her son Megatron.'"
And the Toronto newsweekly NOW published a column entitled "You call that a protest, Facebook?"
"Facebook protests are not protests -- or at least they're incredibly lazy ones," NOW writer Joshua Errett argued. "I think adding your name to a Facebook protest is a quick and easy way to feel like you've done something to help the cause, and then continue on your way. It takes no energy, and no commitment."
But late in the week, polls by Angus Reid and Ekos showed a majority of Canadians are opposed to prorogation. And the pundits quickly began to change their tune.
Coyne was among the few who did so openly.
"Well, now. The Canadians Against Proroguing Parliament Facebook page now has over 127,000 signatories... The government's overall numbers are on the slide, even before the demonstrations planned for across the country later this month," he blogged.
"Could it be, in other words, that I was, um, you know, what I mean to say is, er... wrong?"
More indicator than instigator
"When the prorogation of Parliament was announced, the story came and went in the news media in what seemed like the blink of an eye," UBC professor Alfred Hermida observed.
"It this had happened in Britain -- if Gordon Brown had suspended Parliament while under such intense scrutiny -- there would have been an intense outcry in the news media," added the BBC News veteran.
"Here it was like, 'Oh well. No Parliament. Moving on.'"
Hermida, who studies the impact of digital communications on journalism, said social media has emerged as a powerful political organizing tool.
For example, Facebook provided a springboard that helped propel Barack Obama to the front of a large pack of better-known politicians seeking the U.S. Democratic Party's presidential nomination. Twitter provided anti-government demonstrators in Iran with a way to coordinate protests in a nation where political organizing is forbidden.
At the same time, he warned against expecting too much of Facebook.
"By itself, social media is not going to overthrow the Harper government," Hermida said.
"This sort of group may be better understood as an indicator of social change than an instigator of political change," he said.
"This group indicates that there are a significant number of Canadians who are not happy with what is being done in their name. And that has brought it back to the attention of the news media. If nothing else, the members of this group have returned the topic to the forefront of public discussion," he said.
Hermida compared the online anti-prorogation effort to the flood of social media outrage that came in the wake of the decision to exclude Green Party leader Elizabeth May from the leaders' debates in 2008.
"As we saw," he said, "a week later that decision was reversed."
'First step in the engagement ladder'
And yet, transforming indicators into instigators is precisely what Christopher White and the dozen or so volunteers who have coalesced around Canadians Against Proroguing Parliament are trying to do.
There are 31 rallies already in the planning stages across Canada, including 15 in Ontario, five in the Prairies, four in the Maritimes, three in B.C., two in Quebec (where the English-language Facebook is not as widely used) and one each in Whitehorse and Yellowknife. There is even a protest planned in London, England.
Sean Devlin is an organizer of the Vancouver chapter.
"We will certainly be able to translate the Facebook group into boots on the ground," Devlin told The Tyee. "There will likely be some drop-off, but that's to be expected. However, the bigger the group gets, the bigger the turnout on Jan. 23."
The Vancouver chapter counts more than 700 members online. About two dozen of those showed up at its first flesh-and-blood organizing meeting last weekend, according to Devlin, who said the Vancouver rally will "focus on the work that is not being done while Parliament is prorogued." Local groups are also forming in Kelowna and Victoria.
Devlin, who was part of a climate day team that turned out 5,000 people on the Cambie Bridge last October, said the latent power of this group lies in the fact that political newcomers outnumber the usual suspects.
"The biggest problem we face in this country is apathy, plain and simple. If we're going to see positive change we need a citizenry that is positively engaged. This issue is doing just that," Devlin said.
"The Facebook group is the first step in the engagement ladder. Showing up at a rally is the next step," he continued. "If this Facebook group results in 1,000 people volunteering during the next election, that will be a significant impact."