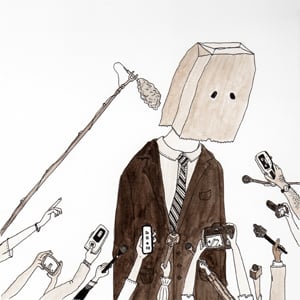 [Editor's note: This is the thirteenth in our "Some Honourable Members" series, depicting the more dubious moments in B.C.'s political history, brought to you by veteran muckrakers Tom Barrett and Tom Hawthorn, one a day until election day.]
"I should let the assholes have the province,' the premier said, checking his forehead for blood. "I don't need this. I just don't need this.'
Bill Bennett had just smashed his head on the overhead luggage compartment of his campaign airplane. It was the end of a long and lousy day in what looked to be a long and lousy election campaign.
The early days of the 1983 campaign were a shambles for Bennett and his Social Credit party. And on April 14, the day Bennett turned 51, things hit bottom.
Protesters in Terrace threw eggs at Bennett and his wife, Audrey. During a speech in Smithers, a First Nations heckler disrupted the premier's speech until Bennett pulled a $20 bill from his wallet and waved it at the man, telling him to take the money and go back to the bar he'd come from.
Bob Plecas, the senior Bennett official who describes the day in Bill Bennett: A Mandarin's View, calls it the worst birthday in Bennett's life. It's hard to argue with that assessment.
Bennett had looked unwell from the start of the '83 campaign. In the middle of a speech his face would glow with the mottled shades of a ripe plum and his sentences would become slurred and barely coherent.
Meanwhile, New Democratic Party leader Dave Barrett was having a whale of a time, joyfully parrying Socred attacks while pounding Bennett for B.C.'s flailing economy.
A few days after the Smithers incident, Bennett's handlers pulled him off the road, saying he was sick and needed a rest. When the premier returned to the hustings it was on a reduced and tightly controlled schedule that avoided contact with the media as much as possible.
The message underlying the Socred campaign was a response to the recession and to voters' dislike for Bennett. Tough times require a tough guy, the Socred message implied, and Bill Bennett was one tough guy.
According to the standard narrative, Barrett was cruising to victory when he announced in the final days of the campaign that an NDP government would dump Bennett's restraint program, which put a ceiling on civil service wage increases. Barrett himself credits that moment -- and a live response by Bennett on the BCTV News Hour -- with his loss.
In fact, as Plecas points out, Social Credit's internal polls indicated that Bennett had turned things around and was leading before Barrett's gaffe. In any event, the tough guy pulled off a remarkable feat, winning re-election with 50 per cent of the vote and an increased seat majority in the face of the worst downturn since the Great Depression.
After the election, Bennett would give British Columbians some real restraint, bringing in a sweeping set of Reagan-and-Thatcher inspired reforms that provoked chaos and threats of a general strike. The 1983 campaign would be Bennett's last; in 1986 the tough guy was replaced by the beaming Bill Vander Zalm.
Out of office, Bennett wasn't out of the news. In Jan. 1989, he was charged in an alleged insider trading scheme, along with his brother, Russell, and forest tycoon Herb Doman. The three were acquitted in court, but a B.C. Securities Commission panel found all three guilty of securities violations in 1996, suspending them from the market for 10 years.
The news wasn't all bad for Bennett, though. In 2005, the Liberal government named a new bridge across Okanagan Lake after him. In 2007, he became a member of the Order of British Columbia. And, Plecas relates, one day a First Nations man from Smithers showed up in Bennett's Kelowna office to apologize and return the $20.
Bennett, Plecas writes, "was so surprised and touched that he forgot to ask for the interest."