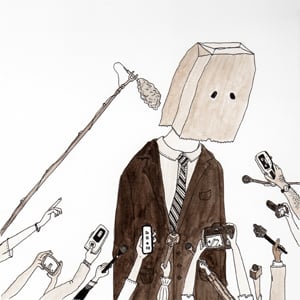 [Editor's note: Here's part two of "Some Honourable Members," a new Tyee series of vignettes depicting some of the more dubious moments in B.C.'s political past. Watch for these daily heritage hits, brought to you by veteran muckrakers Tom Barrett and Tom Hawthorn, each day 'til election day.]
Gordon Wilson was an obscure college instructor leading a minor political party when a few seconds of televised debate turned him into a political star.
As NDP leader Mike Harcourt and Social Credit premier Rita Johnston talked over one another, Wilson interrupted to say, "Here's a classic example of why nothing ever gets done in the province of British Columbia."
Overnight, the near-moribund BC Liberal party he led went from also-ran to contender, as the party won 17 seats in the 1991 provincial election, leapfrogging over Social Credit to become official Opposition.
Wilson and the Liberals seemed poised to make a run for government in the next election, but the party soon became embroiled in a tawdry drama of domestic betrayal and political shenanigans.
A leak indicated dissension in the Liberal caucus. Rumours circulated of an untoward relationship between the leader and Judi Tyabji, whom he had named House leader. Both were married to others and both denied any illicit behaviour.
Then freelance reporter John Pifer got his hands on a steamy, four-page love letter in Tyabji's handwriting. In it, she expressed her love for Wilson, saying he was "part of my soul" and noted "the greatest magnet is our identical brains."
Wilson was livid the personal correspondence became public, alleging the letter had been pilfered from his briefcase.
Newspapers across the country printed details about the "Liberal love birds."
At about the same time, Wilson's wife was quoted as saying she knew nothing about an affair and was "still doing his laundry."
In time, Wilson and Tyabji divorced their spouses and got married. But the damage to the party was such that Wilson was forced to call a leadership convention. In what turned out to be a hostile takeover, former Vancouver mayor Gordon Campbell and elements of the defeated Social Credit establishment handily won the leadership contest.
Wilson and Tyabji left to form their own party. The couple were mainstays of the new Progressive Democratic Alliance. (Wags quickly said the party's PDA acronym stood for Publicly Disgraced Adulterers.) The party eventually faded from the political landscape.
In the end, love endured. Wilson and Tyabji remain a couple.