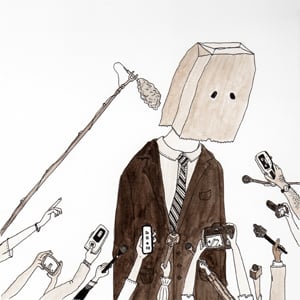 [This is the fourth in our "Some Honourable -- ahem -- Members" series, depicting the more dubious moments in B.C.'s political history, brought to you by Tom Barrett and Tom Hawthorn, one a day until election day.]
An evening sitting of the B.C. Legislature. Liberal forestry critic Ted Nebbeling grills the minister about his budget. Yawn.
Nebbeling is the middle of a statement when interrupted.
"I don't know what's going on around me," he tells the House, as a live television camera captures a commotion around his desk, "but I have been surrounded by women who want to do something."
The something turns out to be a small plastic novelty toy, which has been wound up and is soon bouncing along the MLA's desk. The hopping tchotchke is a small plastic penis with feet.
It is 8:15 p.m. on July 9, 1997, later to be known as the Night of the Dancing Penis.
The toy was delivered by fellow Liberal Bonnie McKinnon, accompanied by Liberal Linda Reid.
Turns out the two MLAs had been celebrating at a women-only event in the Legislature. Among those in attendance were NDP cabinet ministers Penny Priddy and Joy MacPhail. Afterwards the MLAs returned to the floor of the House to pull a gag on their popular and, it should be noted, gay colleague.
The tittering of partying MLAs was soon replaced by the harrumphing of the press corps.
"Innocent sexual jokes have a place in private," wrote The Province's Michael Smyth, "but are not acceptable in the Legislature or on live television that costs taxpayers $1,000 an hour to produce."
The Globe and Mail asked, "harmless prank, or evidence of a dangerous double standard in the field of sexual harassment?"
Outrage was expressed, the word "toy" appeared in quotations in headlines, and it was dutifully explained to readers and viewers that the fake phallus was presented to Nebbeling as "Dick of the Year." Earlier in the session Nebbeling had heckled a female NDP MLA for speaking in Cantonese.
Apologies were (grudgingly) issued and the incident faded away.
It was also revealed the women had placed the fake phallus on the desk of Dave Zirnhelt the previous year -- only no one in the media had noticed.