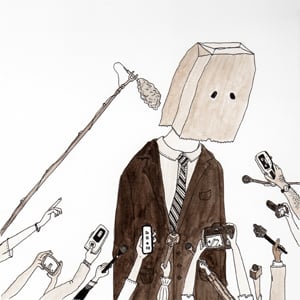 [Editor's note: Here's part three of "Some Honourable Members," a Tyee series of vignettes depicting some of the more dubious moments in B.C.'s political past, brought to you by veteran muckrakers Tom Barrett and Tom Hawthorn, one a day until election day.]
California in the mid-19th century provided endless opportunities for men looking to reinvent themselves and William Alexander Smith, a 28-year-old photographer and entrepreneur from the town of El Dorado (formerly Mud Springs) was a man with a thirst for self-reinvention.
So it was that Smith appeared before the California legislature on Feb. 17, 1854, with a petition to change his name to Amor De Cosmos. The name, he explained to the hooting frontier solons, summed up what he loved the most: "Order, beauty, the world, the universe."
Four years later, the Nova Scotia-born De Cosmos -- the name means "lover of the universe" -- arrived in Victoria, another frontier town that allowed plenty of room for fresh starts. He would go on to make lasting contributions to journalism and politics in British Columbia and Canada, while helping to give the West Coast a reputation as a place where public life is always a little askew.
De Cosmos founded the British Colonist newspaper, which biographer George Woodcock describes as B.C.'s first politically independent journal. That journal lives today in the roots of the hyphenated Victoria Times-Colonist. The lover of the universe was also an MLA, an MP, the second premier of the province and a driving force behind B.C.'s entry into Confederation.
And, yes, he was also a bit strange.
"His methods were flamboyant but arresting," Woodcock writes in British Columbia: A History of the Province. "He was often drunk when he spoke, and frequently he became involved in fights with opponents on whose heads he would freely use the heavy walking stick he carried."
He rambled about Victoria in frock coat and top hat, a familiar and disputatious figure. Library and Archives Canada's biography of De Cosmos puts it this way: "Always an eccentric individual, De Cosmos's unconventional behaviour increased in his later years. He was reported to be afraid of electricity, refusing to have it in his house or even to ride on electric streetcars. A heavy drinker, he was given to making emotional speeches and, from time to time, street brawling."
As he grew older, his eccentricities grew into paranoia and, eventually, insanity.
"He would stalk the streets of Victoria, hawk-like and haggard, staring into the faces of people as if he were seeking to revive some lost memory," Woodcock writes.
He was declared of unsound mind in 1895 and died two years later, aged 71. Few turned out for his funeral, but today his unusual name symbolizes British Columbians' appetite for the grandiose and off-kilter in public life.