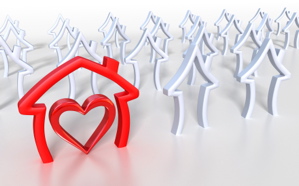 Except for the sound of traffic just beyond the thick forest of trees, one might think the Mackenzie Heights Collective is a wooded retreat nestled in the hills of Squamish. Viewed from the street, the house is practically invisible, obscured by towering maples and Douglas firs that stand in stark contrast to the well-manicured lawns and perfectly trimmed hedges around them.
Within the thicket is a nature reserve of sorts, a motley assortment of bamboo, alder, cherry, sword ferns, horse tail, blueberries, moss, cedar, and Western hemlock, all surrounding a modest but cozy home that appears a bit out of place among the concrete, steel, and glass renovations of its neighbors.
Tucked away in the tony residential Dunbar neighborhood of Vancouver --just steps from a busy Kitsilano thoroughfare -- the Mackenzie Heights Collective has been functioning since 1970 as an "intentional community," the popular term for a collection of residents that prefer to live in a group house for economic, environmental, and social reasons. Dozens of residents have called the Collective home over the years, evidenced by a bulletin board of dated photos and a downstairs full of inherited furniture and board games.
Currently housing five adults (ranging in age from mid-20s to mid-40s) and a toddler, the Collective is a model of shared-resources commitment. "We've got 2,700 square feet in the house that none of us could afford individually," says Colin Van Uchelen, who has lived in the house since 1993.
"One family would have filled this whole house rather than five adults. We don't need more than one lawnmower, one drill, one shovel, one BBQ. We each contribute 29 dollars a month in a shared fund, and that fund is used to buy things of benefit to us all, things that contribute to all our well-being and are communal property."
Escape from the bubble
Like the hundreds of other intentional communities scattered about North America, the Mackenzie Heights Collective flies in the face of the Ponzi scheme that characterizes the housing market. Developers, by definition, depend upon growth to maintain profitability. With the average home growing in size by 45 per cent over the past 30 years, and U.S. banks handing out loans to anyone who would ask, it was inevitable that the cost of excess would come due. And some experts are saying Canada's own housing downturn is coming soon, as house prices rise faster than economic fundamentals warrant in this country.
And others who have crunched the numbers over many decades conclude that while investing in a home may yield windfall gains sometimes, over the long haul the yields are poor compared to other places you can put your savings.
That's the personal financial equation. Consider the societal cost of housing booms and busts.
When the U.S. housing bubble burst in 2006, entire planned neighborhoods went bankrupt, rows of McMansions were unoccupied, sidewalks ended in the middle of fields, blue-collar investors left owing millions to banks that had no business loaning them the money in the first place.
What these investors, developers, and banks lacked was a sense of community, a view of the home's primacy as a social space rather than a commodity. It's a bit obvious to say that the real estate bust was fostered by those who cared only for the value of a house rather than the value of a home, but it wasn't obvious enough to the hordes who bought into the pyramid and then were surprised to find themselves crushed by the weight of the bricks.
Intentional communities are organically sheltered against such destructive forces, centered on the desire to create and use social spaces rather than profit from them in a notoriously volatile system of boom and bust. Since 2006, there has been a surge of interest in the "co-housing" movement -- sort of a halfway model in which people own their own homes in a designated area, but share services (babysitting and repairs) and facilities (community gardens and gathering spots) with their neighbors.
Options for intentional communities
As co-housing becomes an acceptable alternative to suburban isolation, the more radical notion of actually sharing a house with other adults is beginning to lose its stigma as a holdover from the sixties, which brings to mind outdated images of hippies huddled in San Francisco basements.
According to the Fellowship for Intentional Community, which acts as a clearing house for intentional communities worldwide, the options range from eco-villages and residential land trusts to student co-ops and, yes, communes, or "other projects where people strive together with a common vision."
"It enlarges me psychologically in the same way it enlarges me practically," says the Mackenzie Collective's Colin, whose PhD work, coincidentally, focused on empowerment in collectivistic systems. "What I have access to is so much bigger than what I'd have on my own in a little apartment. It equals your access to resources, both physical space and social space."
The cornerstone of a shared living model is rooted in the intertwined benefits of practical savings and social enrichment. The garden at the Mackenzie house -- featuring salad greens, peas, beans, squash, strawberries, blueberries, raspberries, leeks, and herbs -- doesn't just allow grocery savings, but provides an opportunity for group effort that benefits the collective. The rest of the groceries are purchased from local, organic sources using a common food fund. Each resident takes a turn cooking dinner once a week, and then everyone cleans the kitchen together afterwards.
Reducing environmental problems
But more to the point of this series on the advantages of sharing, the concept of collective living could -- if embraced wholeheartedly by first-world nations -- drastically reduce our environmental woes.
Our structures account for the greatest portion of CO2 emissions in North America; more than a third of the carbon released into the atmosphere is the product of electricity from our residences and workplaces, and for every kilowatt hour used in a home, twice as much is lost in generation and transmission. The average North American household produces about 150 pounds of CO2 a day, nearly five times the global average, and twice that of Europe, which is drastically outpacing North America in embracing the shared living ethos.
Because the trend has been to abandon the cities and create sprawling suburban landscapes, our addiction to large, isolated living spaces is largely responsible for our carbon-spewing traffic jams as well. If we were united in an effort to consolidate our lonely, suburban existences into urban, community-focused housing choices, the environmental gains would make the Kyoto targets seem almost quaint. If we had made this sea change twenty years ago when the environmental movement was catching its first wind, such targets might never have become necessary in the first place.
The problem is one of momentum. Despite the growing awareness of the economic, social, and environmental benefits of shared living, it is still a radical mental adjustment for a grown man or woman -- let alone a family --to move in with a bunch of strangers and call it a home. While Colin finds it liberating to have a hearty, homemade dinner waiting for him six nights a week, people used to opening the refrigerator every night and scrounging for leftovers would have to re-examine their most basic habits.
Accountability is key
"If you're a control fanatic, it is not for you," says Colin, acknowledging the sacrifices necessary for the community experience. "We've gone through many, many different systems here, and it depends on the chemistry of the people. We've had a heavily structured system. We've also had a freer system where people do what they see needs to be done, but it requires a certain type of person. It can be easy for people to be a bit of a freeloader, people who take advantage of the lack of individual accountability, you can hide out and hope no one notices."
Accountability lies at the heart of shared living systems, just as it lies at the heart of our environmental issues, the need for each of us to recognize we are citizens of a larger community. Intentional communities stress the responsibilities and benefits of shared living in the same breath, a seemingly instinctual (and often seemingly forgotten) recognition that working for the community pays off double for the individual, both in short-term gains (such as being able to leave your sick child in trusted hands when you go to work) and long-term solutions (such as the dramatic environmental benefits of shared living).
For some, though, the opportunity to connect with others may be reason enough. As Colin admits, "I just like having people to say hi to when I come home."
Many thanks to all Tyee readers who gave to make Chris Cannon's reader-funded series "Share Tactics: Why Going It Alone Doesn't Work Anymore." This concludes the series, which can be found here.