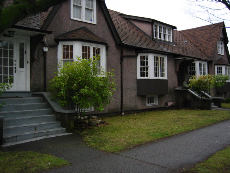 It's Thursday evening, and my co-housing neighbours are over for a potluck. We all moved into a three-home row house in Vancouver's east side last July and tonight we're here to finalize the legal agreement that covers our joint ownership.
Before we moved in, we met regularly and when we do, we mostly laugh a lot together; socializing more than not. Tonight though, we're all business: raking over the legalese, discussing buy-sell provisions and the assessment of fair market value if one party chooses to sell their portion of the property.
We've hired a lawyer to draft this agreement, and although she has some experience with co-ownership, this is not a common real estate arrangement, and so there has been a fair bit of back and forth to craft the document.
We have another lawyer, the father of one of the owners, on speakerphone long distance providing us with his assessment of the draft agreement. We all decide that the current document does not reflect our intentions. We also, with relief, decide that we are all still on the same page about what we want in the agreement.
For simplicity, one of us is the appointed liaison with our lawyer, and she commits to relay our concerns about what needs work. We all have faith that we will end up with something solid, something that, if all goes well, we hope never to use. This has been the most complicated part of this process, putting together a document that protects our investments, even as we have already begun to set roots in the neighbourhood and the place: creating community, becoming friends, figuring out how to be good neighbours.
Our little nest of homes sits on a half-block facing east in the bustling Commercial Drive area. Although the nickname is not solidly entrenched, among us, it is beginning to be known as "the ranch." Coined by my neighbour Denise, the name reflects the atmosphere of common property, kids and animals, shared work and the negotiated boundaries of private and common.
Denise and her partner Marnie live in the north unit with their son Eli, who is only a week older than my own son. To the south are Barb and Stephen and their precocious three-year old Lily. My partner Mark and I live in the middle unit with our son Davis, happily sandwiched between the two. All of us consider that each couple "owns" their individual house, and consider that we all "co-own" the property." In a more formalized setting, a strata is involved, and although we considered this arrangement, it would have come at a considerable expense for the convenience of separate ownership status.
Expecting, much
We took possession last June and a flurry of repainting and floor sanding ensued. By late August, the place was simply bursting with expectant energy. Two very pregnant women paced the backyard waiting for the day their babies would come.
As boxes were unpacked in the late summer heat, we were all excited to see our hard work and expectations bloom into a happy coexistence. It was the end of a long, tiring process that anyone who has purchased a home knows is a stressful and steep learning curve. Through the huge personal transitions of home ownership and new parenthood, it has been especially important to have each other to rely on. Since my neighbour and I are both at home with our kids for the year, we often take the tykes out for a swim or a hike together, or watch each other's child when we need to steal away a few precious hours alone. We started the journey towards co-ownership almost a year ago, when we spent almost every Thursday night from early March until June together discussing our unique visions of how to create and live in community. The group of us came together by chance when Geoff Davis, a Sutton real estate heritage specialist, convinced the owner of the row of heritage homes to sell the place, as he had been trying to do for years.
Geoff had clients who were interested in a joint-ownership arrangement. When the owner expressed an interest in selling, he and another agent began matching clients and showing the property. But as the reality and difficulty of mortgaging and managing such a deal began to sink in to prospective buyers, the search quickly shook down into a hunt for like-minded folks who could go the distance to create a real community to co-manage the property.
During the initial parade of interested couples, Geoff's buyers met another couple with whom things started to click. It quickly became clear that they both had the finances in order to make it work and a similar enough ideal of community to make it work well. VanCity turned out to be the only financial institution ready to risk financing a property with so many names on the title. As the couples investigated the logistics of financing, it became clear that although each buyer would have a separate mortgage product, since all buyers would be named on the title, they would essentially need to co-sign each other's mortgages. This level of financial interconnectedness meant that the two couples began to have a stricter view of who might suit the third home. Both began to survey their wider group of friends and acquaintances. Word spread, and it turned out that they had more than enough buyers who were interested.
On a Friday in late February, Mark and I received the details. We weren't in the market for a house, but we had been investigating co-operative housing and cohousing in Vancouver. We had only the weekend to discuss it before a chance for viewing the following Tuesday. In the days that followed, riding a buzz of excitement, we arranged viewings, reviewed appraisal and house inspection reports, discussed our financing options, and phoned friends and family to round up as much cash as we could to make a 25 percent down payment.
Within two weeks, we had met with the group twice and come to the conclusion that there was no way that we couldn't buy the place. Not only did it simply feel right, but it also excited us as a way to live out our ideals: to have community living and privacy, to live in a single-family home without the associated environmental footprint, to get a great deal on a home and still make a great investment.
Not 'hippies'
We started drafting a legal agreement to cover all the issues of managing the ownership arrangement, including, most importantly to us all, what happens if things go wrong, and what happens when one or all of us want to sell. We needed strong stomachs, a lot of good faith, a strong business sense, and the ability to recognize a can't-say-no opportunity to create this type of arrangement. The leap of faith we all took has, so far, paid handsomely. Not only did we secure three houses on two city lots in for a song, we also created a caring and concerned environment that has so far been the best, most supportive and fun living arrangements any of us could have imagined.
Nine months later, I believe that all of us feel that things could not be working better than they are. When there is work to be done, there is an easy flow of responsibility even when jobs go unassigned: I went on a leaf-raking bender in the late fall, my neighbour shoveled and salted all of our walks during an icy week in winter, another fixed the fence when it began to splinter. There seems to be a give and take, of dependence and interdependence, establishing itself.
We are lucky that this good faith is solid and growing. I can imagine this type of home ownership being process-heavy in situations where the owners do not agree. It certainly takes longer to make a decision, but so far we have mostly agreed on what is to be done, if not how. I expect there to be conflict in the future, but am confident that we have assembled a group of decent and fair individuals with a common interest in doing things together.
At the end of the day, there isn't much I would do differently. I would not change the hours of meetings and discussions that solidified our vision of what we would create, and seeded the friendships that continue still to blossom. Of course it would be ideal to have a legal agreement in place before moving in; we all agree that if we could choose to do this again, we would first form the group of co-owners, then work out a solid agreement and search for a place to buy.
One of my neighbours feels like acquaintances might make better co-owners than close friends, as she thinks it makes it simpler to have difficult conversations about finances and privacy without worrying about hurt feelings. A conversation that we had early on resonated with her; we discussed our individual styles in dealing with conflict. I think this was important too. I remember this conversation as a time to get to know how I might approach others if I ever had an issue in the future that I needed to discuss.
I highly recommend the leap of faith necessary to create this type of arrangement. To create a more caring and healthy society, I think we need to make this leap more often in our communities. We are not hippies, but we crave a place where neighbours know each other well and aren't afraid to lean on each other. We all need both privacy and community, and with so few places in the city where the two coexist so brilliantly, we have created an ideal place to live, to grow and thrive, to watch the seasons come and go, to witness our children grow together.
Amy Robinson is a part-time writer and full-time sustainable business consultant. Most days she toils away in her home office promoting local business and helping to make businesses more socially and environmentally responsible.