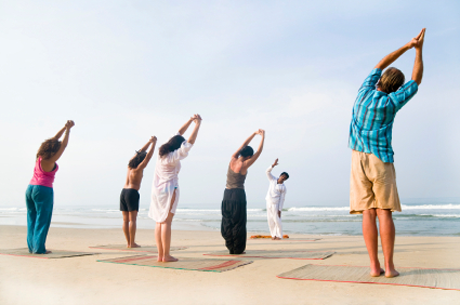 In November 2008, Muslim clerics in Malaysia issued a religious edict banning the practice of yoga by Muslims. Malaysia is a multi-ethnic nation of 27 million people, two thirds of them Muslim. The Muslim clerics deemed yoga to be haramharam (forbidden) because of yoga's Hindu and Indian roots and suggested badminton as a possible fitness alternative.
Abdul Shukor Husin, chairman of Malaysia's highest Islamic body, the National Fatwa Council, stated that, "many Muslims fail to understand that yoga's ultimate aim is to be one with a god of a different religion," namely Hinduism.
While Malaysia's prime minister soon overruled the religious edict and responded that he did not object to Malaysian Muslims practicing yoga as long as they stayed away from chanting or any religious aspects of the practice; and while technically a fatwa is not legally binding, I found myself fascinated by this story. The idea that yoga, something I consider a spiritual, yet un-dogmatic practice, can be seen as a threat to an organized religion, particularly a religious tradition that I come from, struck me as ludicrous.
Watching father pray
I was born in what is now called Mumbai, India, into a liberal Muslim family. My mother did not wear the purdah or headscarf and we only visited the mosque on special occasions such as Eid, the end of Ramadan, the month of fasting. My parents' faith was evident mostly in the private space of our home.
One of my earliest memories is watching my father pray in the silence of the early morning. He would kneel on his prayer mat angled precisely westward to Mecca, a white topi atop his head, eyes focused on his cupped hands, and recite verses from the Koran, "B'ismillah ir rahman ir rahim." Their resonance would fill the room. Sometimes he referred to a book beside him, inscribed in Arabic, a script that I did not as yet read and I remember intuiting that now was not a good time to disturb him, even though I wanted to understand what he was saying.
What happened later was just as mysterious. Father would roll up his prayer mat, and return, this time wearing a pair of shorts and a loose T-shirt. He would spread another mat onto the carpet, this one fashioned of cotton, long and narrow, and begin what I interpreted as being a different kind of prayer, one that involved him sitting cross-legged on the floor in silence for a long time. After some long, deep inhales, he would expel the air and stick his tongue out with a loud "aaah." Unable to conceal my curiosity, I soon joined him on the floor, mimicking his movements to the best of my ability and even attempting to stand on my head as he did, so effortlessly.
Today, my father is as devoted to his daily yoga practice as he is to his daily namaaz, finding his place of being in a seamless and quiet weave of these traditions.
Bending and blending
As for me, those childhood-morning rituals continue to inform my life-long relationship with the study of yoga, one that has evolved from a curious flirtation into a committed relationship. Now, as a teacher of hatha yoga in Vancouver, Canada, I blend together a jumble of identities. I am a Muslim woman originally from India, as well as a yoga practitioner in the West, helping to spread a contemporary form of the practice, yet also grounded in the belief systems of India, my birthplace, where cultural rituals span across religious divides and I have found that it is only in accepting all these histories that I can bring an authentic voice to my teaching and to my practice.
Yet, the Malaysian Muslim clerics are right -- despite how popular yoga is presented in the West, as primarily a physical fitness practice, yoga does have religious roots. It is originally a Hindu practice, and Hindu philosophy has bearing on the teachings of yoga. But in the manner that it is taught and practiced today, should yoga simply be defined (and confined) by its origins? And, if we were to remove yoga from the context of its Hindu history, would the practice change significantly?
A Kuala Lumpur-based yoga teacher who elected to remain anonymous when responding to this article, since he does not wish to jeopardize his immigration status in Malaysia in light of the ban on yoga, situates yoga beyond Hinduism or any particular belief system.
"Yoga is for everyone," he says emphatically. "It is a tool to help know yourself better… You develop more awareness about yourself, your beliefs and your world. You behave more consciously in everyday life. I don't think it is in conflict with the principles of Islam or any other religion at all."
I consider the higher principles of Islam, principles common to all the religious traditions of the world -- "Treat your neighbour as you would yourself," "Do not lie," "Be generous," "Offer a portion of your earnings to those in need" -- ideas that I find align closely with a general interpretation of the basic philosophical tenets of yoga as laid out in the Yamas and Niyamas.
Flexible metaphors
How similar indeed are the ideas of ahimsa (non-violence), satya (truthfulness), asteya (non-stealing) and aparigraha (non-covetousness)?
I turn to my father for an answer.
He laughs over the phone from India, "I should tell those clerics that at a simple, physical level, yoga helps me pray my namaaz more easefully, without any discomfort in my joints. Besides, Islam does not say that it is forbidden to pray in any other form."
To my father, his yoga practice, just as I thought of it so many years ago, is simply another form of prayer, one that complements his existing faith in Islam.
I probe the question further. If yoga at its source believes that the spirit of the divine exists within all of us, isn't that exactly what most religions of our time are trying to say -- that we are manifestations of a higher consciousness?
Or is it?
Philosopher Joseph Campbell grappled with this question through his life. His conclusion was that the problem with mainstream religion is that the metaphors or symbols of religious tradition are taken to be fact.
For example, Christianity deems that Jesus ascended to heaven. Campbell accepts this statement as a metaphor, not as a literal fact. "We know that Jesus could not have ascended to heaven, because there is no physical heaven in the universe," he says. "Even ascending at the speed of light, Jesus would still be in the Galaxy today. "
But it is a beautiful metaphor, and if we view it as a metaphor, then perhaps heaven is not an outward place, with a beatific God and constant delight -- the eternity promised through the Judeo-Christian religions (of which Islam is one) -- but an inward one, according to Campbell, to the source "from which all being and all light comes... the kingdom of heaven existing within."
Dear clerics, enjoy the journey
In my own yoga practice, I search for that same inward place, that place of union, a union that not only connects my mind and body but also creates space for the divine aspect that dwells within each of us.
Just as Campbell urges us to cast away the promise of eternity as being the end of the journey on the religious path, yoga urges us to stop trying or doing the practice to get somewhere, to accept that it is the journey not the end of the journey that is important and that we can experience it fully only through experiencing (the present moment).
And perhaps it is exactly this aspect of yoga that frightens those clerics in Malaysia as well as religious fundamentalists everywhere. If we can find peace deep within ourselves, why must we follow external rules or moral dictates that seek to offer uniformity in belief and in practice. If we act from our own truth, we are able to act independently, according to our own unique makeup and needs, eventually reaching a place where we can literally, "be" our own guru.
"The fear underneath much of fundamentalism is that without powerful constraints, people would run amuck," write Joel Kramer and Diana Alstad in their book The Guru Papers, Masks of Authoritarian Power.
And for the followers of fundamentalism, perhaps what blind faith can offer is a blanket of certainty, an assurance of the good and the evil in a world that is constantly changing. Yoga which opens a door to uncertainty, toward the mystery that exists in all mystical aspects of a spiritual path, but one that is suppressed within the rules and dogma of all authoritarian religion, could very well be seen as a threat to that assurance of belief.
No end to questioning
Ultimately, since I don't plan to switch to badminton anytime soon, all I can do today is continue to seek my own truth, critiquing and questioning rules both in my birth religion as well as in the growing hierarchy of yoga as it continues to evolve.
I do seek solace, however, in the fact that Islam, this practical, rule-oriented religion, also birthed the deep, mysterious and mystical tradition of Sufism, one boasting poets and writers who understand and speak in the poetry of metaphors.
In Vancouver, I often begin and end my yoga classes by reading a poem by Hafiz or Rumi. In the uncertainty and mysticism expressed by their poetry, I find a powerful connection to all these varied layers of my beliefs.
I hope that as a conscious teacher and practitioner, I can continue to demystify and open the practice of yoga to everyone, regardless of prejudices or disparate beliefs.
Related Tyee stories: