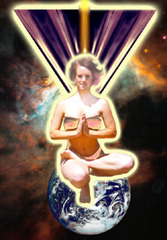 Quesnel cattle rancher Audrey Cummings made headlines last week for complaining that introducing yoga to elementary school students is opening the door to the devil. This opened the door to mockery. Which isn't quite fair. As someone who has spent 20 years practising Iyengar yoga, I don't doubt the satanic connection.
I've suffered through many a yoga class I'd describe as a ring of hell.
Sure, the 68-year-old's fear that introducing yoga into the students' daily stretching regimen will drive kiddies into the (multiple) arms of Hindu gods suggests she may have gone a little nutty from inhaling methane. But it raises an even more important question: is she actually a Christian? Anyone can claim to be anything, but that doesn't mean she has the faintest notion about the theology or history of the faith she claims to represent.
Yoga, as a form of physical discipline, is the epitome of Christian values. For example, there's mortification of the flesh, a fine Christian tradition in which devotees use physical pain as a technique for seeing God. Self-flagellation was the preferred technique in the medieval era, but it's safe to say there are few things as mortifying as getting stuck on your back with toes overhead in the position known as the plough.
If suffering is the road to redemption, then yoga is the autobahn.
The pretzel poses have it all over self-flagellation. For one thing, it doesn't leave any nasty scars (although I do get occasional triangle pose-gone-wrong flashbacks). And yoga carries no risk of being committed, a constant worry for flagellants. Psychiatrists call that sort of thing "self-harm" or obsessive-compulsive disorder and it can end up with you downing a host of nasty pharmaceuticals delivered by a real-life Nurse Ratched.
Yoga, by comparison, isn't just socially acceptable, it's trendy, and these days it offers a chance to wear very cute outfits. If you stick with it, you'll be praised for self-discipline, achievement and all those other values associated with the Protestant work ethic.
Downward dogs
Cummings also complains that yoga in the classroom is the same as prayer in the classroom, and again she's not wrong. You frequently hear prayers of the "oh-god-oh-god-oh-god" variety, especially in beginner yoga classes. An occasional "Jesus!" isn't unusual.
I recall, vaguely, that yoga exercises were developed by mystics who needed to prepare their bodies for the strain of hours of meditation -- but that was thousands of years ago. The only mantra I've ever heard is "breathe into the pain."
Want people to learn a little Christian humility? I suggest encouraging the whole congregation to try downward dog (hands and feet on the floor, ass pointed skyward).
All of which makes me wonder why Cummings (and a handful of American cranks also claiming to be Christians) are wildly opposed to the physical discipline. It's sort of like being opposed to ballet, with which it shares some attitudes about relentless hard work and the value of toughing out the "good" pain along the way to achievement.
Serious yoga isn't for sissies. Iyengar technique is about spinal alignment and works at building strength as much as flexibility. It looks simple, but few things pull out muscle-spasms with such efficiency -- or deliver a degree of pain that, in my experience, was matched only by slapping pointe shoes on bleeding blisters.
Eternal yoga
Cummings's explanation of why yoga is evil certainly doesn't make much sense.
"If you're not seeking the God of the Bible, His power, then by default you're in the other camp," Cummings told The Province. "The other source of supernatural power is Satan."
If yoga is satanic, and Satan is a Christian entity, how is yoga unchristian? Hindus don't even have hell; they have reincarnation, and more yoga. (A kind of hell, yes, but not the point.)
In fact, this whole antipathy to exercise seems out of character for Christians, who used to be keen on "Muscular Christianity" -- the idea that a healthy body and a healthy mind went together. They were also keen on the benefits of hard physical work and cold showers. That "praying and playing" philosophy about the value of good, clean sport was behind the origins of the original YMCA -- the Young Man's Christian Association -- in London in 1844.
And if you check your local YM/YWCA, you'll find they're teaching yoga.
Look away
Now if Cummings and other self-appointed representatives of Christianity were opposed to yoga for the same reason fundamentalists are opposed to dancing, I might consider them legitimate representatives of the faith. Recently I came to realize that straight men might be appreciating yoga on a whole other level, when a pal of mine confessed to having trouble concentrating in his yoga class.
"Yoga may be the work of the devil but it's practised by angels," he opined.
After calming my gag reflex, I pointed out that wide-legged forward bends were not invented for his titillation. (Talk about a good reason for women-only yoga classes.)
"I'm very respectful," he insisted, in a defensive tone. "I only glance at their halos discreetly."
Of course, if he has time and energy to contemplate halos, he's obviously not working hard enough. I plan to ring his instructor so she can arrange a cure for that.
Which is another reason Christians ought to love the exercise: there's not much those yoga-devils can't cure.
While the Quesnel school board has probably dismissed the anti-yoga squad as cranks -- opinions sans education are just more stupid opinions -- I think a better approach would be to demand Cummings and her cronies spend six months practising yoga before their complaints are even accepted.
Or, at the very least, someone should show Cummings some Christian compassion and get WorkSafe B.C. up there to test the methane levels.
Related Tyee stories:
© Shannon Rupp. For permission to reprint this article please contact the author: shannon(at)shannonrupp.com.