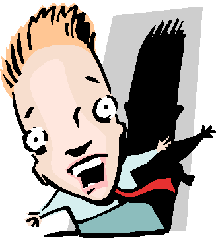 [Editor's note: This is the second of an occasional Tyee series by Linda Solomon about life with two boys and no TV.]
My four-year-old son looks at me with a terrified expression. "I have to get out of here, Mommy."
Are we in a war zone? No. We're at the movies last winter and the trailers are playing. To him, a boy with sensitive ears, it's one and the same. The deal is, we don't have a television, DVDs or videos at home. So, occasionally, the big treat is we get to go to the movies. And the result turns out to be sensory overload.
"It's okay, honey."
"It's not okay."
I haven't immunized him enough to the high pitch of Hollywood and he's finding what most of us have come to accept at G-rated movies to be nightmarish.
My "it's okay" is like a hundred warning bells going off in his brain.
The no TV thing started three months before, when we moved to Vancouver from Cortes Island. We left the TV behind. I knew it was going to be a challenging transition and I wanted us to talk, to get closer in the process and not further apart. If we didn't have a TV, DVD or videos at home, I figured I couldn't overly rely on them to sedate my two highly active boys and create more time for myself. I would instead interact with them, which was what I really wanted to do. The boys had so far accepted my explanation that we were too busy for TV now that we lived in the city and that life was going to be exciting enough.
My four-year-old is clambering over me, then his brother, and then his brother's friend. Before I know it, he's running up the aisle of the dark theatre at the Oakridge Mall, his solid little body determinedly making headway.
"I'll be right back," I tell the older boys, as I clamber over them.
Loud noise, white light
I'm torn.
I don't want to leave the 10-year-olds in the theatre alone. What if some perp slips up next to them while I'm gone and....
On the other hand, they'll almost for sure be okay. Still, I really should stay, I think.
We're at the door.
"It's just make-believe," I say, taking him by the shoulders and looking into his eyes. "Really."
"It's the Eragon commercial," he whispers.
He's out the door in a flash.
I glance one last time down to the row where my 10-year-old and his buddy are enjoying the show.
And then I am forced to resort to the bit of magic a friend told me about a long time ago.
She was the mother of two boys and I was still single and childless. She explained that she knew she couldn't control what happened to them. They were accident prone at nine and 10. They climbed onto the roof of the house and leapt off onto the trampoline. Their dad thought this was great, but she hated it. She was outnumbered. Instead of spending her time agonizing each time they flew off the house, she surrounded them with white light.
My God what a flake, I had thought when she told me this.
I mentally surround the boys in white light. Then I create a force field of white light. Then I make it impenetrable. Then I go to find my four-year-old.
Strong and forceful
I find him in the lobby playing with the Flushed Away advertisement. You push a button and it makes a flushing sound, replicating the sound made when the rat that stars in the film is flushed down the toilet by the other rat only to find himself in a new and unexpected world, a world populated by rats.
I feel the irritation of a parent who wants to be somewhere else, perhaps at a Fellini film, rather than a film about animated penguins that dance and sing and try to warn humans of the dangers of global warming.
I hear a boy, about my son's age, tell his father he doesn't want to go into the theatre. His brother, about my older son's age, pulls at his dad.
"C'mon. We're going to miss the movie."
The little kid's afraid. I hear a conversation exactly like the one I just had with my young son, implying that even the most mundane encounters are pieces of universal experience laden with symbolic meaning.
The father, growing irritated, assures his son that there's nothing to be afraid of past the movie theatre doors. "Oh, yeah there is," the kid says.
I wait for them to turn around and come our way. I'm prepared to commiserate.
But this is a dad.
"We're going in," he says.
"No, Dad. Don't make me. Please, Dad."
I'm on the child's side. No, I'm on the dad's side. No, the child's.
"There's nothing to be afraid of," the dad says, firmly.
What clarity! What leadership! And what strong arms! His kid is kicking and screaming but he's got him under his arm and he's taking him in.
The man opens the door to the theatre, and fearlessly leads the family forward.
The boy continues to resist, but the father overpowers him, carrying him into the fray of surround sound and projected fantasy, like those dads from the fifties who used to toss their children into the pool, allowing them to sink or swim.
I meanwhile turn back to the flushing Flushed Away sign. Ker-shoo.
And when my son is well assured that the commercial movie trailers are over and the coast is clear, we go back inside.
9-11 memories
The truth is, life in our home really is exciting enough to make TV pale by comparison.
I live 15 stories above the ground. Later that night when the fire alarm started ringing at midnight, forcing the elevators to stop operating, I wonder, "Should I awaken my sons and carry them down to the ground level, even though I'm 99 per cent sure this is a(nother) false alarm?" Then they would know for sure how exciting life at home is.
Given the fact that I was in Manhattan on 9-11, and lived about fifteen blocks from the disaster site, I'm acutely aware that there are moments when the question of whether an alarm is real or not can have life and death consequences.
People who decided to get out of the towers, "just in case" did so with little information.
It was generally a gut feeling that caused people to ignore the voices being broadcast on the public announcement system, telling them to go back to work. That it was really okay.
That said, it's hard to know sometimes when to heed the alarms.
My apartment, on that evening last winter, is full of refugees from Cortes Island, where the power has been out for five days and is expected to stay off for another five days.
One of the refugees is a New Jersey native. We go into gallows humor mode as the alarm rings out ear-splittingly, on and on.
Another friend runs down the 15 flights of stairs to see what was happening on ground level. A few people have come out, but most watch from their windows.
'Just in case'
I go back to my sons' room. The alarm is 20 times louder than the film trailer commercials at the movie theatres, at least to my ears, yet they both sleep with peaceful expressions.
The dog is howling and barking a complaint, but the kids, even my four-year-old, are in deep repose. I am still debating whether to sling them both over my shoulder and carry them down the mountain of the 15 flights of stairs.
"Everyone agrees it's probably a false alarm, but maybe you should come down, just in case," my Manhattan/Cortes friend says from the street below on her cell phone. I flex my muscles and grit my teeth. I think of the dad in the theatre with his strong arms. If only I had those strong arms.
Just then, the alarm stops ringing. I look out the window and see people going back into the building.
"Saved by the alarm," we all laugh. We talk about it for a while and then go to bed, ready for a good night's sleep.
An ill wind
At 3:30 a.m. something wakes me up.
A sound.
No. An unbelievable sound. A sound like I've never heard before. A really, really scary sound. The sound of a train flying around my building at breakneck speed.
"Mommy!" I want to shout. Then I remember that I am the mommy and I huddle under the covers, waiting for the kids to come running into my bed and promising myself it is almost for sure OK.
As I lay trembling, the wind blows with a monstrous whisper, mounting until it is screaming with all its force around the three windowed sides of the bedroom. Why did I take this apartment in the first place, I wonder, listening to the gargantuan moan? There were lots of ways to get a great view of the city. Fall out of an airplane, for instance. And it might be safer.
Oh my God, I think as the wind picks up more. I get up and run into my kids' room. They are still sleeping.
Apparently, in the face of the 120 kilometre winds, even my four-year-old with the sensitive ears, feels utterly secure. He is snuggled into the bottom bunk of the cozy wooden bed with his infuriating and beloved brother snuggled into the bunk above him.
I, on the other hand, am becoming convinced it almost for sure isn't okay.
I see the light on in the kitchen and go to see my New Jersey/Cortes friend fortifying the kitchen windows with bath towels. The pressure exerted on the windows of the aging condominium is causing water to seep in.
She informs me that the wind is extinguishing the gas fire, and I go out into the living room to see the gas fire blazing back up, only to be extinguished by the wind, blazing back up, and being blotted out again.
"Can you believe they're still sleeping?"
She shakes her head.
We pace around the apartment. It feels like very bad judgment to have taken an apartment 15 stories off the ground.
Only yesterday it had seemed brilliant. The views! The light! Now I am in danger of the wind blowing the window panes to pieces and glass flying into the apartment, slicing me in half.
A child's sense
It is a marvel to me that my son would run out of a theatre in terror of the commercials, but can sleep soundly through 20 minutes of a fire alarm and then a virtual hurricane.
My four-year-old apparently has an innate sense of what is good for him and what isn't, where he feels safe, and where he doesn't.
Or is he just a clueless child dependent on the good judgment of the adults around him? I wonder, checking once again to see both boys sleeping with angelic expressions, while I surround the building in a flood of white light that I imagine could have been seen from here to New York City.
It's a handy incantation, I find, that flaky bit of woo woo and I hold onto it tightly as the line between almost-for-sure and almost-not-for-sure continue to blur with the roar of the wind.
The storm rages on, and as it does I sit in front of the fire with my duvet wrapped around me. I watch the fire. It flickers and goes out, then flickers up again.
I congratulate myself. I find it's important to step back every now and then as a parent and shake one's own hand. You deserve a huge Christmas bonus, I tell myself, as a blast of wind puts out the fire. Most parents do. For courage.
But you can't be brave if you aren't also afraid, I remind myself, shivering.
Related Tyee stories: