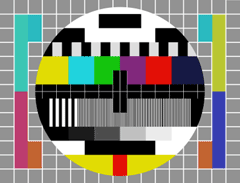 "We're going to be way too busy to watch TV," I told my boys, who are five and 10. That was eight months ago.
We'd been avid TV watchers on the remote northern island where we'd been living for the previous five years. It was an island that got dark in the winter. Very dark. With a population of 900, it had no street lights, no traffic lights, and when night fell, neighbours were so far apart, you didn't see the lights of houses.
I'd never seen dark like that.
More to the point, I'd never FELT dark like that.
It became a state of mind, those winters and I felt like a caveman lost in the night until I turned on the TV. And then I felt myself return to what I considered my natural state: urbanite.
Let me clarify. When I say "TV," I mean videos, DVDs, and The Daily Show with Jon Stewart. I mean Trailer Park Boys, Trading Spouses, What Not to Wear, Extreme Makeover, Survivor, MTV.
I mean screen time.
I never watched much TV until I moved to the wilderness. In New York, I went to the theatre, movies, museums. I heard street music and would-be opera singers performing on the subway. I saw packs of talented teenaged boys breakdancing in Central Park like they'd walked off the set of a Broadway musical. I passed classical violinists on street corners. My friends played in off-beat venues, cello, saxophone, guitar. I went to poetry readings and avant-garde puppet shows. I'd seen it all for so many years, I fancied myself sated and, in my nascent days as a nature dweller, I thought I could easily entertain myself.
It never occurred to me that, to avoid going insane from what I've come to think of as "art deprivation syndrome," I'd need a TV.
Brawling for Gidget
I guess I arrived on that island predisposed to think of television as a useless pastime.
When I was growing up, my mother limited TV watching to a half hour each week. At least, she thought she did.
When our parents went out, my brother and I battled to see who could inflict the most damage on the other, while struggling for control of the channel changer. Back then, the channel changer was actually on the TV set.
Whoever knocked the other unconscious first got to choose which show to watch.
Even though I was two years younger, I often tackled my brother, and gained channel control and the right to watch Gidget.
I admit it: when I arrived in paradise, I was smug about not needing the things of the urban world.
"We don't really need movies out here," I'd report to my poor, pathetic, entertainment-addicted friends back in Manhattan.
We have wind. We have trees. We have wild animals.
We have air.
Then we closed on the sale of our apartment in NYC, and the moment we let it go, I became ravenous for culture.
Connected through Jon Stewart
I wasn't hungry for the kind of culture where a hippie kicks a hacky sack to his friend who kicks it back to him while passing him a joint. You could get that kind of culture at the Hall, the centre of cultural life in my rural Canadian community.
I was hungry for art, documentaries, music, literature.
I found you could get some reasonable facsimile, right there in the wilderburbs, simply by turning on the tube.
So as winter set in on the pristine northern paradise, and the harsh winds shook the cedar siding on the house, I turned to TV to help me cope. When I was watching, I was connected with other people, at least in my mind. I wasn't just a speck of human meaninglessness in a vast and uncaring landscape.
When I watched Jon Stewart, I could forget I was living thousands of miles from where the laughs were coming from and hundreds of miles from the nearest urban centre over an inhospitable sea.
The southeasters fought to rip the trees from their roots and spear them through the roof of our house, while I huddled in front of the TV, watching the entire sixteen-hour PBS series about the history of New York.
This was the longest stretch I'd ever spent in front of the TV, and after that I just kept watching.
I found myself asking, "What's on tonight?"
My partner got a projector and projected a TV image on the wall that was big enough for the whole family to fit inside of. TV was larger than any of us. It overshadowed us and shone colourful lights down upon us when outside the windows, we could see only black. We sat there in the glow it cast and watched and watched.
City flickers
But now, things were different. Now I was back in the city, Vancouver. My husband had decided to remain on the island for the time being and I was embarking on a new life with my children in the city.
In our first weeks in Vancouver, we revelled in what seemed like the endless selection of movies available to us in the video stores. We delighted in the sheer volume of story you could get. Who cared if 80 per cent of the plots sucked? There were choices and we came home with stacks.
Every time I needed to talk on the phone, I pulled out a video from the stack. "Just a minute," I'd joke to the friend on the other end of the line, "I've gotta go turn the kids off."
I'd pop in a video and come back to the phone.
"Okay, they're plugged in. Now what were you saying?"
Just when I'd get off the phone, another call would come, and before I knew it, I'd be sliding in a second video and even maybe a third.
I'd tell the kids they had a few more minutes, then I'd realize it was time to cook dinner. By the time dinner was on the table, they'd logged in another forty-five.
It wasn't going to kill them. But I calculated that a lot of our time "together" was being spent with all of us hooked into various household appliances.
Me, the computer. Them, the TV.
Them. I wanted my kids back. But to get them back, I was going to have to turn the TV off.
That would mean I would have to live with them always on. That seemed too hard.
Right at that time, by fate or by divine intervention, the DVD/video player simply stopped working. And that's when I made my decision. "No more TV."
I thought the kids would demand to be given a new mother, but they just smiled and said trustingly, "Okay."
That's when I got scared.
Babysitter, unplugged
"Now what?" I thought.
How was I going to make reality more exciting than reality TV?
What would I do without the reliable round-the-clock baby-sitting help of TV?
I wondered what I'd do when my kids just needed down time, or they were about to kill each other, or they'd told me for the hundredth time, "There's nothing to do."
I feared we'd be bored with each other and bored with ourselves.
I could only get myself to commit through Christmas. If I couldn't stand to live without a home entertainment centre at that point, well, then Santa would just have to slide down the chimney with one. And so I committed. The old VCR was dead and I didn't buy a new one. I never subscribed to cable, or at least, I haven't yet.
What I didn't realize was that we were about to become our own at home entertainment centre.
Christmas came and went. Spring is upon us and we remain TV-less. Sure, we peer into the fun-machine through YouTube on occasion, but it doesn't take over the living room like the TV used to do.
Are we better or worse for it? I don't know. It doesn't really matter.
What matters is this: We're not bored with each other and we're not bored with ourselves. Although my older son claims at least once a day, "I'm bored, Mom," it's just another way of saying, "I'm here, Mom."
I look him in the eye.
"Let's do something," he says.
And if I can, I do.
Related Tyee stories: