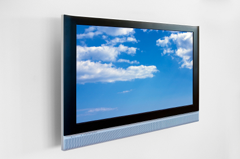 "Is television dead?"
That was the question that kicked off a panel called, "International Broadcasters Talk Trends" at the 2007 Banff World Television Festival. Not surprisingly, the panelists -- who make their living making television -- agreed that it wasn't. But their thoughts on the future of the medium definitely didn't sound like TV from the old days, like, say, last week. It was more like TV 2.0 -- a world where CBC has a Facebook page and wants you to sign up as their new friend.
Trying to tap into the zeitgeist at an event where everyone's livelihood depends on tapping the zeitgeist, it was clear there were two things most of the 1500 "content providers" (formerly known as writers, directors, producers and broadcasters) were talking about -- the web and The Sopranos.
British broadcasting icon Dawn Airey kicked off her keynote address by asking who'd seen the finale before complaining she couldn't get HBO in her hotel room. Greg Daniels, executive producer of the American version of The Office, joked to his "Master Class" that he was thinking he'd end his series when their leading man, "Michael gets whacked."
But the main issue on everyone's mind was whether traditional TV's getting whacked by the web. And a big part of that's because I'm sure that when Airey saw Tony and Carmela fade to black, she caught it on a computer (like I did). One of Airey's audience members noted that 10 minutes after The Sopranos finale aired it was available for illegal downloads.
Airey's not convinced that's cause for networks to panic though. "Content companies will only have a rosy future in the broadband-enabled world if they learn to relax their sphincter muscles," said Airey. "If you've got the reach for your content, if you get it in front of enough eyeballs -- irrespective of how you get that content to viewers -- you should be able to then monetize it, because revenue always follows reach." Or at least it always used to....
Show me the monetizing
"The word I kept hearing at every panel was "monetize,"" said Telefilm Canada's director -- TV English Market, Mary Henricksen. Since I'd never heard the word, I asked Henricksen for a lifeline.
The translation? Nobody knows how the hell they're supposed to get rich off their shows being PVR'd, TIVO'd and downloaded legally, never mind illegally. And DVD sales may be great revenue streams for producers, but they don't help advertisers sell cars and condoms.
Battlestar Galactica is arguably the best show on TV -- and I'd be happy to make the argument -- but its ratings are in a black hole. The problem is that ratings don't measure downloads, recordings or file sharing -- and what kind of self-respecting sci-fi geek watches TV in real time with commercials?
The other big Banff buzzword was "UGC" (user-generated content) which is very "Web 2.0" -- which means it's a bitch to monetize. When she heard the term "content provider" back in the late '90s, performance artist Laurie Anderson sniped that: "It sounds like a term from the Chinese cultural revolution." Broadcasters are hoping this revolution isn't quite as bloody -- but when even the hottest shows on TV can't stop hemorrhaging viewers, clearly traditional TV's prospects are less than McDreamy.
Open up the channels
UGC guru Greg Goodfried, producer of YouTube phenom lonelygirl15, told Banffers that creating content today is as simple as, "come up with a good idea, grab a camera and go do it."
Speaking at the panel "From lonelygirl15 to Bridezilla: The Role of User Generated Content," Goodfried explained that, "the distribution channels that used to be blocked to people like me are now wide open. You can put something up there and you can get millions of eyeballs on it."
Goodfried admitted that monetizing was the hard part, but he claimed that wasn't the point of lonelygirl15. "We wanted to do something really cool," said Goodfried. "We didn't do it from day one for the money, because there was no money on YouTube."
The BBC went 2.0 by "transforming itself into a multiplatform, on-demand, news where you want it, when you want it, organization" says their editor of "interactivity" Vicky Taylor. Taylor says the Beeb receives nearly 10,000 e-mails a day and, "Anything that happens anywhere in the world we will get somebody who knows somebody who's either there or is there themselves."
Speaking at the "Broadcast Trends" panel, Kevin MacLellan, president of Comcast Entertainment Group International, hit the 2.0. trifecta as he described his company's goals. "We've tried to become an audience-centric media company by trying to embrace user-generated content and giving the tools to Canadians to express themselves and become their own broadcasters and liberating them from the tyranny of the programmers."
Web shocks
Steve Jobs will be delighted to know that MacLellan suspects the web may not be the biggest shock to TV's system. "I think that when the iPhone comes out it's going to change things drastically. I may be wrong, but I think young kids are going to get used to watching things on their handhelds."
Stephen Roloff, a former TV producer and designer who specialized in sci-fi fare like Tek War, recently switched sides in this tech war from television to "New Media." Roloff told me he doesn't think the end is near, but like MacLellan he's anticipating major changes. "I think there's an assumption that 'new media' is going to replace 'old media.' History shows something different -- film didn't wipe out radio, television didn't destroy film and the Internet has not eliminated television and isn't likely to. Each new phase in this evolution has provided unexpected possibilities for previous models."
Blog rolling
In keeping with the theme of Banff 2.0, the most comprehensive coverage of the event was in the blogosphere. And bloggers were acknowledged in advance when screenwriter/screenblogger Denis McGrath was invited on a panel with critics from Entertainment Weekly, the New York Times, TV Times and the Globe and Mail. The Calgary Herald heralded McGrath and his "writer's mafia" as one of the fest's big stories.
McGrath provided some of the best Fest stories, along with fellow blogger Diane Kristine, who runs the site TV, Eh? What's Up in Canadian Television. Kristine landed interviews with several of the Master Class instructors, including Veronica Mars creator, Rob Thomas and Office boss, Greg Daniels.
Screenwriter/screenblogger Alex Epstein offered his adventures in pitching. And director/screenwriter/screenblogger Will Dixon shared his Banff war stories along with thoughts on "The Green Paper" on the future of Canadian television -- a 41-page report by the NordCity Group warning that Canadian TV's looking about as healthy as Silvio on The Sopranos.
And in case you were wondering, the professional reactions to The Sopranos finale were mixed -- but in conversations dominated by UGC, Web TV and iPhones, it was good news for everyone in the broadcasting business -- including the viewers -- that the people who make TV were spending so much time debating the merits of a television show.
Related Tyee stories: