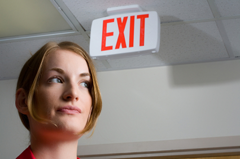 "I have a hard time focusing. I don't get as much done as I used to. I'm reading less. Books, I mean. I get an idea, and I research the hell out of it. Online. Hours have gone by. I've lost my original train of thought. My project is sitting on my desk. I'm distracted."
I'm having this conversation with myself or a friend. I can't remember, because I'm too distracted.
As I've been sharing with you in a series of columns, I and my two boys are attempting to lead a modern family existence without television. One of my original hopes was that banishing TV's seductive charms might give me more clarity, more focus, more laser beam precision in my thought processes.
Hasn't happened. I'm often so distracted that things don't work right. I make mistakes. I can't afford to make mistakes in this business of reporting and publishing news stories. So, what? Do I get a new brain? Would two brains take care of it? Do I need three? Four?
Take, for example, yesterday. I posted on my website, The Vancouver Observer, an article: "The Way It is." I changed the headline at least three times. It started out as "Nobility, Commoners, and BC's Black Thursday."
Then I thought: what if somebody takes offense at the term "Black Thursday."
I mean, was it really "black?"
Then it became: "Nobility, Commoners, and The Way It Is."
That title wouldn't fit into the allocated space my software gives for headlines. Another change: "Nobility, Commoners: The Way It is."
Then the phone rang. Caller ID revealed that I had to take it: it was a call from my best friend. OK, I didn't have to take it! But desire being what it is, I indulged myself in one of life's greatest pleasures. I picked up the phone. "Hey…" I said. And since I was taking a break to talk, I quickly checked my e-mail.
First, the daily hurdles
Finding the time to write yesterday morning had meant first getting through a pile of paperwork, editing other writers' articles, creating and posting sponsor ads, setting up a new bookkeeping system for the Vancouver Observer, and all of that between driving my ass off to get my kids to and from school, singing the national anthem with a roomful of kindergarten kids, and arranging a play date.
It meant first walking the dog and waiting for her downloads, it meant changing the cat box, cleaning the kitchen breakfast debris. It meant answering a batch of e-mail that took me down 10 or 12 rabbit holes that I managed to climb out of without getting seduced by their worlds. After answering a phone call or two and making myself a ritualistic cup of tea to signal a shift to writing time, I sat at the kitchen table with my computer and began to think. Then I began to write. I had gotten all the way through the article when I took the call.
As I chatted with my homey, I decided to make the most of my time and copy the text of my article from my Word document and paste it into the dialogue box from the Vancouver Observer that allows me to post.
Mission "accomplished." I walked into the living room, laughing. "God, it feels good to get something done," I said.
I went back to the kitchen table. I sat down at the computer to review my work. I was about to hit "post" when I saw that bottom half of my article had disappeared. I said goodbye to my friend.
How had I done this? I asked myself, as I paced angrily around the computer. I didn't know. I had been too distracted.
After picking my son and his friend up at school, I got them settled into running around the house screaming and laughing as they chased the cat, and I sat down to finish the article again. I knew the noise could be distracting, but it was the only time I had. I had to make use of it.
I finished the article again, and because I wanted to keep the page alive, I went ahead and posted it.
Linda, meet Linda
After I picked my older son up from school and dropped my younger son's friend back at his house, I came home and read the article over again.
It sounded to me like two different articles. Like maybe it had been written by two different authors. I realized it had been written by two different authors. The first part had been written by The Morning Linda, while The Afternoon Linda had constructed Part II. The Afternoon Linda had not gone to journalism school.
I have no editor, other than myself, and since I'm the publisher, too, I put on my publisher's hat and sat the editor down in front of my desk and I reamed her out. "Dammit," I said, "someone's going down for this one."
She cringed and recalled the sign that used to hang at the front of the newsroom at The Tennessean, where she had her first reporting job. It read:
PITY THE POOR READER
"And I do," she said. "I pity the poor reader. I'm a reader, too."
Distracted en masse
Meanwhile, back in reality where I try to function as one whole person, sometimes I get mail from readers who are understandably infuriated by spelling and grammar errors that have appeared on The Vancouver Observer. Oh, did I mention I'm the copy editor, too?
I find myself thanking readers for pointing out errors to me, and also explaining that The Vancouver Observer remains an all volunteer organization with the positions of publisher, editor-in-chief, managing editor, marketing director and senior reporter filled by one person: me. I point out that the writers are either semi-professionals, journalism students in master's programs, or newly graduated from master's programs, or professional writers who have other jobs to support themselves, because it's so hard to make a living as a professional journalist in Vancouver. They work as Starbucks baristas, game company PR people, estheticians, therapists. They are lawyers, or doctors with busy practices. They work in government. They go to school full time. They're mothers who drive their asses around town and carry workloads like me.
If I've forgotten to mention you and you're a writer for The Vancouver Observer, raise your hand and I'll give you a free sponsor ad.
Meanwhile, back in my head
While the kids were carrying the cat around in her new leopard-skin bed, I did a re-write on the article. I re-posted it.
Then I heard a beeper sound. Which beeper, I thought, glancing around the room. The refrigerator beeper? The iPhone? A garbage truck backing up on the street below?
Then I realized. It is the laundry machine, announcing the end of its cycle. Who can forget the fresh smelling soap pouring out of the dispenser, the damp lump of clothing ready to be lifted, the thick rectangle of lint cascading out of the plastic box and separating into a thousand pieces as it twirls to the floor?
Pas moi! Never. I'd just gotten a little distracted.
Related Tyee stories:
iPod People
Bob Preston pointed his handcrafted camera at people who are plugged in.
The Human Race
Running together at dawn, chasing small ecstasies.
A Neo-Techie's Morning
High-tech cool's now about capacity: not the gadget's but the user's.