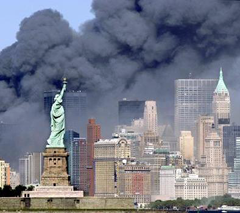 [Editor's note: This article is also published on the Vancouver Observer, a new online publication.]
I had just dropped my five-year-old son off at school when I heard the first blast. I was talking with a group of moms and noted the explosion, but none of us said anything.
I got on the bus and there was a woman with a cell phone saying a plane hit the World Trade Center. We all assumed it was a small plane that had gone off course. But we looked out the windows to see a huge mushroom of smoke billowing off towards Brooklyn, like nothing anybody had ever seen.
We all looked at each other in astonishment. Distance dropped away and we all started talking, even though we were strangers. When the bus reached my stop, a panicked-looking bus driver leaned his head in and said to the driver, "You know it was an American Airlines jet that hit?"
A 767! It seemed like a wild rumour. I got off the bus. The World Trade Center was about 20 blocks from our home. I stood at the corner of Houston and West Broadway watching the first tower burn. Some people were out taking pictures.
I could only see fire on the outside of the building so couldn't grasp the proportion of the event. So I went to get coffee on Thompson Street.
When I got there, the gate was pulled down and the owner was sitting dazed on the bench. Thompson Street was full of people who had come out of their apartments. I heard some women saying that a plane had flown so low over Thompson Street they thought it was going to crash into the street.
But it was the plane that hit the World Trade Center. I went home. When I got home none of the phones were working. I turned on the TV to the BBC. They said the Pentagon had just been hit by a plane. Then I thought of Eli, at his third day of kindergarten. I went back out to try to catch the bus back down to his school.
'Mommy, why?'
By this time, the second plane had hit and people were pouring down West Broadway (my street), fleeing. Most were calm, but every so often someone would walk by weeping.
I stood at the bus stop with a group of about five women and we tried to figure out if buses were still running. Word had gotten around that all subways had been cancelled and that the bridges were closed.
Suddenly, there was screaming and I ran back to the corner just in time to see the World Trade Center collapse and disappear. The vanishing of it was too much for my mind to comprehend. Many people were screaming. The women were getting panicked. One woman was trying to get her kid at a school on Thirtieth Street. She had no money. I looked in my wallet and discovered that I had only one five-dollar bill.
We flagged a taxi down and he took me to Eli's school as the other woman begged the taxi driver, weeping, to please take her to the school, but she had no money to pay him. I don't know what happened after he dropped me off. At Eli's school all was innocent and calm, heartbreakingly innocent. The principal told me I could go ahead and get Eli out. I peered in the classroom and saw the children singing "the itsy bitsy spider." Eli didn't want to leave. "Mommy, why!?"
It broke my heart to tell him. I tried to make it as simple as possible. Back out on Houston Street, there was now a river of people pouring away from downtown. Everyone was trying to figure out how to get home. There were more people weeping. I passed a woman on the pay phone shouting at her mother who worked at a nearby building to the WTC, "Mom, get out of there now." Every few feet I passed a group of people sharing stories about what they'd seen. Some had seen the airplanes hit. Or the buildings fall. Or people falling from the hole the airplane caused, tumbling out of the building. There were lines at ATMS, but none of them were working. Still, mostly people were amazingly composed.
Aftershock explosions
We got to Mott Street and Eli was feeling tired and I wanted to get off Houston Street so we turned onto Mott. We passed my friend Heather's house and I thought maybe she would be home. I thought maybe her phones would be working and I could call my husband, who was at work uptown. Amazingly, she was home. I went up to her place. Her son and daughter go to PS 234, which is five blocks from the World Trade Center. Her nine-year-old son, David, said, "Linda, I saw a man jump. He was falling down out of the building and I shouldn't have looked but I did look. Do you think he died?"
Heather told me of running down to get the children, of David's three classmates whose parents worked in the World Trade Center and how they were crying hysterically watching the building burn, so the teacher closed the shades so they couldn't watch. As Heather and the kids hurried down West Broadway away from the school, the buildings collapsed and they were followed by the cloud of smoke and debris. We took the kids up to the roof where they have a sandbox and jungle gym. We heard the aftershock explosions and then Eli was afraid a plane was going to hit the roof so we went back down. I finally got through to my husband, but at this point, there was a profound disconnect between uptown and downtown and it hadn't sunk in. He was in shock, too.
Heather's husband had decided to take them out of town to their house in the Catskill Mountains, and as I was five months pregnant, they insisted I come, too. I didn't know what to do. Go back home where the phones didn't work? Wait for my husband to decide what to do? She was insistent and sent me home to pack, keeping Eli with them. I almost cried leaving Eli there, but moved on through it and went home to pack. Once home I thought, "This is nuts, I'll wait 'til my husband gets home." Then I heard loud jets outside the window (which I later learned were fighter jets) and not knowing whose jets they were, and now ready for a next attack, gathered only essentials: threw a bunch of stuff in a suitcase, grabbed a photo album and my computer and hurried to our meeting point, a park where the kids play. There, Heather's husband was waiting with the car.
We weren't sure we'd be able to get out, but it was still possible. We left Manhattan over the Tappenzei Bridge. All the way to Walton, where Heather has a house, her son, David, was frenetically talking about the guy who'd jumped and what did we think had happened to him. Meanwhile, Max, Heather's husband, a prominent art dealer, was telling me that the economy was now going to collapse and his business was finished. Finally, we got there. Within an hour of being in nature, the kids began to relax, although there were many tantrums and meltdowns before the end of the day. Everyone went to take a walk and I was finally able to rest.
But I couldn't rest. I was sobbing before I knew it and images of the plane hitting the building were going through my mind, even though I hadn't actually seen this. By now, I'd heard so many first-hand accounts by people who had seen it, my mind had absorbed the image. Eli asked me to sing him a song that night at bedtime about the World Trade Center and I made up a song about how it had always been there and we had always looked at it but today it was gone and wasn't it amazing that on the same day he'd found caterpillars and frogs and the sky had been so blue.
Blown to Cortes Island
And that's how I came to Canada. I was one of the Americans blown away by the catastrophe, but living. One who left a hip Manhattan life because of the historical shifts, because of George Bush's frightening policies, because I wanted a better future for my two young sons than the one I saw unfurling in my own country.
We went to Cortes Island, where we'd been spending summers. We landed in a house by the ocean. I would step out on the bluff and tilt back my head and gulp in the clean, clear air, so fresh tasting after breathing the toxic cloud the terrorist attack left hanging downtown. I was grateful and relieved.
I gave birth to my second son, Lev, surrounded by family and friends, in a Kitsilano condominium.
He was born perfectly healthy, a miracle, given how much poisonous chemical-drenched air I breathed the month I remained in Manhattan following the event. My loft was fifteen blocks away from ground zero, in an artist's co-operative on West Broadway. West Broadway ended at the buildings that are no more.
For me, the new life has replaced the life I had when the buildings still stood. I appreciate Canadian society every day. I feel at home with Canadian values. I believe there is a democracy worth struggling to maintain in Canada that the United States has lost. As an American, I see so much worth protecting here from the vast tracts of boreal rain forest in the north to the good policies in place that offer health care to every Canadian. After five years in Canada, whatever illusions I had that Canada was perfectly better are gone. But I feel lucky to be here.
Nonetheless, in the years after walking away from my hip life in Soho, I sometimes wondered if I had done the right thing in leaving. Wouldn't it have been better to have stayed put and worked to upset Bush?
How do you make a stand in these times? What can you do that really has an impact? I struggle with these questions.
In the end, I have no good answer to them, but I hark back to one day, when standing with some mothers outside my son's school, a few weeks after the disaster, we watched our small boys go inside and imagined them exiting the high school nearby, 18 years later, as young graduates. We wondered what the world would be like then.
And I decided to move to Canada.
Linda Solomon publishes the Vancouver Observer blog. Her journalism has appeared in The International Herald Tribune, the Los Angeles Times, The Utne Reader and many other publications. She has won awards for both public service and investigative reporting from United Press International.
Related Tyee stories: