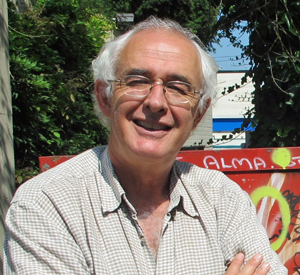 The Resilience Imperative
Michael Lewis and Pat Conaty
New Society Publishers (2012)
With his smudged glasses, bald pate fringed with tousled white hair, and deep well of enthusiasm, 60-year-old Mike Lewis vaguely resembles "Doc" Brown, the energetic Back to the Future scientist played by Christopher Lloyd.
But unlike the strange bursts of panic that characterize Doc's personality, Lewis is calm and reflective. He's the current executive director of the Canadian Centre for Community Renewal in Vancouver, and he's well-known for his research studying the links between charities, cooperatives and non-profit groups, and the economy. His work has been cited widely in B.C. and across the world.
Recently, he's turned to addressing the formidable challenge of reinventing our globalized economy from the ground up. That work has now culminated in the book The Resilience Imperative, released in print this week.
The book takes an optimistic view of what is likely a huge and complex challenge ahead.
Climate change, fossil-fuel dependence "and globalization as we know it" make current economies "very vulnerable to unraveling," Lewis said. "We're [soon] going to be in a situation where we have to figure out our basic needs on a more local and regional basis."
According to Lewis, there's definitely no clear path to that end.
"Anybody that is asking you for road maps, well, forget it! You gotta build the road as you travel it. That's the reality," he said. "My personal motto is 'make hope more concrete and despair less convincing.'"
Lewis concedes he's often mistaken for an academic, but his expertise in economic resiliency wasn't distilled in an ivory tower or a lab. Rather, it developed over four decades of work in the "trenches" of community work. He got his first taste of organizing at 17, when he was hired by the United Church at $100 a month to work in Alert, B.C. The small island community, way up Vancouver Island's inner coast, is "half white and half Indian," he said. "That was sort of my opening."
He later got an undergraduate degree at the University of Calgary in social work and went on to found what would become Canadian Centre for Community Renewal at age 25. Since then his work has expanded to include 1,000 different programs which focus on helping communities take more control of their own economy and social services, he said.
In the late 1990s, Lewis made a name for himself analyzing what resources remained in B.C. communities devastated by the collapse of the forestry industry. But the true nature of what he saw happening didn't come into focus until 2003, he said. That year he took his three grandkids to see a salmon run at Stamp Falls, near Port Alberni.
"We were watching these salmon rise up, and you just think: that child's grandchild may never, ever experience this."
That experience became the emotional inspiration for The Resilience Imperative. For the book, Lewis partnered with American co-author Pat Conaty, a fellow at the United Kingdom's New Economic Foundation. The two blended their lifetime of experiences examining local economies, and brought together a patchwork quilt of local innovations -- from fossil-fuel free Kristianstad, Sweden, to local food movements in Latin America -- to highlight plausible ways to make our society more sustainable.
While on a very human level, writing the book was an experience to be "cherished," piecing together so many topics wasn't easy, he said.
"It's one thing to talk about it, but how and where's the experience and instructions to actually start to connect between food, energy conservation, renewable energy, finance, land reform, democratizing of the economy -- how do you put those pieces together and understand it so it doesn't just become a big morass of murky shit?" he said.
In The Resilience Imperative's introduction, Lewis writes that he can't offer "panaceas" to global problems, but he hopes the book at least provides a few "trailblazers' marks" for where to start.
During our interview, here's what else Lewis had to say...
On why local innovations are important:
"If you think of any of the examples in our book, if you think of Seikatsu cooperative in Japan... they were concerned about farmers not being able to make a living. They were middle-class Japanese women and they wanted to have safe food that was ecologically grown.
"They created the first what they called teikei, which means 'partnership.' The colloquial meaning is 'food with the farmers face on it.'
"The food part of their system today turns over $1 billion. And they've taken the ecological and social and economic values at the heart of their beginnings and worked it all the way through the supply chain.
"Now that's been a 40-year transition. We need to figure out how to scale that up much faster; that's part of our challenge.
"I think all of these things I'm describing [in the book] have the potential for becoming the seed-bed in a community for scaling up innovation."
On where BC is doing it right:
"There's already tons happening in terms of trying to build the pieces of a more local and regional food system that used to exist [in B.C.], but that was hollowed out by globalization over the last 50 to 60 years.
"When you look at the entire food system... all the way through, it's oriented much more to an export-oriented agricultural framework, and that's what provincial policy and federal policy have been supporting for some time.
"All of the new growth has been [with] local farmers who have been building the new food system for some time, so there's all kind of gaps, right, and people are working at it. In Vancouver, you've got the Food Hub project.
"People are trying to cobble it together, and it's been making real progress, but it's been slow."
On the premier's reality 'parody':
"First I should start by saying at least we have a carbon tax; that's a positive, but the fact that it's been capped at $30 [a tonne] -- $30 is not enough, according to a lot of people, if you really want to take into account the costs of carbon.
"We have to radically expand our investment in renewable energy. We've begun to change behaviours to some extent, around driving and transportation and some of the fossil fuel, by virtue of the carbon tax. We need to extend the carbon tax to the fossil-fuel industry.
"The premier's declaration that natural gas is no longer considered a fossil fuel -- essentially we're going full bore. 'Let's go for it, this is incredibly important to the B.C. economy, jobs, wealth generator;' -- she's saying this is a contribution to reducing carbon globally. This is the line. Which is an absolute parody on reality."
Why pipeline criticism needs tweaking:
"I don't agree with the number of people who argue [against] the Enbridge pipeline based on localized environmental... issues. There's all the localized environmental risks, but it's part of a bigger picture.
"I think partly the building of a coalition around these issues has really got to have carbon as a major feature to it, along with the environmental [risks] and the lack economic benefits associated with it in British Columbia.
"There's a model that locks us into continuing emissions that is akin to putting our foot on the accelerator while you're heading towards the precipice. The reality is that if we get locked into spending more and more energy to get less and less out of the fossil fuel reserves we have, which are getting harder and harder to get and more expensive to mine and process, there's no future for the planet or for people on that path."
On ending despair, and books:
"I sat in the alley across here quite a lot last year trying to meet a Sept. 30 deadline; and... at the end of that day putting the finishing touches on chapter 12, I started crying. It was partly exhaustion; it was also partly just this tension that I've had for some time -- and I still have it -- which is we know that by virtue of the kind of innovations that we describe in this book that [change] is possible, but that does not necessarily mean it's probable.
"We need to see the world differently. If we don't develop peripheral vision we're not going to come up with solutions to our problems, and that's part of the problem with Canadian policy at the moment. We're still seeing the world in growth terms. We're still seeing fossil-fuels as our way to become an energy superpower, and we're seeing our development path as being linked to taking tar sands, putting it across in Enbridge and shipping the bitumen over and across to China."
And a final call to the resilient:
"We're not uni-dimensional people; I don't just sit here and write books. We can be actors in more than one spot. But we need to build our movements together in ways that they are federated to bring the pieces people are concentrating on together.
"The only way that I know of getting change: you have to act consistently over time in an organized way with focused intention on the opposition side and the proposition side. Resist and build, resist and build -- that's kind of the rhythm that I feel will characterize a lot of different people across every part of the political spectrum who care about the planet and who care about their children and who care about the future."