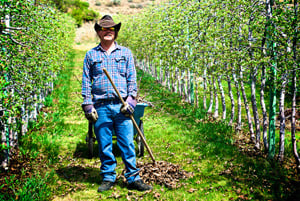 New City Market has been described as a crucial missing piece of Vancouver's local food economy.
Not just a permanent home for the farmers' market, this hub, dubbed New City Market, would be a critical piece of infrastructure for the local food economy, with a commercial kitchen warehouse, much-needed cold and frozen storage, and a large hall where vendors could set up all year round and sell to the public and local chefs.
Project lead Tara McDonald says that when she and a coalition of local food advocates proposed the idea to City staff, they didn't even make it through their pitch before staff were on board. Deputy mayor Sandhu Johnston said it could be the "crown jewel" of the local food economy in Vancouver. And at the onset of this municipal election campaign, COPE candidates Ellen Woodsworth and Brent Granby held a press conference to declare their support for it.
But farmers, it would seem, the very people expected to supply the food for this food hub, aren't quite sold on the idea. Some say farmers have been left out of the planning process for this $15 million capital project, a process that reached a milestone this summer with the completion of a preliminary business plan.
A New City skeptic
That plan was shown to City staff, Vancity staff (which gave $100,000 to develop it) and members of the Vancouver Farmers' Market board in June, according to business plan lead Darren Stott, and given the go-ahead to move forward. The next steps are to finalize the business plan for New City Market, hopefully secure a $1 per year land lease from the City (the plan hinges on this subsidy) and begin a capital fundraising campaign.
But the plan hasn't yet been shared with farmers' market vendors, presumably key stakeholders in the venture.
From what she's seen and heard so far, Mary Forstbauer thinks the whole thing has been "a waste of time and money."
She and her husband founded Forstbauer Family Natural Food Farm in 1977, and vend at seven farmers' markets in the Lower Mainland, including three in Vancouver.
Forstbauer says she took part in a one-day workshop last year that McDonald (executive director of the Vancouver Farmers' Market Society, as well as project coordinator) and Stott held as part of a feasibility study.
"The consultation was, look at what we're doing," says Forstbauer. "Not, here's what we're thinking about, what do you guys think?"
Forstbauer says she thinks a permanent farmers' market would be great. Indoors, with real washrooms, ample parking and reasonable stall fees. But when she heard talk about a cold storage space that farmers would be able to rent, it raised alarm bells. There would need to be at least four coolers, she reasoned, in order to keep apples and carrots separate (apple off-gas wilts carrots) and in order to keep organic and non-organic separate.
"I don't think they realized that," she says. "The whole thing was sounding very expensive."
Plus, she already rents cold storage close to her farm in Chilliwack and says most Fraser Valley farmers do the same. She doesn't need cold storage in the city. The plan, she felt, was indicative of a bigger problem in Vancouver, a disconnect between food policy, and "what farmers actually need or want."
What farmers want
Bob Ransford shares this concern. He was on the board of the Vancouver Farmers' Market Society from 2008 to May of this year, and says he sat in on some early meetings about New City Market in an unofficial capacity.
He says the general idea was born out of the farmers' market wanting an indoor facility. The food processing, warehousing and distribution components, he felt, needed to be more clearly defined before beginning a business plan. Things like "what need it was fulfilling, how it would generate revenue, how it would sustain itself and what it would do for the food system in Vancouver," he says.
"I didn't see a lot of direct input from farmers, and that concerns me a little bit," says Ransford. "My question always was, aren't we here really to serve the needs of farmers and therefore shouldn't be we talking about their needs directly instead of in theory?"
McDonald says that farmers were consulted, through a survey that was sent to 100 producers, as well as processors and distributors, though one-on-one meetings and phone interviews, and through conversations at the markets by staff and volunteers.
"Mary represents her own interests, but we've heard from over a hundred others who have given their feedback and said, yeah, we would like to be part of this."
But neither McDonald nor Stott could provide a list of names of farmers or producers who could explain how New City Market could benefit them.
The Tyee randomly contacted eight farmers from the vendor list on the Vancouver Farmers' Market website, and two small-scale urban growers in the city. Seven hadn't heard of New City Market, or had heard of it but didn't really know what it was.
Colin Hughes, who operates Celyddon Farm in Surrey, says he's familiar with the New City Market idea and thinks it could be beneficial. He says he used to sell organic greenhouse tomatoes to Thrifty's, but that fizzled because he was only ever able to supply two or three of their stores.
Having a small-scale distributor for small-scale producers like himself would be helpful, he says. The idea of a chef's market is appealing too. "I always get asked to service restaurants but don't have the time to drive around."
Having access to cold storage is appealing as well, he says, because it wouldn't matter so much if he brought more than he sold if he could keep it fresh in a cooler all day.
Particularly beneficial for him, as a greenhouse tomato grower, would be a market where he could sell on weekdays. "Basically, all the markets are on the weekend," he says. "The tomatoes ripen everyday. It's kind of hard to match the markets with the supply."
One sales hub does not fit all
New City Market, according to the preliminary business plan (this reporter requested and received a copy) will only be used as a farmers' market from Friday to Sunday.
Four days a week, the 20,000 square foot hall that holds 60 vendors (plus 10,000 square feet of outdoor space that holds an additional 40 vendors) will be made available for events. "NCM's proposed green building architecture will make the facility a unique place for holding meetings, festivals, corporate workshops, and public events," states the plan.
According to the business plan, leasing the space for events will be the most profitable aspects of New City Market, earning 72 per cent of the anticipated $90,340 that the NCM will earn in its first year of operation, 2014. (As a corporate non-profit, in years where revenues are higher than expenses, New City Market profit would be used to maintain a short-term reserve fund and a long-term endowment fund for various food security initiatives.)
The facility will also include a 4,000 square foot commercial kitchen, which can be leased to small businesses or other interested parties that want to do food preparation or processing; a 3,000 square foot eatery, which will be expected to be leased to a yet-undetermined restaurant partner; 27,000 square feet of office and meeting space to be leased out; and an 8,000 square foot warehouse (including 5,000 square foot cooler and 1,500 square foot freezer) space.
This warehousing part of the market will serve as an aggregation and distribution hub; a way for small and medium farmers to combine produce and fill large wholesale orders.
Stott calls this part of the market a "really exciting development." He says having a third-party distributor is key -- New City Market doesn't want to be in the business of trucking boxes -- and points to Gordon Food Services, for example, as a potential customer that could pick up pallets of apples, carrots, lettuce and other produce in one spot, without having to deal with the logistics of invoicing three different farmers.
Chris Bodnar is co-operator of Glen Valley Organic Farms in Abbotsford. Glen Valley does direct sales through a CSA, retail sales at farmers' markets in Vancouver, and wholesales to Discovery Organics.
He points to Discovery, as well as Biovia and Pro Organics, as wholesale distributors that are dealing exclusively in wholesale organic already. Vancouver has an even greater number of distributors outside of organic. Bodnar thinks having another player in the Lower Mainland doing something similar "runs the risk of watering down everyone else's sales."
"The aggregated sales seems to have become a real selling feature for New City Market," says Bodnar. "This is coming out of what this group [local food first] has identified as a need in the local food market. I haven't seen a lot of outreach to farmers to explain the concept or get them on board."
That said, Bodnar says he has faith in the plan for a food hub in Vancouver and can see aggregate sales being successful if done in a way that make sense for farmers -- he suggests an auction model, similar to the Elmira Produce Auction in Ontario, where buyers come in looking for case lots of specific items.
Another farmer from Mission who vends at Vancouver markets (and asked not to be identified) said he would "absolutely not" use an aggregation service. He grows primarily for restaurant clients, sells whatever is leftover at farmers' markets, and if there is a major surplus of something, sells it wholesale to Discovery Organics. While the farmers' market is good public relations, he says, he makes very little of his overall profit there.
He says he doesn't need help distributing -- demand for his product is outstripping supply. His biggest problem is finding skilled labour on the farm to help meet that demand.
Market in progress
One thing all the farmers this reporter spoke to were enthusiastic about was a permanent home for the market. "That's one of the big things we would like to see," says Bodnar. "Right now the unfocused nature of farmers' markets, in terms of lack of long-term assurance of location is, I think, a problem.
But it remains to be seen whether other aspects of the food hub will work for farmers, a group of people, admits Bodnar, that can be difficult to organize ("herding cats" is how he described it.)
Stott and McDonald emphasize that the preliminary business plan is just that: preliminary. If the aggregation service, for example, doesn't seem like it will work the way it's laid out now, they can rework it, or scrap it altogether, says Stott.
In the coming weeks, they intend to roll out the plan (online, and through workshops) and gather feedback from farmers, the public and other interested stakeholders.
"That's the next stage, to give the opportunity to show this to people who are interested, to have those in-depth conversations," says Stott. "With this preliminary business plan, we're trying to give them something to get a hold of."
See more Tyee stories like this in: Food.]