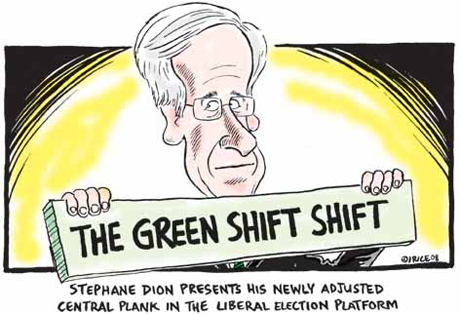 ReformaTory leader Steve Harper slipped on his comfy sweater vest to announce his new campaign slogan: "Let them eat cold cuts."
Puffins pooped on Stephane Dion, Dion pooh-poohed the polls and Steve Harper pooped on Canadian culture. Meanwhile, Jack Layton suggested a coalition with the Liberals while the B.C. wing of the NDP merged with the Marijuana party.
Steve dreamed of a majority, Jack dreamed of redecorating Stornoway and Stephane dreamed of speaking English as well as Michael Ignatieff, or at least Jean Chretien.
The green shift was shafted, and so was the Green party leader, when Steve and Jack decided it would be unfriendly to their environment to let Elizabeth May debate them. Meanwhile, the Green party leader urged strategic voting to defeat the Tories, begging the question, what exactly is the strategy behind voting Green?
And Bloc-head Gilles Duceppe tried to separate himself from separatism, while looking like the best hope for blocking a Tory majority.
In honour of Stephen Harper's speechwriting team -- and because I was "pressed for time" -- I was hoping to crib this month's special election edition column from an Australian satirist, but that just didn't seem fair dinkum, eh.
So I've emerged from my niche and taken a break from moaning about subsidies at all the fancy taxpayer funded galas I attend to look back on the early days of a political campaign that has electrified Canadians from coast to coast and start making fun of Sarah Palin, because look how well that did for the CBC and Heather Malick.
When I hear the word "culture," I reach for my revolver...
The ReformaTories™ reminded voters they were more Reform than Tory when Steve took a run at Canadian culture claiming it was a "niche" issue. The arts community terrified the Tories with a quick and powerful response that included crafting several limericks beginning with the line, "There once was a Tory named Steve…"
Former Stephen Harper speechwriter, Owen Lippert, resigned from the Tory staff after it was discovered that the speech he wrote where Steve urged Canada to send troops to Iraq was plagiarized from a speech by former Australian prime minister John Howard. However, there's still no word on who's expected to resign over all the Tory campaign tactics that have been plagiarized from Karl Rove.
Ritz Crackers
Tory Agriculture Minister Gerry "wise cracker" Ritz made headlines after joking about that wacky listeria outbreak that has killed 19 Canadians, claiming the controversy was causing the government to suffer, "the death of a thousand cold cuts." Since then, the minister in charge of Canada's food safety has ducked reporters, but offered to hire Owen Lippert as a food taster.
The Tories kicked off their campaign with a Benny Hill-ish online ad showing a puffin pooping on alleged Liberal leader Stephane Dion. Following controversy over the tasteless and juvenile ad, Steve promptly offered a sincere apology to puffins everywhere.
Meanwhile, a new poll shows that more than 50 per cent of Canadians are pooping like puffins over the possibility of a Tory majority, but most are unwilling to change their votes to stop it. And we mock American voters why exactly?
Canada launched a new "do not call" website. Unfortunately it won't block calls from politicians or pollsters.
All Apologies
Two BC NDP candidates resigned over their drug use, while BC NDP candidate Julian West resigned for getting naked in front of minors and a Liberal candidate in Winnipeg was cut loose over her 9-11 conspiracy theories. The mass of resignations proved conclusively that while Canadian political parties apparently don't know how to Google potential candidates, reporters do.
NDP leader Jack Layton occasionally got bored of saying "when I'm prime minister" and was caught musing about "when I'm president" and "when I replace the Edge in U2 and headline 'Live Aid' with Bono."
Foreign Affairs Minister David "If this is Tuesday, I must be Tory" Emerson announced he wouldn't be running for reelection in Vancouver Kingsway. Apparently Emerson felt it was time to retire after realizing he wasn't sure what party he wanted to defect to after the election.
Newfies screech about Harper
Newfoundland's Progressive Conservative Premier, Danny Williams, is urging Canadians to vote "anything but Conservative" because he's afraid Steve Harper's no longer Progressive Conservative party will move even further to the right if reelected. Williams launched an anti-Tory website anythingbutconservative.ca and has threatened to expand his anti ReformaTory campaign across Canada. Just thought I'd mention it before heading back to my niche....
Related Tyee stories: