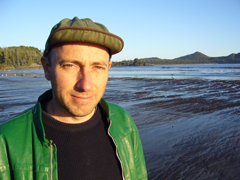 [Editor's note: This is the latest in Leiren-Young's series of podcast conversations with people who have a relationship -- political, economic, spiritual -- with trees. To find the rest, go here. Leiren-Young's feature film about forests and people, The Green Chain, is screening internationally and garnering honours.]
Velcrow Ripper started making movies to change the world in 1979, when he created Iran: The Crisis. Since then he's made over two dozen features including the Genie award winner for Best Feature Doc Bones of the Forest, in which Ripper visited B.C.'s logging blockades and spoke with native and non-native elders about the future of the forests.
His new film, Fierce Light: When Spirit Meets Action explores what Ripper calls "sacred activism" and receives its world premiere tomorrow evening, Oct. 1, at the Vancouver International Film Festival. Fierce Light isn't a sequel to his hit documentary, ScaredSacred... at least that's the official line for legal reasons... but it comes from the same sense of curiosity, passion and optimism that led Ripper to look for -- and discover -- hope, life and love in some of the most tragic spots on the planet.
In Fierce Light, Ripper's pilgrimages include visits to an urban garden in L.A., the birthplace of the American civil rights movement and a trip to India to talk to the "untouchables."
In today's podcast, Ripper talks about dream catchers and sharing dreams, holistic activism, sacred warriors, "nonflaky spirituality," being too positive and "looking for sacred stories in the face of darkness."
Related Tyee stories: