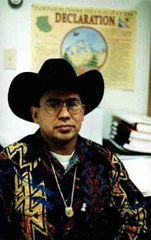 The inspirational words in the judgment of Justice Vickers of the Supreme Court of British Columbia in Tsilhqot'in Nation v. British Columbia ("Xeni decision") ought to convince both Prime Minister Harper and Premier Campbell of the existence of Aboriginal peoples, and to recognize and respect the Aboriginal rights and title of each.
After 339 days of trial, this judgment should become instrumental in achieving the reconciliation that is demanded in Supreme Court of Canada cases dealing with section 35 of the Constitution Act, 1982. Or the judgment can be used as a means to prolong the fight over the land question in British Columbia.
This year, as British Columbia celebrates the 150th anniversary of its historical founding as a colony of the British Empire will it do so by continuing to deny and marginalize our rights or by properly recognizing our rights and implementing appropriate accommodation arrangements with us?
Aboriginal title land is not 'Crown land'
Perhaps the most significant aspect of the Xeni decision is that Justice Vickers affirmed that the sole legal authority of the Crown to deal with Aboriginal title lands is the federal government. Furthermore, he declared that "Aboriginal title land is not 'Crown land'" within the meaning of the provincial Forest Act, thus its provisions do not apply to those lands.
Further, as a result of finding that the provincial government's land use planning and forestry activities have "unjustifiably infringed" upon their Aboriginal title and rights, he affirmed that the provincial government must now act in accordance with this legal reality and recognize, respect, and duly accommodate the rights of the Tsilhqot'in people.
The Crown did not stand up
At the outset of the trial, Justice Vickers revealed that he had asked Crown counsel whether anyone on its side "would soon be standing up to admit that the Tsilhqot'in people had been in the claim area for over 200 years." As he rightly understood that the "real question" at the heart of the case concerned the "consequences that would flow from such an admission." But the Crown lawyers instead assured him that it was "necessary to continue with the course" the trial was set on. This denial by both Canada and B.C. subsequently forced the Tsilhqot'in into five long years of litigation at considerable human and financial cost all around.
While unable to issue a declaration on technical grounds, Justice Vickers was nevertheless convinced by the evidence that Tsilhqot'in Aboriginal title "does exist" to approximately half of its claim area, and to certain additional lands outside of it.
He did however declare that the Tsilhqot'in Nation have inherent Aboriginal rights throughout their entire land claim, which includes the right to trade in skins and pelts as a means of securing a moderate livelihood, and the right to hunt and trap birds and animals for various purposes.
In recognizing the Aboriginal title and rights of the Tsilhqot'in Nation, Justice Vickers has effectively quashed the legal strategy of the provincial and federal governments to deny the very existence of our peoples and our inherent Aboriginal title and rights.
He was particularly scathing of their argument that Tsilhqot'in Aboriginal title should be limited to small "postage stamp" parcels of land, to small sites where specific activities or practices took place. He found this to be an "impoverished view" of Aboriginal title -- "A tract of land is not just a hunting blind or a favourite fishing hole . . . [these sites are] but a part of the land that has provided 'cultural security and continuity' to Tsilhqot'in people for better than two centuries."
The time has come
In celebration of the Tsilhqot'in Nation's victory, including previous ones by First Nations in British Columbia, on Nov. 30, 2007, First Nations leaders from across the province issued the All Our Relations Declaration -- a declaration affirming that negotiations with the Crown shall only proceed "on the basis of a full and complete recognition of the existence of our title and rights throughout our entire lands, waters, territories and resources."
Governments must respect the numerous decisions of the courts who have recognized and affirmed the existence of our peoples, including our title and rights to our respective traditional lands. The time has come for the federal and provincial governments to stop wasting everyone's time and resources in order to perpetuate the myth that we do not exist as distinct peoples with unique rights to our traditional homelands.
We agree with Justice Vickers that the "the present Canadian community" is faced with the challenge of "acknowledging past wrongs and of building a consensual and lasting reconciliation with Aboriginal people." And we agree with his hope that this judgment "will shine new light on the path of reconciliation that lies ahead," that it would be tragic if reconciliation with the Tsilhqot'in people were postponed through "seemingly endless appeals." And we offer that it would be equally tragic if similar conflicts between First Nations and the Crown continue to be entangled in expensive and interminable litigation.
Moreover, we have heard the message through the Xeni decision and others that the courts do not want to rule on Aboriginal title, that First Nations and the Crown should instead negotiate the reconciliation of our respective rights and title. We are willing. Now the Crown has to get on with it!
'Patience is a virtue' does not apply
In 2005, First Nations agreed to a New Relationship with the premier on behalf of the provincial government in a good faith attempt to significantly advance reconciliation. We have always maintained that good faith negotiations would steer us away from adversarial litigation and toward, as Justice Vickers phrased it, a "consensual and lasting reconciliation."
We believed then that a new relationship with the province had to be founded on the respect, recognition and accommodation of our Aboriginal title and rights, of our respective laws and responsibilities, and on a strong commitment to reconcile Aboriginal and Crown titles and jurisdictions. We still do.
Yet for far too many of our communities this new relationship with the province has not materialized. Many continue to struggle under the debilitating effects of endless, inter-generational cycles of poverty. Far too many of our people, young and old, continue to suffer from the legacy of "past wrongs." Far too many of our precious and vulnerable languages, cultural traditions, subsistence activities and spiritual lands are at risk of permanent loss or irreparable degradation. These realities must be rectified here in one of the richest jurisdictions in the world: British Columbia.
The people of Canada and British Columbia must realize that the truism "patience is a virtue" does not apply to our situation, for no virtue should ever come to feel like an endless sentence, which in our case is waiting for justice to prevail.
Related Tyee stories: