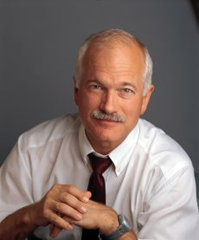 My good friend Terry Glavin has put forward the question: "Why are we supposed to vote NDP again?" in response to the new Liberal Party leadership of Stephane Dion.
It's a perfectly legitimate question, though given Glavin's previous strong endorsement of Michael Ignatieff and now Dion, I have to wonder if it's really "apostasy" for him, or ecstasy.
And I very much disagree with his contention that the NDP has to admit it "actually doesn't possess any greater claim to the mantle of progressive politics in Canada than the Liberal party does." Wow -- what a revisionist history of our country that is!
Nevertheless, let's simplify things and give Terry 10 good reasons why voting NDP is still a lot easier than voting Liberal, particularly Stephane Dion Liberal.
1. Kyoto. Stephane Dion leads a party, and was a cabinet minister in a Liberal government for most of 13 years when Canada increased greenhouse gases by 30 per cent instead of keeping a Kyoto promise to cut them by 20 per cent, a worse record than even the U.S. under George W. Bush.
2. B.C. Backers. Dion's endorsers in British Columbia include key supporters and participants in the right-wing, not progressive, Gordon Campbell B.C. Liberal government, including ex-B.C. Liberal "environment" minister Joyce Murray; ex-B.C. Liberal MLAs Karn Manhas and Doug Symons; Dion's national campaign director, Mark Marissen; provincial lobbyist Jamie Elmhirst; and Bruce Clark, whose home was searched by police at the same time as the B.C. legislature raid that ended with breach of trust charges against ex-BC Liberal ministerial aides David Basi and Bob Virk.
3. National backers. Other national endorsers of Dion include Roy MacLaren, the pro-free trading former federal Liberal cabinet minister and now member of that progressive group called the Trilateral Commission; David Orchard, the controversial anti-free trading former Conservative leadership candidate; and former federal Liberal cabinet minister Doug Young, who was thrown out of the party for joining the Canadian Alliance to support the leadership campaign of Tom Long, a key staffer for the Mike Harris Ontario Conservative government.
4. Workers rights. Stephane Dion's vote helped defeat anti-scab legislation in 2005 as a Liberal cabinet minister, and he was not in Parliament when a second private members' bill vote in favour of banning replacement workers was passed.
5. Sponsorgate's shadow. Stephane Dion was intergovernmental affairs minister throughout much of the Sponsorgate or Adscam scandal under prime minister Jean Chrétien, and while his integrity has not been questioned, his party's certainly has.
6. Martin's lesson. The only reason former prime minister Paul Martin took any progressive measures during his minority term in office was to stay in office with NDP and Bloc Québécois support while trying to steal social democratic votes. This is the same Paul Martin who viciously cut social program transfers to the provinces as finance minister, among other regressive measures.
7. Bad "dream." Dion's "dream team" pals Michael Ignatieff and Bob Rae are in fact a pair of failed progressives. Ignatieff backed George W. Bush's disastrous invasion of Iraq and countenances torture in the defence of democracy. Rae's grim five-year tenure as Ontario NDP premier alienated both labour and business as he racked up massive deficits, then imposed unpaid "Rae Days" off on public sector workers.
8. Money. Canadians should feel free to vote for the party that most closely represents their values and ideals, regardless of the "strategic" value of their ballot. And with federal financing reforms now in place, each party gets annual funding of $1.75 per vote it gains in an election -- that means even the Green party, with no MPs elected, now has a $1 million budget.
9. Strategy. Stampeding nervous NDP voters into the Liberal camp in previous elections has actually resulted in Conservative victories in ridings where the NDP has had the best chance of winning.
10. He's a Liberal. It's still the Liberal Party of Canada for god's sake! The breathlessly arrogant party of Jean Chrétien and Pierre Trudeau, of the Gomery Inquiry, Shawinigate, APEC, wage and price controls, Canadian troops in Afghanistan, Maher Arar sent to Syrian torture, NAFTA implementation, the nearly lost 1995 Quebec separation referendum, the broken GST promise and so much more good stuff!
So, go ahead and consider voting for the newly "progressive" Liberal Party of Canada, but don't say you weren't warned!